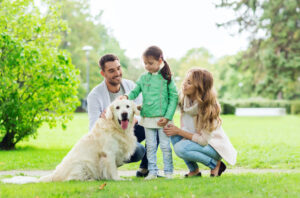 Are you planning on welcoming home a new puppy soon? If so, congrats! Before you bring your puppy home, you should start to think about how you can socialize your puppy while still following the COVID-19 guidelines. This year, we have been hearing and seeing problems everywhere that puppies aren't getting the socialization time they need because of the pandemic.
We can't stress enough how important socialization is for your new puppy. If you want your dog to grow up friendly to new people, they must regularly interact with new people and other dogs of all ages. Remember, social behaviors are shaped and taught in the first year of your puppy's life. Your dog won't learn how to socialize automatically.
Because socializing during the pandemic can be difficult, here are a few basic tips you can try to start socializing your new puppy:
Introduce Your Puppy to New Sights, Sounds, and Smells
Everything that your puppy encounters in its first year of life are a new opportunity to develop a positive association. During the first year of bringing your puppy home, try introducing them to different types of people, places, noises, and textures. Going for daily walks is a great way to start getting your puppy more comfortable with their environment.
On walks, you can typically meet people, hear unusual noises, and they can walk on different textures! Don't forget to switch up your routes to help your puppy meet new people of all ages and experience different sights. Your puppy should also learn to sit to meet new people rather than jumping.
How Many Interactions Should You Have Per Month? 
Most trainers would recommend interacting with about 100 people per month. Although this number might sound intimidating, it's very achievable! Walking by school drop-off zones or playgrounds is a great way to get your dog to interact with many new people and children.
For dog to dog socializing, signing up your pup for doggy daycare a few times a week is a great option!
Make the Experience Positive
Meeting new people can be nerve-wracking for anyone, but especially for your dog. When you're introducing your dog to all these new experiences, make sure they get the proper amount of treats and praise during each interaction. Positively reinforcing your dog will help them associate what they are being exposed to as a positive experience.
Proceed with Caution
Always read the body language of the other dog or human before allowing your puppy to go up to them. Introducing a new puppy to a large, energetic breed might not be the best idea when you're first starting to socialize. Always make sure the other party is willing to socialize with your pet before the initial interaction.
If you're ready to bring home your next puppy, don't forget to keep up with our expected litters for 2021!