Small Miniature Australian Labradoodle Litter, born June 23rd and going home Aug 18th 2017
Chocolate phantoms, golds and apricots, expected size 17 to 22 pounds.

Congratulations to Molly and Sunset!  Molly has six beautiful chocolate babies (3 girls and 3 boys) and one of them is a chocolate phantom.
Introducing one of our littlest mini labradoodles, Molly!  Molly is a little milk chocolate phantom girl who is sister to Dusk.  She brings new bloodlines to our program as she is a mini F4 American Labradoodle carrying for red and for chocolate.  She is an enthusiastic girl, a great cuddler and is as cute as a button!  Molly loves to go for long walks and romps at the park.  She's a little girl, just 16 pounds.  Her litter last spring was with Sunset and we were delighted with her babies with him. Here is a link to their litter last year.
We had wanted to let Trigger try being a dad for us, but it wasn't possible this time, so Sunset has done the honours again!  He is a cheerful and outgoing, social boy who loves everybody he meets!  He has the perfect Australian Labradoodle temperament and he makes lovely babies.  This litter will be graded as Australian Labradoodles and will be smaller sized minis.  This will be Molly's second litter and we are excited to see their puppies together!  She had six babies last time, so we would expect a similar sized litter again.
Here are the babies!
Black Stripe Collar Boy – The Gururaja family, Langley BC

This sweet fellow is a fleece coated boy who cuddles in nicely when we pick him up.  He's social and friendly, likes to give kisses but not face washes and is more towards mellow in activity level.  He is still playful and fun, just more low key about it all.  He'll do well with a family that is not hyper themselves!
---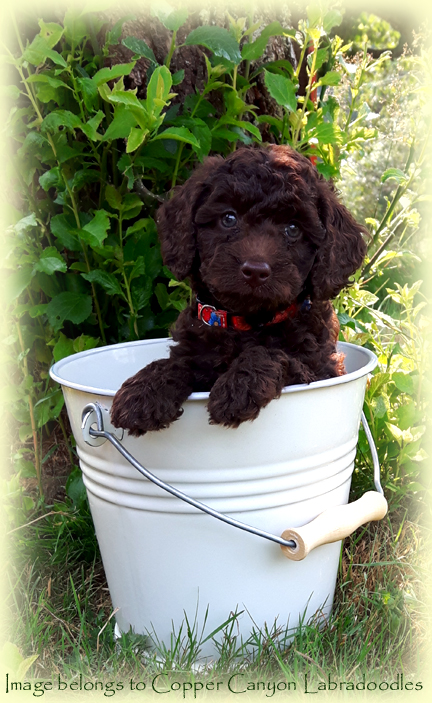 Floral Collar Girl – going to the Turney/Wong family

This gal is quite the girl!  Smart and funny and playful, she is confident and outgoing.  She has a nice coat of fleece and is a nicely put together puppy.  She will enjoy walks and hikes, and would likely do well at agility or some such doggy sport that would engage her mind.  She will do well as a companion for a more active couple or a family with kids that are on the go.
---
Phantom Girl – Copper Canyon Labradoodles
This cutie is going to live with her mom (Molly) and Nicola and Dennis!
---
Red Collar Boy – going to the Rowley family

This fellow is very socially oriented and wants to be with people.  He's a confident puppy who is not a wall flower!  He has a lovely curly coat and is well put together.  With his little white tuft on his chest, he's a cute puppy!  He will do well with a family that wants to do things with him and would prefer a family who is not away for 8 hours a day (tho doggy daycare would be a good option too).
---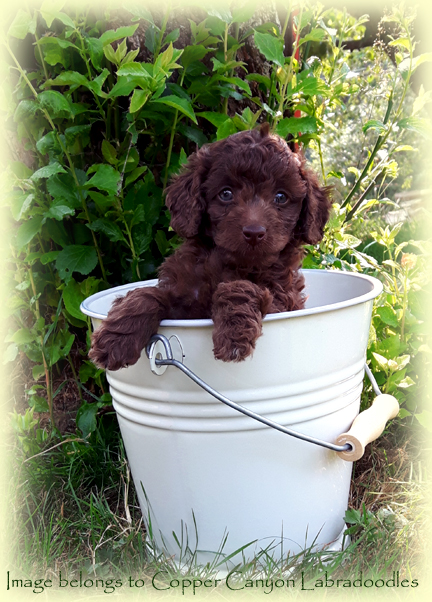 Smallest Chocolate Girl – going to the D Johnson family

This little sweetie is the smallest puppy in the litter and will likely take after her mom in size.  She's quite dainty and is a sweet and mild natured girl.  She's not timid but not bold either and will make a lovely pet.
---
Blue Plaid Collar Boy – the Ebert family, Kelowna BC

This handsome boy is quite a bit like his floral collar sister!  He's fun and confident and outgoing, moderate energy levels and will be a fun companion.  He has a really nice coat (more on the curly side, which is not surprising as both his parents are curly).  He'll make a good family pet for a family wanting an outgoing and confident pal to go on long walks or beach time.
---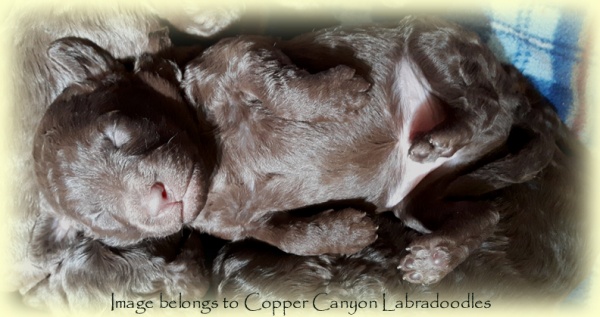 Newborn
Deposits pre-booked for this litter:
  Copper Canyon
 The D Johnson family, Vancouver BC
 The Rowley family, Richmond BC
 The Turney/Wong family, Burnaby BC
 The Ebert family,
 The Gururaja family