We raise exceptional quality non-shedding Australian Labradoodle puppies… from our home to yours! Our labradoodle puppies are loved and cared for, raised in our home with our children and make wonderful family pets. We welcome you to our website! There is LOTS of good labradoodle information here, so have a good browse…

We are also a Premium Rated Breeder with www.goldendoodle-labradoodle.org!
We are not listed with them but are on amicable terms with the Goldendoodle Website and recommend their services for any puppy family interested in a Goldendoodle puppy from health tested parents.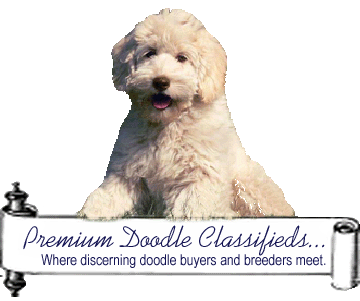 We are now accepting applications for medium and miniature Australian Labradoodle puppies for our current and upcoming litters.
We raise both miniature labradoodles and medium labradoodles in the PacificNorthwest, on Vancouver Island in BC, Canada. We do also have the occasional litter of standard sized AustralianLabradoodles as well. Copper Canyon Labradoodles began when we first became intrigued with the idea of a mellow, friendly dog that wouldn't aggravate my husband's allergies… and labradoodles, a breed combining the affable nature of the lab with the coat and intelligence of the poodle, seemed perfect! (Actually,five breeds went into the making of the Australian Labradoodle, but more about that on our 'About Labradoodles' page…) After waiting over two years before we could afford to import the quality of dogs we wished to begin our breeding program with, we welcomed Tegan Park Sundance, a medium sized labradoodle, and Tegan Park Special Effects, a miniature labradoodle, into our home. Dancer gave us a lovely litter of 10 labradoodles and we haven't looked back!
Since then, our labradoodle family has grown! Our labradoodles are family members and live in the house with us or in carefully chosen guardian homes. (We do not believe in the long term kenneling of our AustalianLabradoodles as they are a breed that thrive with contact with people). In fact, all our Australian Labradoodle puppies are born and raised in our home, where they are introduced to household noises and lots of attention!
All our breeding dogs are health tested before being accepted into our breeding program. It is not enough that a labradoodle look cute, they must also be a delight to have around, be sound, easily trained and social. We have never met a breed of dog more personable than the Australian Labradoodle and we invite you to welcome a labradoodle into your heart and home!