I'vesorted the photos into two pages so they load easier… You canclick on the link above for the Straight or Wavy Fleece coat types toview those ones.
Theseare various photos of curly fleece or wool coated puppies we have raised here at Copper CanyonLabradoodles and then later adolescent or adult photos that familieshave kindly sent to us… You can see how variouscoattypes develop from puppyhood to adult. It is by no meansexhaustive, but it may help describe the various textures of fleece andwool coats!
Some of them will have larger photos linked, so if you click on the photo you'll be taken to a bigger image.
View our straight or wavy fleece coat page!
---
Copper Canyon Lady – standard cream curly fleece – Australian Labradoodle
---
Copper Canyon Woody – miniature red wavy fleece – Australian Labradoodle

---
Copper Canyon Mary's Legacy – min size phantom curly fleece – Australian Labradoodle

---
Copper Canyon Finnegan – medium sized red/dk apricot curly fleece – Australian Labradoodle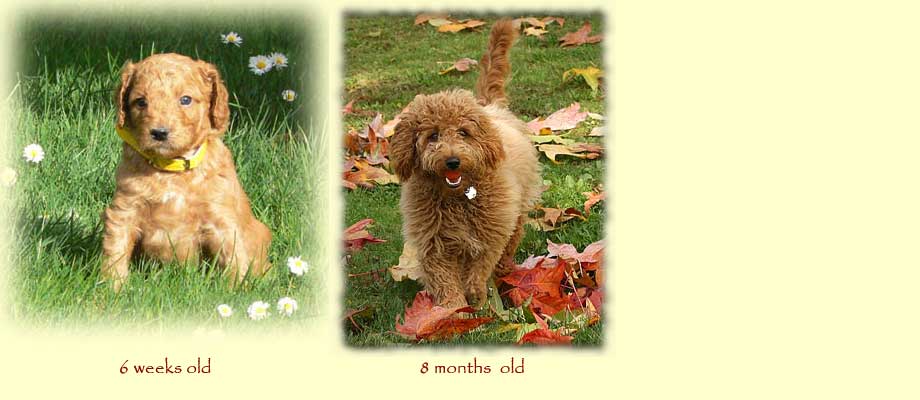 ---
Copper Canyon Lucy – min.size apricot curly fleece – Australian Labradoodle
---
Copper Canyon Bailey – med.sized wool coat – Australian Labradoodle