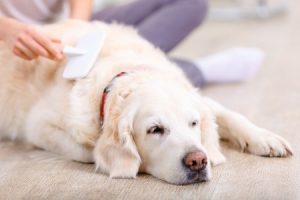 Is your dog's coat looking a little dull? Numerous factors can dry out your pet's skin causing their coat to itch, flake, and lackluster. As we head into spring, you might be wondering how you can restore your dog's healthy skin and shiny coat? Here are a few of our favorite tips that will help keep your pet healthy and comfortable all year round!
Brush Your Dog Regularly
Throughout the year, you should always be brushing your dog regularly. Brushing with a soft brush every couple of days will help stimulate hair follicles and natural oil glands in the skin that will help keep their coat shiny and healthy. Regular brushing also helps remove any dead skin cells and loose hair from their coat, which will allow their skin to begin to repair naturally. To help increase blood circulation and promote hair growth, brush your dog in different/opposite directions!
Focus on Your Pups Diet
Another essential step in keeping your dogs' skin and coat healthy, is feeding them a healthy and nutritious diet. If they lack any key ingredients, it will show in their skin. Your dog's diet should consist of products rich in fatty acids, essential oils, and vitamins to ensure less irritated skin and a healthy coat! Since most dry dog foods don't contain the necessary oils, it's best to purchase your own and supplement them into your dog's diet.
Make Sure You're Properly Bathing
Shampoos are highly stripping of natural oils, so to help maintain a healthy coat, try to avoid using shampoos when you can. However, if you do use shampoo, remember that not all dogs have the same coat. Always ask your professional groomer how your breed should be bathed before you purchase a shampoo.
If you notice that your shampoo is too drying for your dog, or you bathe your dog often, try using a bar of soap instead. A glycerin bar is a great way to help add moisture to the skin!
At Copper Canyon Labradoodles, we know how much your dog means to you, and we know that you will do anything to keep them healthy. Following these tips will do wonders for your dog's skin and coat. If you're interested in growing or starting your fur family check out our expected litters or give us a call at 877-850-2022!