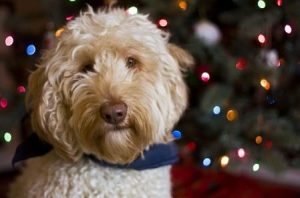 The holiday season has sprung into action! Now that Halloween has passed, everywhere you go is overrun with Christmas cheer and holiday excitement. It is a wonderful time filled with joy, excitement, hard work, food, festivities, family and friends! With so much stimuli, the holiday season can be a wonderful time not only for the people involved, but also our pets!
A dog is a lot of responsibility to begin with, and it can be easy to forget how the holiday craze can impact your pup. Especially for homes with Christmas trees, there are a lot of potential hazards for your pup. Let's take a look at a few things you should keep in mind this holiday season.
Water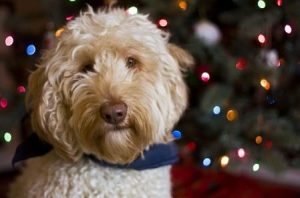 Everyone likes a cool drink, but you should make sure your four-legged friend isn't getting it from the tree. Often a tree will have preservatives or pesticide treatments that can leech back into the water. Some people also add aspirin to water in trees to help keep them looking fresh, notes Hartz. Use a covered dish or keep an eye on your pup and prevent them from getting near.
Needles
Pine tree needles are also a pain all through the holidays as they fall off and make a mess everywhere. Even worse, though, is the effect they can have on a dog. Certain trees, like fir species, can cause mouth and stomach irritation for your pup, while the sharpness of the needles can also cause obstructions or even punctures of the intestines. Don't let your labradoodle make tree needles a holiday snack!
Hooks and Ornaments
Avoid stringing any ornaments in the lower branches of the tree, especially any that might be fragile. Your dog's tail can easily swing off some of the low-hanging decorations, possibly breaking the more delicate items. This can leave you with broken glass or ceramic and a real mess. Plus, the hooks from these ornaments could come loose or get lost, ending up in a painful and sometimes serious problem for either your pet – if he or she eats it – or your foot, if you step on it accidentally!
Lights and Tinsel
The two most common strand decorations for the modern tree are both shiny and sparkle, but can be a problem for your pup. Lights can post an electrocution hazard, especially if your dog chews on the cord or bites a bulb. Tinsel, too, can be problematic. If your dog slurps some down like it's shiny spaghetti, you could end up with a blockage that requires surgery. Consider using a fence or placing the tree in a room your dog isn't allowed to keep everyone safe during the holidays.
Labradoodles are a fun-loving and curious breed of dog. This makes them wonderful for the fun and joy of owning a pet, but can prove to be dangerous during such a busy time of year. Whether you'll be celebrating the season with your labradoodle or are considering adding one to the family as a gift during the holidays, keep these tips in mind and keep everyone happy, healthy and safe.
To learn more about labradoodles, check out our labradoodle  information page. Learn about our currently available puppies or expected litters by calling us today at 877-850-2022.