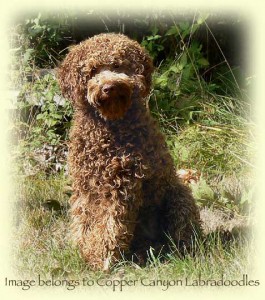 The best way to adopt the perfect puppy for your family is to find a litter that had wonderful parents. Here at Copper Canyon, we're really excited about this new litter! Both of these dogs are very well behaved, and we are sure that their litter will be nothing short of adorable!
Shadow is our last daughter from Muggles, a beautiful chocolate phantom stud out of the United States.  Shadow is a very solidly built girl with lovely boning, and a very nice coat.  She is a happy go lucky dog, very social and smart!  She is just oversized for a mini (even though both her parents are minis) and so Shadow is a small medium in size.
Sunset is a fun loving boy, and he has the perfect Australian Labradoodle temperament.  He is a a nicely sized mini boy with a loving, very social and fun personality.  He is sure that people will love him (as they might also have a treat waiting in their pocket), and he is a great ambassador for the breed.  His puppies have been lovely and we look forward to seeing more!
We expect this litter to be around 17 inches tall, and about 25 to 30 pounds when they're fully grown.  We are expecting to see chocolates, phantoms and possibly golds/apricots in their litter together.  This litter will be graded as multi-gen Australian Labradoodles.
If you'd like to reserve a puppy from Shadow's litter or one of our other upcoming litters, contact us today! Or, if you are looking for something different, let us know what you're looking for and we may be able to plan a litter that would suit.
Finding the perfect puppy to join your family doesn't have to be complicated at Copper Canyon Labradoodles!