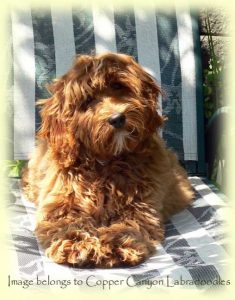 We might be biased, but we believe that the Australian labradoodle is a great addition to any family or household. As you might know, one of the wonderful things about labradoodles is that they are not likely to cause issues in anyone with allergies or sensitivities to animal dander and saliva. But did you know that was actually a part of how the labradoodle came to be?
The original creation of the Australian labradoodle came about from the work of Wally Conron in the 1980s, inspired by the story of a woman who needed a guide dog, but had a husband who was allergic to both canine saliva and dander. Conron then proposed breeding the poodle with the Labrador retriever, creating a dog that would more suitable to those who suffered from allergies or asthma while maintaining the dedication and demeanor of the retrievers. Conron hoped this would merge the traits of a good guide dog and with the well-known hypoallergenic traits of poodles, as the Australian Labradoodle Association of America notes.
The first litter of labradoodles only had three puppies. Only one of the puppy's dander and saliva passed the test. This dog, Sultan, was then sent out to live with the woman and her husband in Hawaii while Conron then went on to breed further generations of labradoodles, further decreasing the likelihood of allergenic dander and saliva in the bloodlines of subsequent dogs, notes Dog Breed Info Center.
In the years since, the dogs have grown in popularity immensely, and final standards of Australian labradoodles today are considered to be a cross between poodles, retrievers and cocker spaniels, says the ALAA.
Are you interested in adding one of these attractive and allergy-friendly dogs into your family? At Copper Canyon Labradoodles, our pups are sweet, friendly and a great fit for almost any lifestyle. Call us today at 877-850-2022 to learn more about expected our upcoming litters.