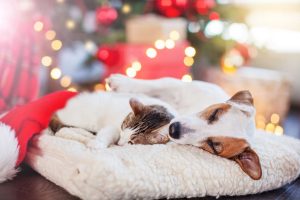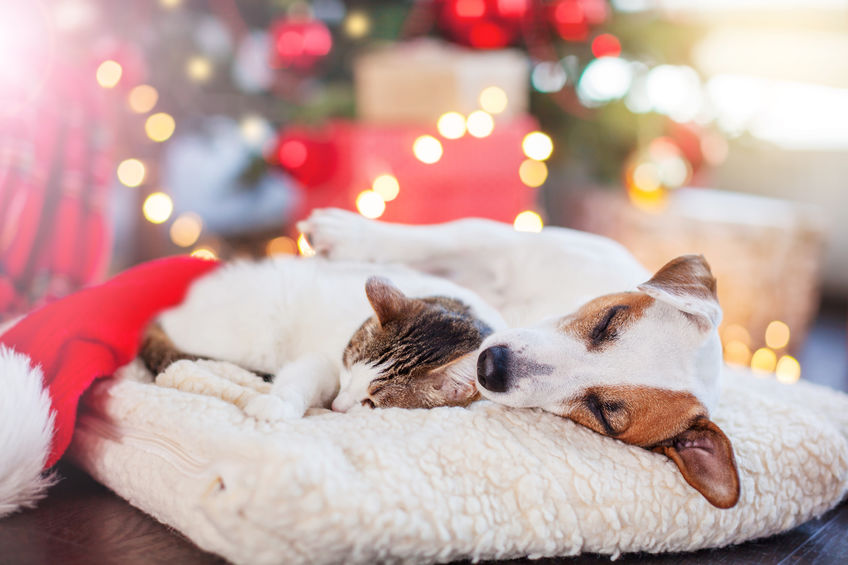 The holidays are upon us, which means you'll be decorating your house for the season. Before you eagerly hang up your decorations, familiarize yourself with the potential health hazards that could occur to your curious pup.
Make sure your house is as safe for your pet this holiday season by following these safety tips: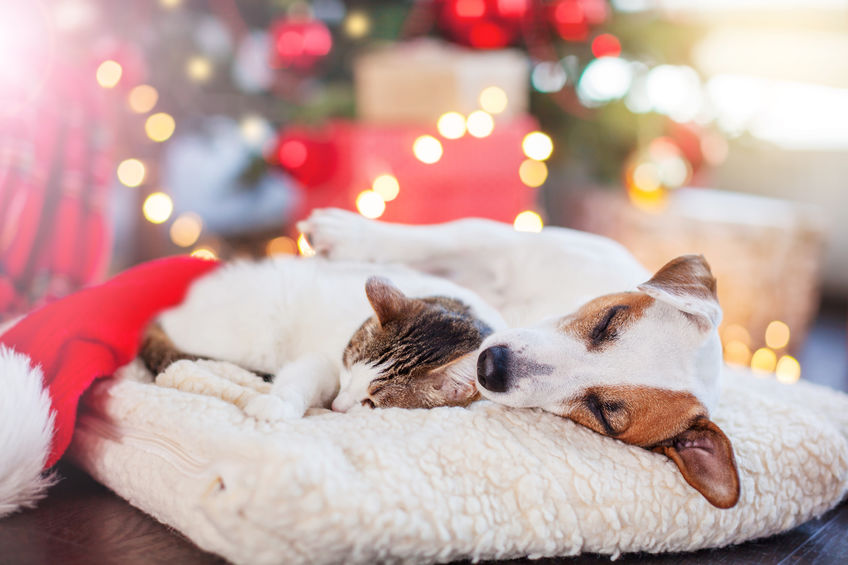 Pet-Proof Your Tree
Your pets love looking at your Christmas tree and all the beautiful ornaments just as much as you! To keep your pet out of trouble, always secure your tree with additional hardware to ensure that it stays in place. You can also put up a gate surrounding your tree for extra precautions to create an extra barrier between the tree and your pup.
A protective gate will also help keep your pup from drinking the tree water. If you have a real tree, the water your tree sits in can become filled with bacteria and fertilizers that can cause your pet to become sick if they drink it. If you don't have a gate, you can always cover the water with a heavy fabric tree skirt. You can also keep their water dish nearby so that they are more likely to prefer that instead!
Avoid Dangerous Décor
Please make sure all of your glass décors are placed high to avoid your pet knocking it over and breaking it. This includes your fragile glass ornaments. Your dog may also be tempted to play with any tinsel around your home. Tinsel, yarn, and other wrappings are dangerous for your pup because they can tangle in their gut.
As for candles, although many homeowners like to decorate their homes with the soft glow of a candle, they can cause burns to pets and be a fire hazard. Just like your glass décor, make sure your candles are kept high on a sturdy surface, and only light them when you're staying in the room.
Hide Any Exposed Cords
Electrical cords pose an enormous threat to your pet if they aren't appropriately hidden. By hiding your electrical cords, you reduce the potential of having your pet chew on them when you're not around. One solution to this problem would be to look for battery-operated decorations.
Keep the Treats Out of Sight
The holidays are great for humans because of all of the sweet treats we get to have. However, remember that although we may love these treats, they aren't always safe for our pups. Make sure your holiday treats, especially chocolate, are placed in a spot where your dog can't get to them.
Creating a Safe Space for Your New Puppy
At Copper Canyon Labradoodles, we know how much you love and adore your pets and will do anything to keep them safe. If you have any questions, give us a call at 877-850-2022!