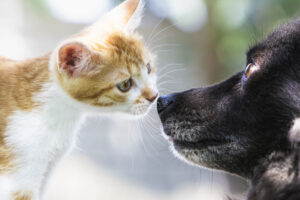 When you have made the decision to adopt a dog and already have a cat or kitten at home, you may be wondering about the best way to have them meet and how they will react.
As a rule, it is advised to ease them into meeting each other by first having them in separate rooms where they can pick up on each other's scents and sounds.
Once comfortable, it is suggested to put them in the same room, with your dog either on a leash or in a crate, so they may read each other's body language. When you feel it is appropriate, you can take your pup off the leash or out of the crate where they can meet your cat or kitten for the first time.
Keep them separated at first
When you first bring home your new dog, it is important to ease your pets into being around one another.
One of the best ways to achieve this is by keeping them in separated rooms. While this may seem counterintuitive, your pets will get used to one another by picking up on each other's scents and sounds.
It is suggested to feed them at the same time from the separate rooms and to move their bowls closer to one another each time you feed them.
As an added tip, leave a towel with your dog's scent on it in the cat's room and do the same in the dog's room.
Eventually put them in the same room
Once you have gone through the above process for a few days and you feel they are getting used to one another, you should put them in the same room, however, it is important to not have them come into direct contact with one another.
This can be achieved by separating them with crates, a screen door or gate. They may bark or hiss at one another at first but should be able to calm down quickly.
If your dog is listening to your commands and not barking, you can even leash it and let it get closer to the cat.
Give them the opportunity to meet
Once you feel that they are comfortable being in the same room, you can take away the gate, screen or leash and let them approach one another.
It's important to note that they may not advance close to each other until they really feel one another out, so you should remain patient and not force an interaction.
When you follow each of these steps, you will be ensuring that they are completely comfortable upon their first meeting.
If you own a cat or kitten and are considering adding a new puppy to your family, we ask that you reach out to our experienced breeders at Copper Canyon Labradoodles.
Based out of Vancouver Island in BC, Canada, we raise quality non-shedding Australian Labradoodle puppies that are raised in our home with our children and make wonderful family pets.
To learn more about our adoption process, current and upcoming litters or if you have any other questions, please contact us today.