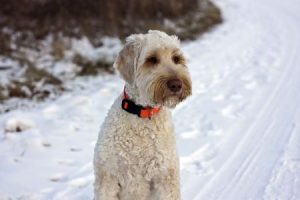 With our autumn days limited, it is time to think about how to protect ourselves and our labradoodles from the cold winds and freezing temperatures that the upcoming winter will bring. Here in British Columbia, we know how cold it can get, so proper care is especially essential around these parts.
Here are a couple of factors to keep in mind when caring your for pup this winter season.
Coat Type is a Major Factor
If you are a new labradoodle owner, don't just assume that because he or she has a long coat that they will stay warm without issue. If your dog has a fleece-style coat that is loose and shaggy, it may not be close enough or thick enough to keep him warm. Consider knitting or buying a sweater for your pup or make sure that he or she has plenty of blankets available to keep warm.
Age
Dogs are like people in many ways. When we are young, we feel invincible – although we are not – and when we are old, we may need extra protection. Keep this in mind. When it comes to younger dogs, don't feel that just because they are full of energy that they can keep warm during the winter. These young pups may require an extra layer of protection. This goes for older dogs as well. They may have accumulated a lot of fur over the years, and their coat could now be extra thick, but being a bit older means they don't have the same level of energy, as well. The Nest suggests that you may want to look at a coat for your pup, especially if you'll be traveling, going on walks or even just for bathroom breaks in subzero temps.
Take Care of Your Dog When Indoors
Just because your labradoodle spends the majority of its time indoors does not mean that precautions should not be taken to keep them warm and safe. At night, make sure that your dog has a warm and cozy place to sleep – away from the drafts and, ideally, off the floor. Be especially vigilant as well when giving your dog a bath and make extra sure that you dry him or her off completely, especially before taking them for a walk in the frigid weather.
At Copper Canyon Labradoodles, we know how much you love and adore your labradoodle and will do anything possible to keep them safe. Following these cold winter tips will do wonders for your dog and keep them happy and healthy through the winter months. Interested in growing or starting your four-legged family? Check out our upcoming expected litters now, or call us today at 877-850-2022.