Miniature Australian Labradoodle, Born July 18th ~ going home September 12th 2015
Angie is a cute little charmer! She's a cuddler, loves to play, loves to go for walks and adores her ball! She's a smaller mini girl with a soft coat of wavy fleece. We plan to pair her with our chocolate mini boy, Sunset. Sunset is quite the character… social and outgoing, he is a clever and fun little guy who charms everybody he meets! This will be a repeat pairing from Angie's first litter for us. Their first litter was very nice and we expect their puppies together will make great family pets!
I expect these puppies will be around 16 inches and weighing between 20 and 25 pounds when fully grown. This litter will be graded as multigen Australian Labradoodles.
And here are their puppy portraits!
Gold Boy         Spoken for, going to the McLean family in N Vancouver
This handsome fellow is a nice little puppy!  He's social and friendly but cuddles in nicely when we pick him up.  He'll finish out nicely in the mini size range.  He has a cute little chocolate nose and a lovely fleece coat.  He's somewhere between mellow and moderate for activity level and will suit a family wanting a great pet with children or grandchildren.
Phantom Girl                        Spoken for, going to the Carter family
This lovely girl is one of the bigger puppies in the litter.  She's a really pretty girl and has a lovely temperament.  She's playful and fun and steady nerved with an energy level somewhere between mellow and moderate.  I really like her a lot.  She has a fleece coat with some curl in it and is a nicely put together girl.  She'll make an excellent companion!
Merle Girl                                      Spoken for, going to the Garden Bay family.
What a cute girl!  She's on the go and playful, loves people and attention!  She has a coat that is somewhere between curly and wavy and is the smallest puppy in the litter.  She gets along with everybody and has a nice amount of confidence.  She'll be a fun pet.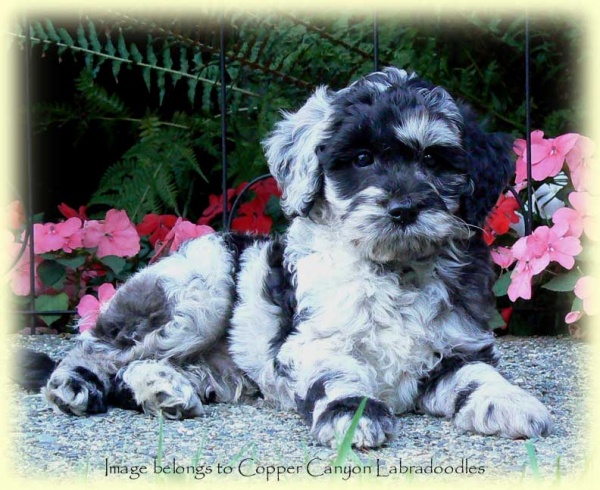 Merle Boy
This handsome boy will stay in our breeding program, we will look for a guardian home that is within quick driving distance of our home here.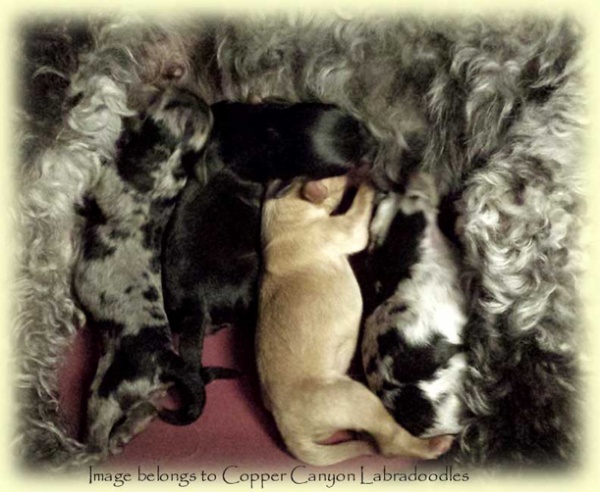 Deposits pre-booked for this litter:
Copper Canyon (available to a guardian home)
The Garden Bay family, Garden Bay BC
The Carter family, Vancouver BC
The McLean family