Mediums and Possibly Small Standard Litter, born June 6 2016
Reds, Golds and apricots, possibly with white markings
Introducing our lovely Bella!  Bella is a snuggler extraordinaire, the resident mom of everybody four footed and two footed!  She loves going on walks, she adores the couch – or the bed if she is invited…  She is a beautiful standard apricot poodle with exceptional temperament, she is just so willing to please and friendly and laid back.  This will be her third litter for us and we always look forward to seeing her puppies.  Bella has had ten beautiful little puppies in various shades of apricot to red, congratulations Bella and Bentley!
We think that Bentley will be a good choice of beau for her.  Bentley is an easy going boy with lovely boning and a beautiful wavy red fleece coat.  Bella will bring some new red bloodlines to our Australian Labradoodle breed (as well as superb temperament). These puppies will finish out in the medium size range (possibly a few of them may mature to be small standards), likely between 35 and 45 pounds.  I expect to see mostly reds and apricots from them and possibly a gold puppy or two as well.  This litter would be graded as Australian Labradoodles.  Bella has ten lovely red babies!  Some will be bigger and some smaller, as the parents are different sizes.
And here are the puppy portraits!
Black Stripe Collar Boy – going to the Moldenhauer family

This handsome fellow is a super fun puppy!  He's moderately active, very well put together and will suit a family wanting a playful and fun dog to go and do things.  He would do well with older kids or grand kids, I think, as he's definitely social but might be too much for toddlers.  A really nice boy.
---
Red Floral Collar Girl – on hold

This cute girl is a sweetie!  More towards mellow for energy levels, she will still love to go for walks and play.  She has a lovely coat of non shedding curls and a big white blaze and white toes, super cute!  Another pup with therapy potential, I think she would do well with a family with kids or grand kids as she is steady natured and gentle.
---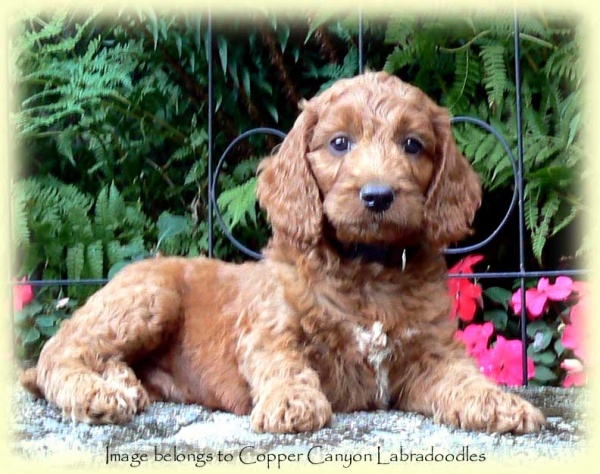 Burgundy Pawprint Collar Boy – going to the Stroyek family

This alert fellow is a cute and well balanced puppy!  He is very people oriented and is a nice natured boy who would do well with kids or grand kids.  He has therapy potential for somebody who wants to do that.  He reminds me a lot of his dad, Bentley.  Really nice puppy.
---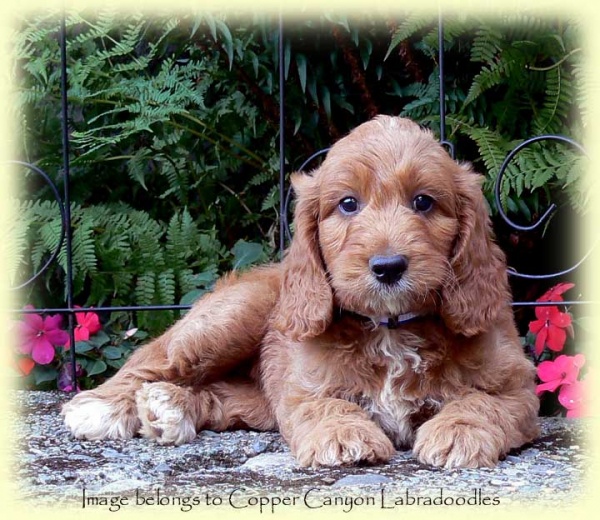 Blue Stripe Collar Boy – going to the Crosby family

 This sweet boy is a playful and fun puppy!  He loves to be with people and is more towards moderate for energy levels.  He settles nicely when we pick him up and I like that.  He's got lovely structure and would do great on hikes or long walks.  Surprisingly I can pull a few hairs from his coat (not something one would expect from Bentley and a poodle) and so he will be discounted to $2000 as I don't know if he's doing an early coat change or if he may be a very mild shedder.
---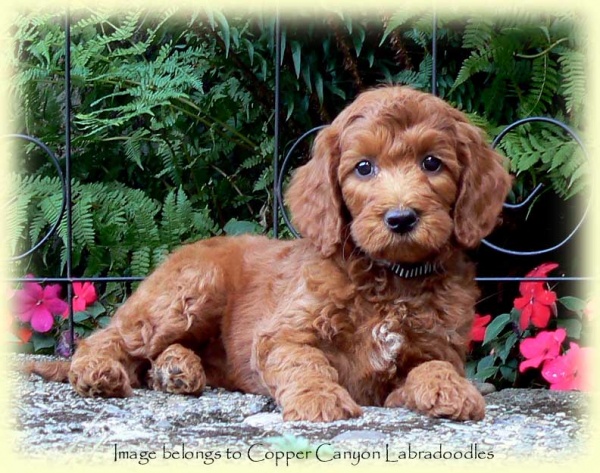 Black and White Collar Girl – going to the Banham family
This cute little girl has a lovely coat of red fleece and a white snip on her chest.  She's a gentle and social girl who is pretty easy going but also does like to play.  She would suit a family wanting and easy going pet and a more mellow home.  She's a bit smaller than her biggest siblings and will likely finish out in the medium size range.  She's lovely!
---
Blue Plaid Collar Boy – going to the Spicer family

This fellow is a super sweet, gentle and mild fellow.  He'd be a great prospect for somebody wanting an easy going companion.  Has great therapy dog potential.  Would suit a family with kids or grand kids.  Really nice.
---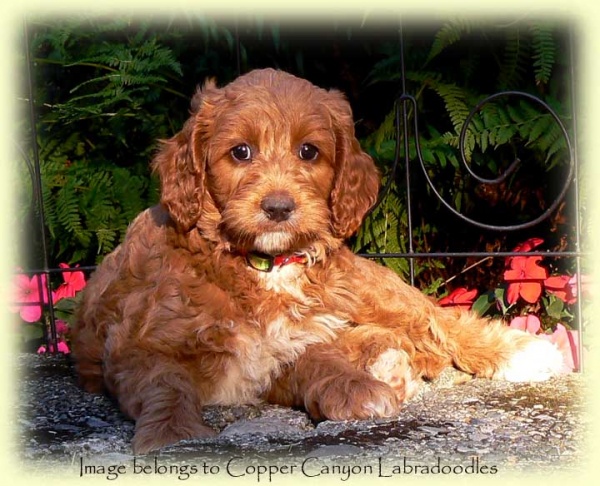 Hot Pink Collar Girl – Copper Canyon
This lovely girl is a really fun, sweet one!  She likes belly rubs and lays nicely in our arms when we pick her up, but when she's on the ground she likes to play and explore.  She will go to a guardian home and hopefully join our breeding program.
---
Leopard Collar Girl – going to the Hodjati family

This pretty girl is as smart as they come!  She's mild and easy going but is also a fun, mildly mischievous puppy.  She would suit a family wanting a great pet for kids or grand kids.  She has a white chest and toes and a gorgeous wavy fleece coat like her dad.
---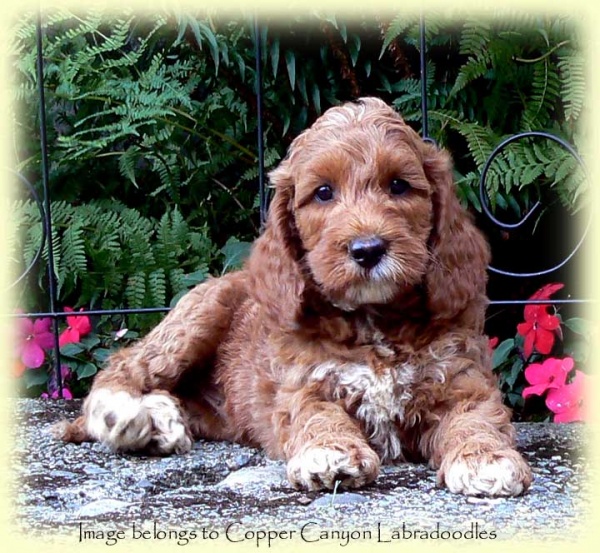 Red Collar Boy – going to the Saises family

My last of the 3 amigos as I have been calling this trio of boys that are all so very similar in temperament.  He's Bentley all over again, just in a bigger size!  Lovely fleece coat, mild and social nature, he will do great with a family with kids or grand kids.  He is a lovely natured boy and will be a great companion.
---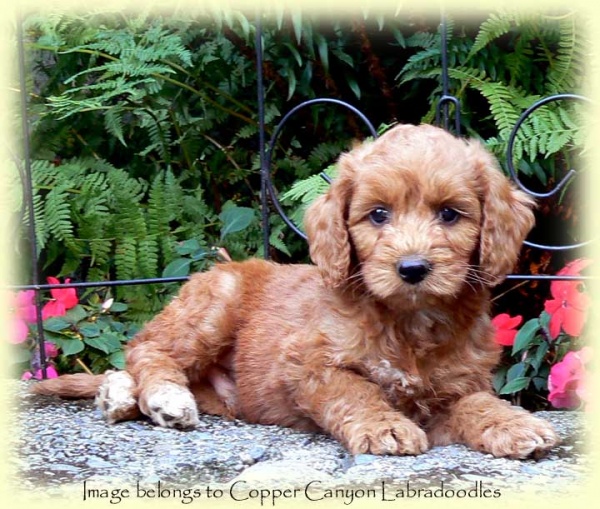 Smallest Red Boy – going to the Davis family

 This smallest scamp is a cute fellow!  He's a snuggler when we pick him up, but he doesn't take guff from his bigger brothers either!  He's somewhere between mellow to moderate and will be a super companion for a family.  He is the smallest puppy in the litter and may finish out more towards smaller medium in size.  He has a lovely red fleece coat and white paws with just a little bit of white on his chest.  He's a nice pup.
---
Puppy Photos!
Deposits pre-reserved before birth:
 Copper Canyon Labradoodles (will be placed in a guardian home)
 The Banham family, Surrey BC
 The Moldenhauer family Terrace BC
 The Hodjati family, Victoria BC
 The Saises family, Vancouver BC
 The Crosby family, Surrey BC
 The Davis family, Courtenay BC
The Spicer family, Victoria BC
The Stroyek family, Edmonton AB (also on Jazzy's litter list)