Mediums and possibly full sized minis born June 28 2016 and going home Aug 24th
Chocolates, partis, possible golds or creams expected from these two.
Introducing Jazzy!  Jazzy is a lovely cafe chocolate curly coated girl with a lovely, take it all in stride manner!  She is friendly and social, never makes strange and thinks that each day is a new adventure!  She likes going for walks and likes sleeping on the couch.  Super good around children and dogs, she is a great example of what an Australian Labradoodle should be!  She's a nice medium sized girl and her puppies are just lovely.  It turns out that Paddington will do the honours this time for siring this litter!  Paddington is a cute little 15 inch chocolate mini boy with a lovely fleece coat and a wonderful, stocky body.  He's a good cuddler on the couch with kids, and he carries for parti markings and phantom so we are hoping to see some of that in these puppies.  Jazzy is 35 pounds and Paddington is 20 pounds so I would expect puppies to range in size between that.  This litter would be graded as multigen Australian Labradoodles.  I expect Jazzy to have puppies in June and going home in August 2016.
Jazzy has four beautiful little boys in her litter this time.  We are a bit surprised as she had 7 or 8 puppies in both her litters in earlier years!  Three chocolates and one gold puppy are what she has this time…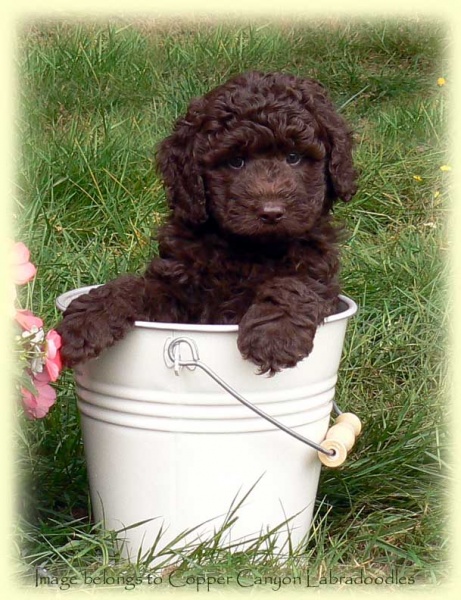 Black and White Collar Boy – going to the Pfluger family

This handsome fellow is a cute little puppy!  He's a very friendly and social guy, smart and will be easy to train.  He's somewhere between mellow and moderately active and he likes to play and to go and do stuff.  He's got a nice confidence to him and his coat is more curly than some of his other siblings.  He'll suit a family wanting a puppy that is game to go and play and do things together.
---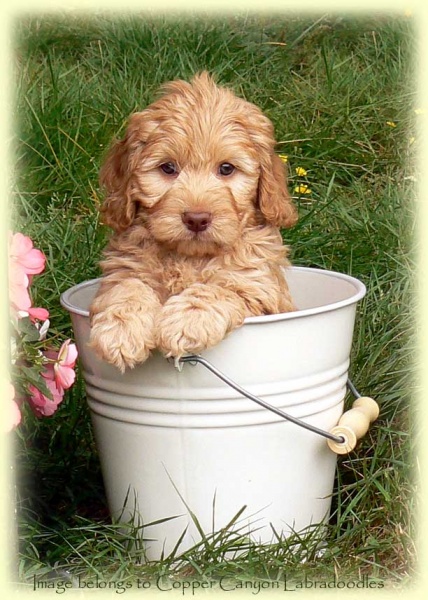 Gold Boy – going to the Bird family

This cute fellow is a mellow and social boy.  He's gentle and quite a good snuggler!  We think he'd suit a family with kids or grand kids and will make a great companion.
---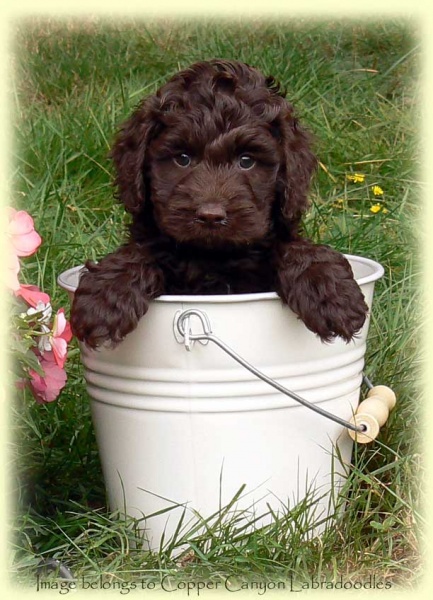 Plaid Collar Boy – going to the Kernahan family

This chocolate boy is a nice little puppy!   He's more on the quieter side but he does play nicely with his siblings and likes people.  He's got a lovely coat of wavy chocolate fleece.  He'll suit a family wanting a more low key dog and would do well with kids.
---
Red Collar Boy – going to the Munkacsy family

This lovely boy has a big white tuft on his chest and is a really nice boy.  More on the laid back side, he is social and confident and nothing much flaps him.  He'd be a great family pet.
---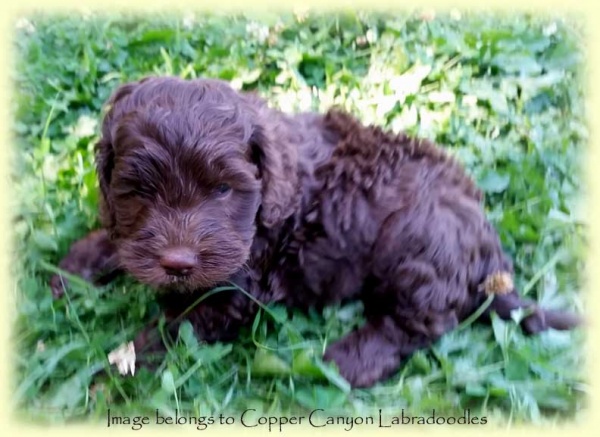 Outside on the lawn (or what's left of it given water restrictions…)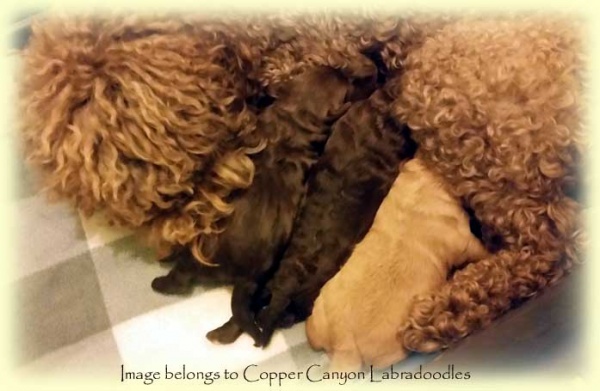 Deposits pre-booked for this litter:
  The Bird family, Victoria BC
2.  The Munkasky family, Port Moody BC
3.  The Kennedy family, Campbell River BC
4.