Miniature Australian Labradoodle Litter, born Oct 31 2015
Golds, apricots, chocolates and parti marked puppies expected in this litter, likely to mature between 15 and 16 inches and 18 to 25 pounds.
What can we say about Buttons? She is as sweet as they come, super easy to train and just wants to make you happy. She is the queen of cuddles, loves car rides and to be with people. She's a lovely miniature size and has a soft coat of wavy gold fleece. We had intended her beau to be a red wool coat boy named Fergus, but that didn't work out and so Sunset will be the dad of these puppies.  He is a super boy, very social and friendly and he has sired puppies before with Buttons so we know they will be lovely!  He is a full sized mini and Buttons is smaller (17 pounds) so this will be a nicely sized mini litter. This litter will be a multigen Australian labradoodle litter.
One family has had to delay the arrival of a puppy and so there is one puppy available in Buttons litter.  They will be ready to go home December the 31st.
And here are the babies!
Gold Fleece Girl  – reserved!
This cute little girl is a nice little puppy!  She's gentle natured but not shy and is very sweet.  She has a lovely coat of non shedding wavy fleece and reminds me a lot of her mom Buttons.  She would do well with a family with kids or grand kids.
---
Caramel Parti Girl  Going to the Hall family
This cute little girl is a fun puppy!  She has lots of personality and believes in face washes and loves attention.  She is smaller than some of her siblings and that does not stop her at all!  She will make a great family pet.
---
Chocolate Phantom Girl
This cutie is a busy and fun puppy!  She is very social and takes things in stride.  Her coat is a bit more curly and her phantom markings are really nicely defined.  She will be going to a guardian home and hopefully joining our breeding program.
---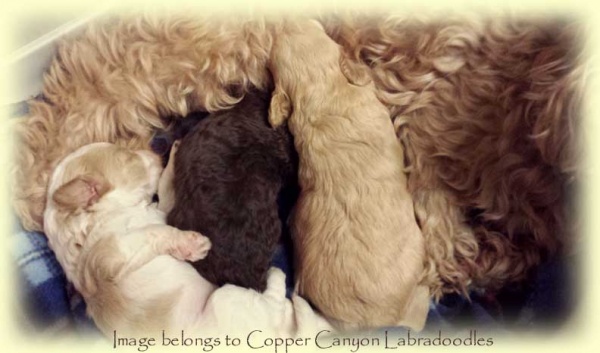 Deposits pre-booked for this litter:
Copper Canyon (available to a guardian home)
The Hall Family