Small Miniature Australian Labradoodle Litter, expected May 2019
All apricots, golds and maybe reds in this litter.  Expected size between 18 and 22 pounds
Five beautiful puppies were born Sunday May 19th!  Both mom and babies are doing really well : )  Piper is a super sweet natured apricot girl out of our Angie and Bentley.  She is 20 pounds of cuddle and sweetness!  She has a lovely coat and a lovely temperament.  Piper lives in Abbotsford in a guardian family with a young toddler and she has adapted really well to being around little ones.  We are really delighted to have Cooper be the dad for Piper's litter this time.  Thanks to Dreamland Doodles for letting him be a dad for us.  Cooper is a really handsome caramel boy with a lovely fleece coat and a cute chocolate nose.  He's a sweet little cuddle bug and so we think he'd make beautiful babies with Piper.
Their puppies will finish out between 18 and 22 pounds and should be true sized minis.  Expected colours: apricots, golds and maybe reds.  This litter will be graded as multigen Australian Labradoodles.
And here are the babies!
Tan Collar Girl – going to the Morgan family
This little sweet heart is a really nice little puppy!  She's social and friendly, pretty mellow, and has a really cute face.  She will make a great family pet.
---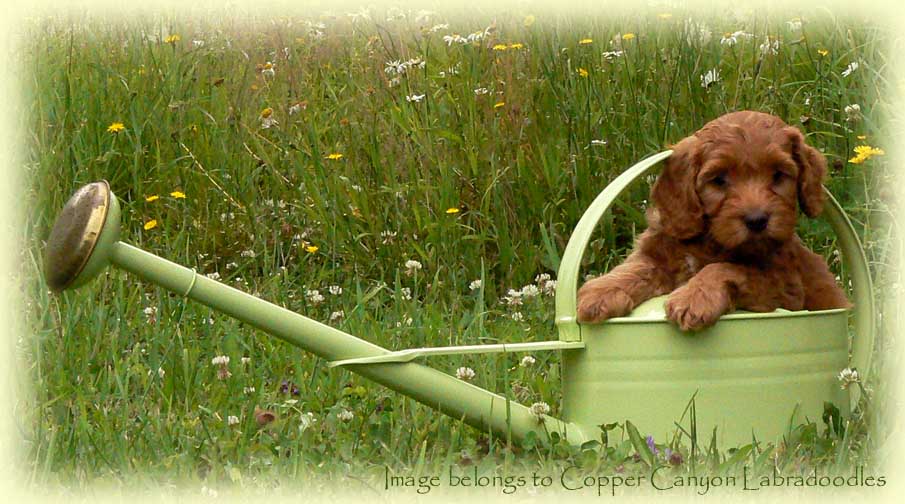 Leopard Print Collar Girl
This gal is a beautiful shade of bright red and she is a going concern!  Playful, fun, social, she has a lovely wavy fleece coat and she will be a great walking companion or playmate for kids or grand kids.  She is more towards moderate for energy levels and she will be a fun dog for a family wanting a dog to go on longer walks and hikes, or keep up with kids.
---
Stripe Collar Girl
This sweet girl is as cute as they come!  She has a beautiful dark gold coat with a white blaze on her chest and face, and a really pretty face.  She will look a lot like her mom, I think.  She's mellow and sweet and cuddles in nicely.  She will be an excellent companion!
---
Black Collar Girl
This adorable little gal is one of the darkest puppies in the litter.  She is social and playful, but really gentle and sweet when you pick her up.  She has a straighter fleece coat like all of her siblings, and a little white snip on her chest and toes.  Really nice puppy, she will do well with kids or grand kids.
---
Our only boy in the litter! – on hold

What a sweetie!  This handsome fella is an easy going, mild natured boy with an outstanding temperament.  He's a nice apricot in colour with a wavy fleece coat like all his siblings.  He'll make a good pet for a family with kids.
---
This is Piper's puppies and Zola's puppies, playing together!
Deposits pre-booked for this litter:
 Possibly Copper Canyon (will be looking for a guardian home)
 The Morgan family, Victoria BC
The Lum family, Shawnigan Lake
The Reimer family
The Fetterly family