Mini Australian Labradoodle Litter, born August 27th and going home around Oct 22nd 2015
Chocolates, blacks, golds and phantoms expected in this litter, 14 – 16 inches and 18 – 24 pounds.

There may be one puppy available yet, we will know either Friday the 23rd or Monday the 26th…!
We have seven lovely new arrivals, 5 boys and 2 girls!  Two gold puppies, a chocolate phantom and 4 black phantoms.  Phantom is one of our favorite colours, so we are delighted!  Cocoa is a daughter of our Muggles and has very nice phantom markings herself. She has a great temperament and her litter last year with Bentley was very nice. Cocoa is a very solidly built girl with lovely boning and a very nice coat. A happy go lucky girl, very social and very smart, she is just oversize for a mini (even though both her parents are minis) and so is a small medium in size.
Dusk is a cute little scamp with loads of personality! He is charm in a small package, as he is only 12 inches tall. He has an amazing coat of nonshedding fleece that does not matt and he is quite the charmer! Dusk carries for red and chocolate and has kept his colour very nicely. At 12 inches, he is a very small mini and his puppies are very cute!
I expect these puppies will be in the mini size range, 14 to 16 inches at the shoulder and between 18 to 24 pounds when fully grown. This litter will be graded as Australian Labradoodles. If you are interested in one of our puppies, please be in touch via email or phone.
And here are their puppy portraits!
Phantom Curly Girl    Going to L McBride
This little girl is a going concern!  She's more towards moderate for energy levels and is curious and likes to play!  She settles in nicely when we pick her up and likes to follow at our feet and see what is happening.  She has a nice curly coat and beautiful phantom markings.  She'll suit a family wanting a fun companion!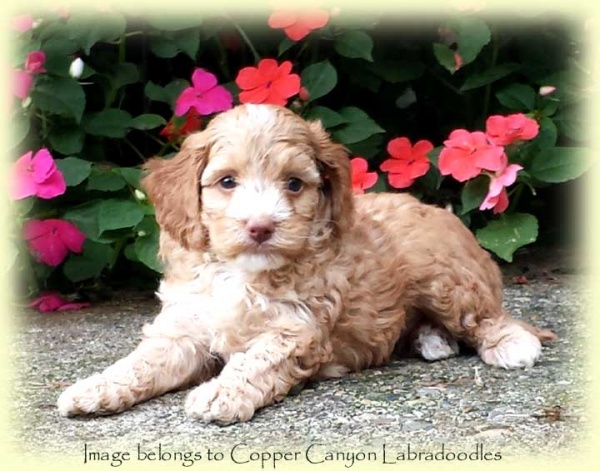 Gold/White Boy     going to the Lu family
This sweet little fellow has white marks on his paws and nose!  He's a cuddly, friendly fellow, very sweet and cuddly, he's very nice.  He has a lovely fleece coat and a nice personality.  He will suit a family with children or grand children.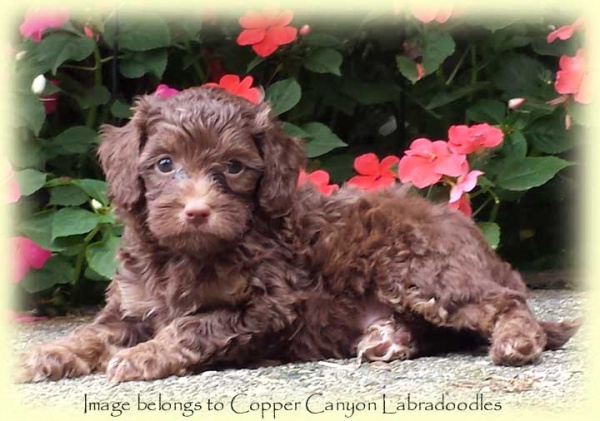 Chocolate Phantom Boy     Spoken for
This gentle little fellow is one of the smaller puppies in the litter.  He's a soft natured boy who will make a lovely family pet and I like him a lot!  He has a beautiful coat of chocolate fleece.  He's quieter natured but not timid and will suit a family wanting an easy pet.  Going to the Clarkson family
Gold Boy      spoken for, going to the Moore family
This caramel fellow is another gentle soul!  He's sweet and quiet, but warms up quite nicely when we hold him.  More on the mellow side of things for energy, he'll suit a family wanting a quieter natured pup.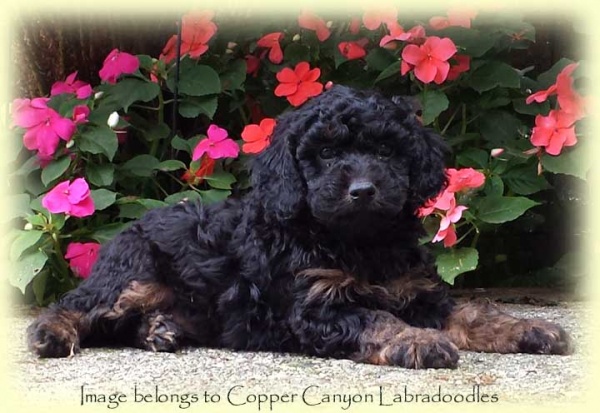 Phantom Boy  spoken for, going to J Treasure
This lovely boy is a really nice puppy!  Gentle and social, he has a lovely temperament as well as lovely markings!  He'd suit a family wanting an easy going, friendly family pet.
Phantom/Cream Girl     Going to the Turcotte family
This little cutie is completely adorable!  She has a very nice fleece coat and gives kisses but not face washes.  She's a friendly girl and will make a very nice companion.  She's somewhere between mellow and moderate, I think.
Dark Phantom Boy      spoken for
This nice boy is being held back at the moment…  He's an easy going puppy, more on the mellow side and we like him!
And here are the babies, clean and sleeping!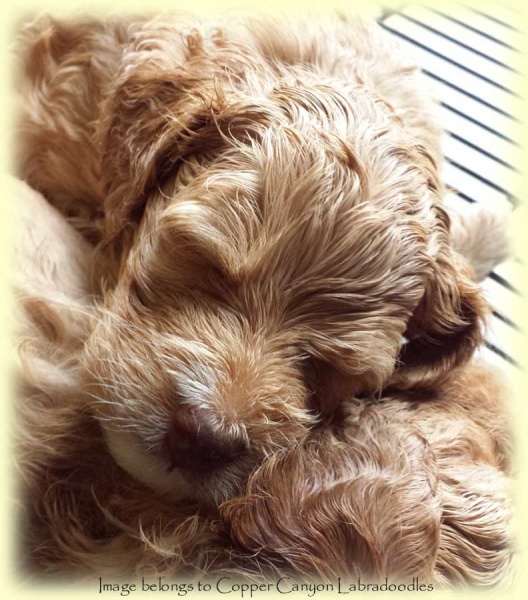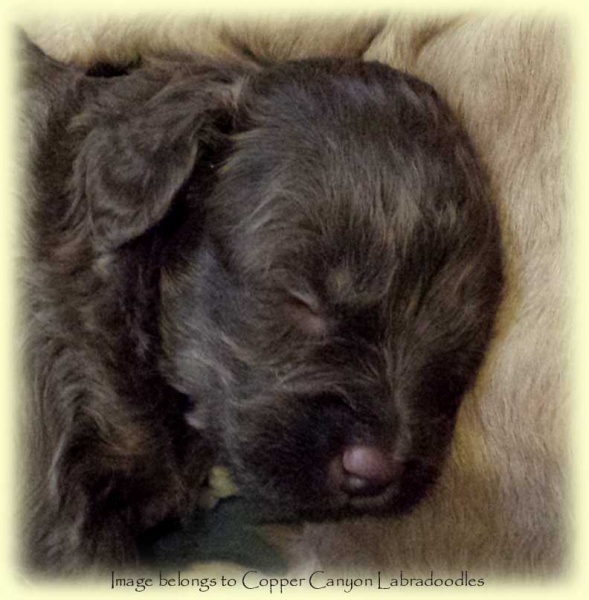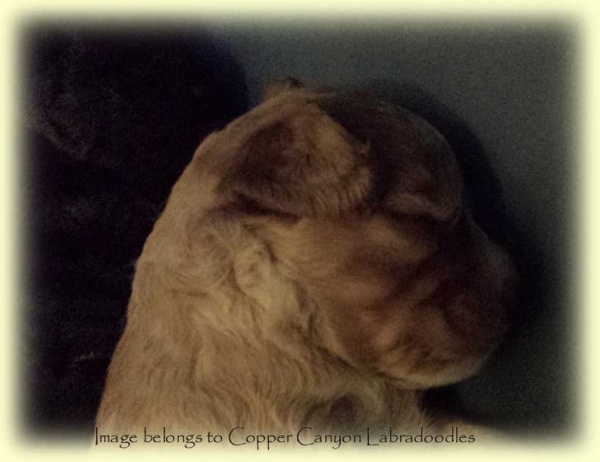 And newborn:
Deposits pre-booked for this litter:
Possible breeding prospect
The Moore family
The Clarkson family, Vancouver BC
The Turcotte family, Victoria BC
J. Treasure, Vancouver BC
Available spaces on this litter:
6.
7.