Mini Australian Labradoodle Litter, expected early April 2017 and going home in early June
Expected colours: reds, apricots or golds, blacks and possibly chocolate or phantom

As can sometimes happen, Penny decided to have a singleton puppy for her first litter!  So we have one (very adorable) little black girl.
Introducing Penny!  Penny lives with us and is just oversize for a miniature, making her a very small medium in size.  She is super social Australian Labradoodle and will climb into anybody's lap!  Penny has a lovely coat of deep red loopy fleece curls and is a sweet natured girl.  Her daddy is our Bentley and she is a slightly curlier version of her dad.  We want to pair her with Dusk for her first litter.
Dusk is a little 12 pound scrap of deep black fleece that is sooo soft and touchable.  He is a clever rascal and is outgoing and personable.  He carries for chocolate, red and phantom, so we expect to see some red or apricot puppies in their litter, some black puppies in their litter, and possibly chocolates or phantoms (if Penny carries for that).  As Dusk is so small, I expect this litter will mature to be in the mini size range.  Penny is around 27 pounds herself, so I expect we might see a couple puppies smaller than 20 pounds and some of them around 25 pounds.  This litter will be graded as Australian Labradoodles.  If you are interested in adopting one of their puppies, please feel free to contact us by email or phone.
And here she is!
This cutie is a full of fun girl and she is going to the Spalton family.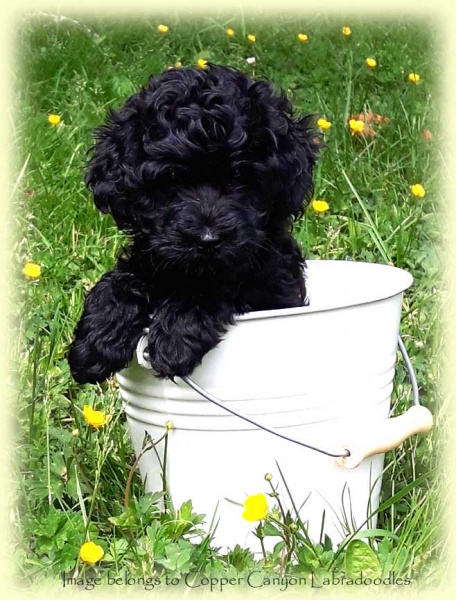 Deposits pre-booked for this litter:
 The Spaltons, Vancouver BC
 The Adams family, Langley BC
 The Sarai family, Surrey BC
 The Frigon family, Kelowna BC
 The Ebert family, Kelowna BC