Miniature Australian Labradoodle Litter
chocolates, blacks and possibly golds or phantoms expected in this litter, likely to mature between 13 and 15 inches and under 25 pounds.
Going home December 6th and 7th

Lizzie has four sweet little puppies for her first litter!  Three chocolates and one black puppy. Lizzie is a really sweet and social girl out of Angie and Dusk's litter from a couple years ago.  She is a playful and fun girl and is a smaller sized mini Australian Labradoodle girl, just 12 pounds.  Lizzie has a real joy and zest for life and always seems to have a doggy smile on her face!  She carries for chocolate and possibly for gold or phantom, so we should see some very nicely sized little minis in a rainbow of colours from this litter!  I would expect to see 4 puppies from her litter but not likely more than that.  This litter will suit families wanting a smaller sized companion for condo regulations or just a great pet to get out and enjoy walks and couch time!  Sunset is our lovely chocolate boy and you will never meet a friendlier dog!  He has nice manners and is quite sure that the world will love him – and they usually do!  He carries for phantom, parti and gold and is such a nice boy.  He makes wonderful puppies with his confident, easy going nature.  This litter would be graded as multigen Australian Labradoodles
And here are the babies!
Black Boy
This fellow is a going concern!  He's confident, outgoing and quite social.  He LOVES to play and is a busy and active, very cute puppy!  He has a lovely coat of black curls that do not shed and he'd make a super fun companion for an active family.  Going to Juan and his family.
Light Chocolate Girl
This cute little girl has a beautiful wavy fleece coat and is a sweet little puppy!  She's cute, cuddly and is a real little charmer. Going to the Newstone family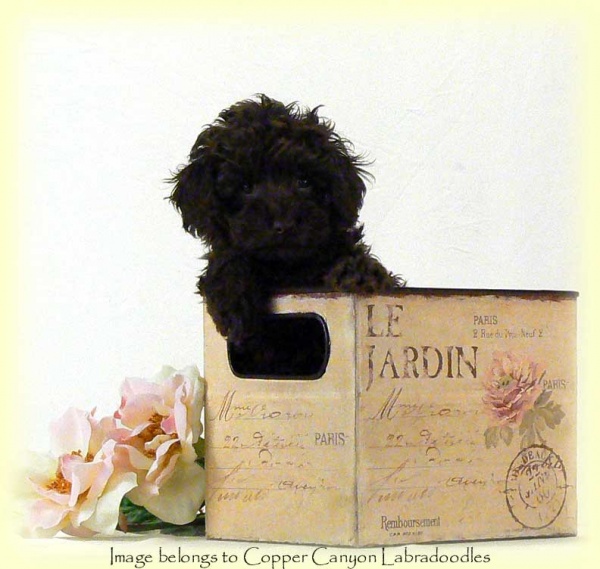 Dark Chocolate Girl
This cute puppy is a curly coated girl with a fun personality!  She is somewhere between mellow and moderate and is quite the social one too.  She likes to meet new people and has a nice amount of confidence.  Going to the Keleher family.
Chocolate Boy
This good looking fellow is a nice little pup!  He's fun, playful and has a good amount of confidence.  He's slightly bigger than his two sisters and is a nicely put together puppy.  Pending to the An family in Vancouver.
---
Deposits pre-booked for this litter:
The Keleher family
 The Newstone family, Saanich BC
Robin An, Vancouver BC, wants chocolate puppy
Spaces available:
4.  The Hinchcliffe family