Micro Mini Australian Labradoodle Litter – born May 30 2018, going home July 25 – 27 2018
blacks and possibly golds or phantoms expected in this litter, likely to mature between 13 and 15 inches, 10 – 14 pounds

Four sweet little black puppies were born a few days ago, and Lizzie is a proud mama!  We have three black boys and a black girl this time, so a little smaller of a litter than her one last year.
Lizzie is a really sweet and social girl out of Angie and Dusk's litter from a few years ago. She is a playful and fun girl and is a smaller sized mini Australian Labradoodle girl, just 16 pounds. Lizzie has a real joy and zest for life and always seems to have a doggy smile on her face! She carries for chocolate and possibly for gold or phantom, so we should see some very nicely sized little micro minis from this litter! I would expect to see  5 or 6 puppies from her litter. This litter will suit families wanting a smaller sized companion for condo regulations or just a great pet to get out and enjoy walks and couch time!  Oliver is a really lovely little 8 pound micro mini boy with a superb temperament, he is a sweet and easy going fellow.  As both parents are black carrying for other colours, we would expect to see a lot of black or charcoal puppies from this pairing. This litter would be graded as Australian Labradoodles.
And here are the babies:
Lizzie's Pink Collar Black Girl – available

This sweet girl is a gentle and cuddly one!  Super cute, she has a gorgeous coat of wavy fleece and she has a really cute face.  More on the mellow side, she will make a lovely family pet.
---
Blue Square Collar Boy – going to the Sydney-Powers family

This handsome fellow is a going concern!  He's more moderate for energy levels and is a super cute and social fellow who likes to give kisses.  This puppy will suit a family wanting a fun and playful puppy, and he'll be delighted to go for romps at the beach and things like that!
---
Pawprint Boy – going to the Vosberg family

What a lovely, gentle little boy!  He's a cuddler and is a very nice puppy.  He has a beautiful coat of curly fleece and he's a really cute boy.  I like this boy a lot, and he'll suit a family with kids or grand kids.
---
Our boy
This cute fellow is a mellow and sweet boy who will (hopefully) make beautiful babies : )
---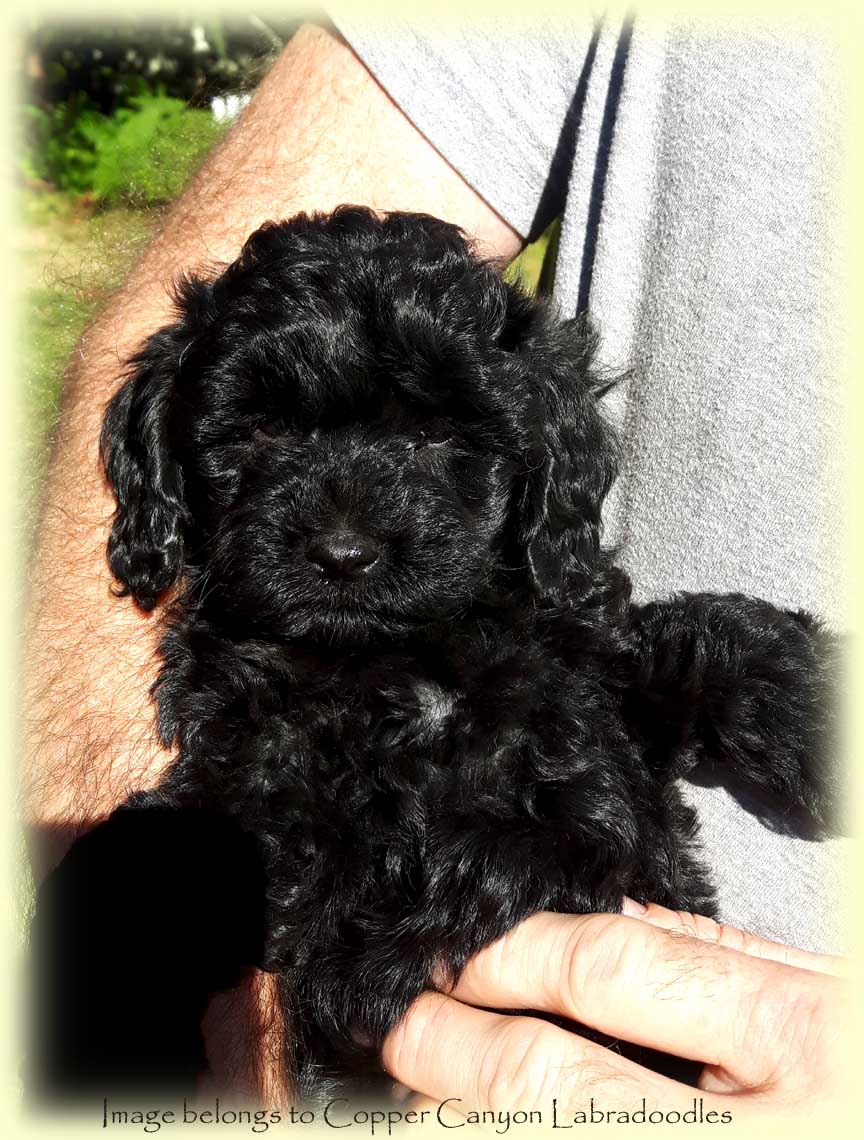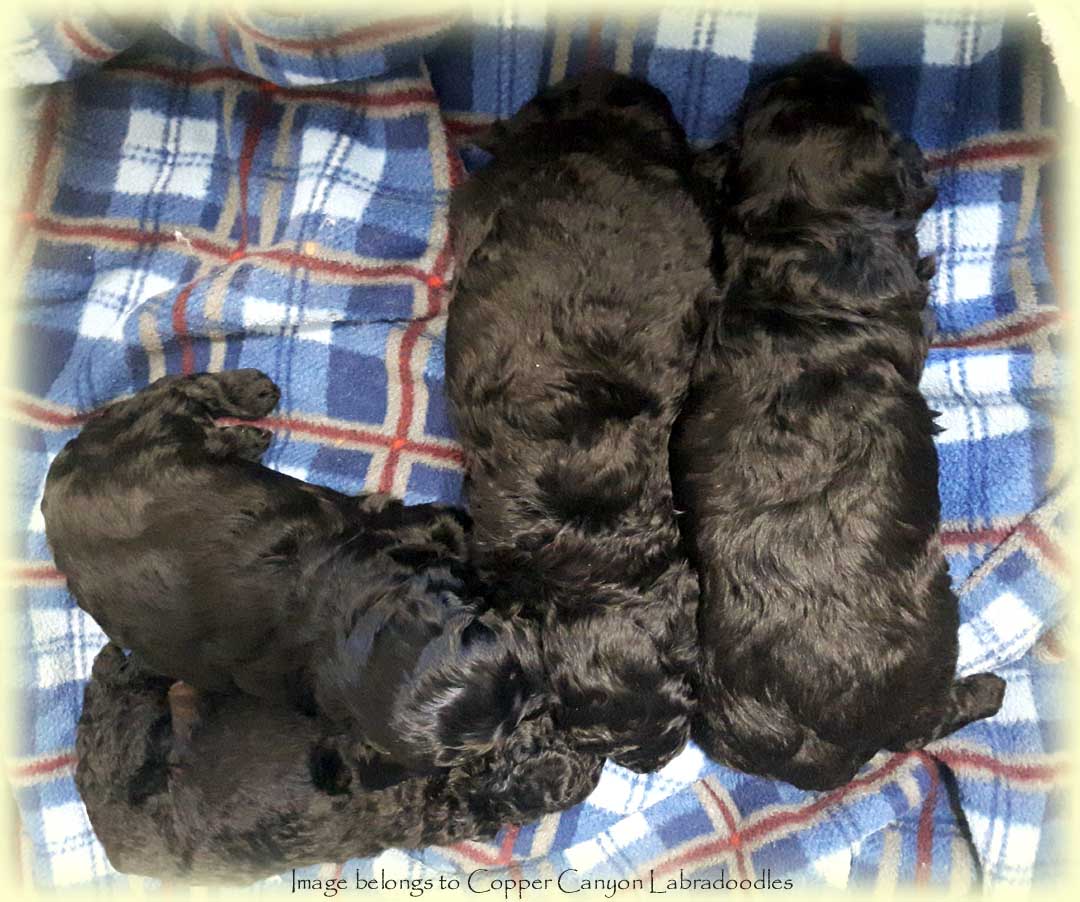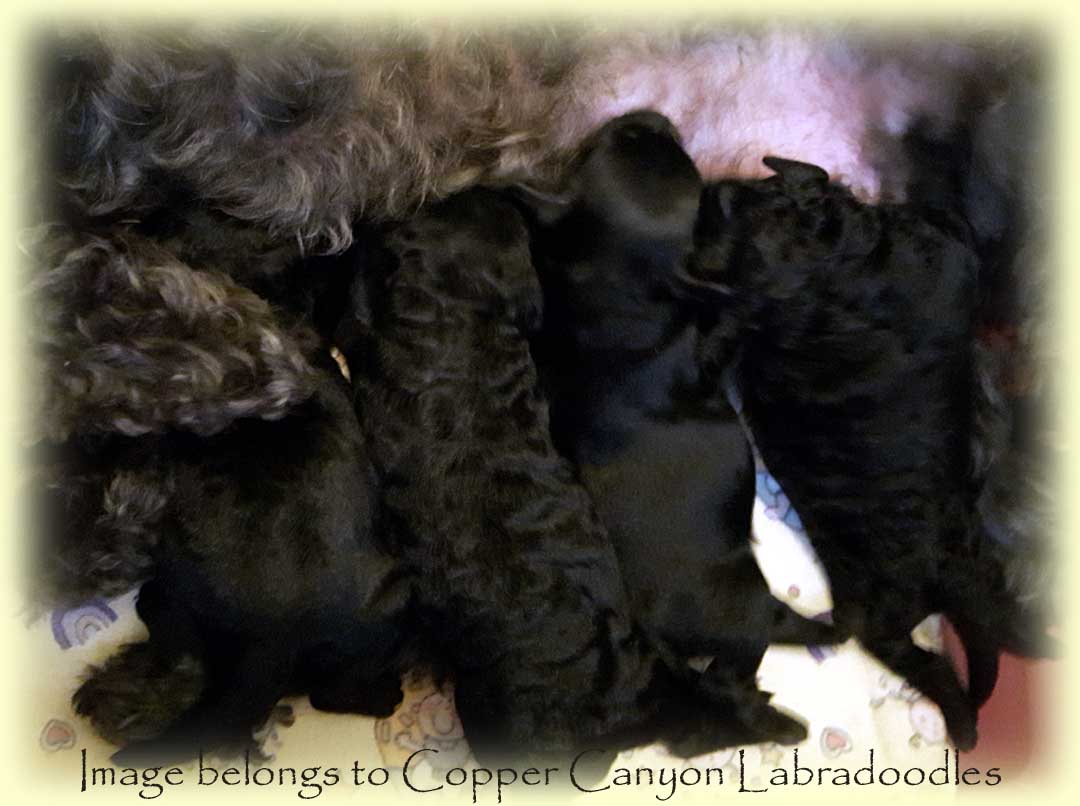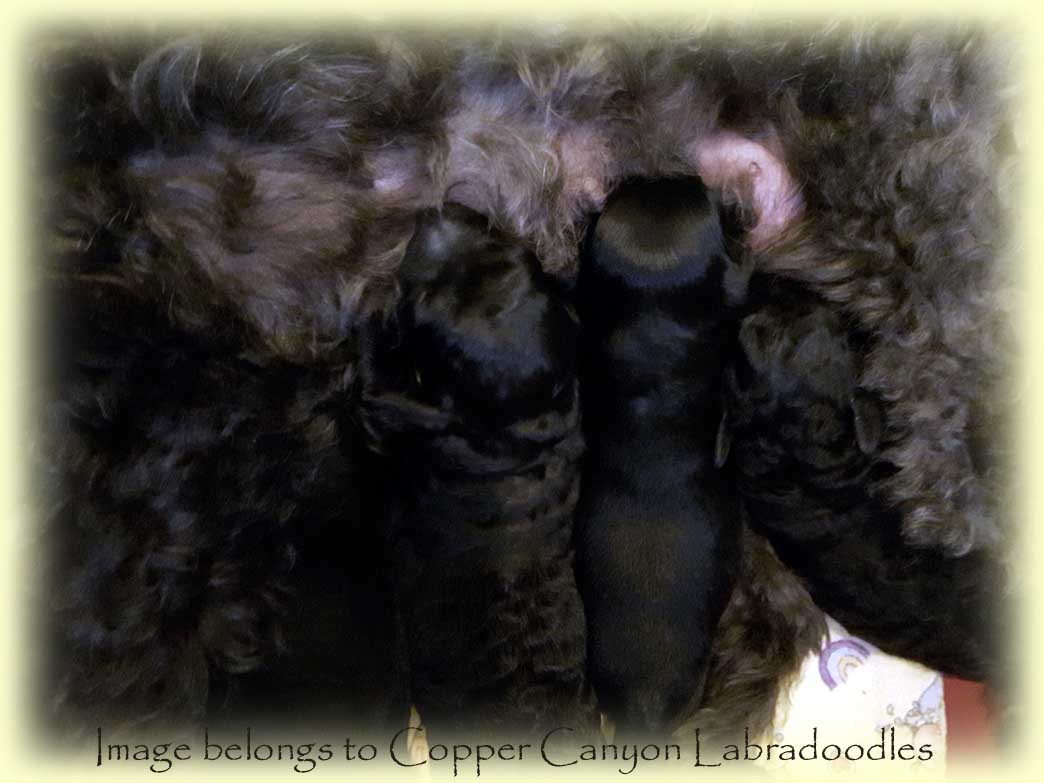 Deposits pre-booked for this litter:
  Copper Canyon, to be placed in a guardian home
  The Sydney-Powers family
  The Vosberg family, Courtenay BC