Mini Australian Labradoodle Litter – expected early April 2019
Chocolates, golds, blacks and possibly parti, expected size around 20 – 26 pounds
Congratulations to Luna and Bentley!  Five beautiful babies…  Three black puppies, a gold puppy and a chocolate phantom.  Introducing Luna!  Luna is a soft natured, gentle girl with a beautiful coat of chocolate phantom fleece that is absolutely plush coat of soft fleece.  She's a really nicely put together girl. Luna adores her ball and playing fetch, going for walks, couch time and looking for squirrels!  At 18 pounds, she is a smaller sized mini girl. She is out of our Lukka and carries for parti and gold.  We think that Sunset's outgoing and confident nature will be a good complement for her.  I had thought to let Sunset be the dad for this litter, but that didn't end up working out (mother nature does have her say in the matter) and so Bentley has sired this litter.  His easy going nature and beautiful coat will be a really nice compliment to Luna.  Bentley is a really handsome boy and I think their puppies will be lovely.
Both parents are in the mini size range, so I would expect the puppies to finish out between 20 and 26 pounds when fully grown.  This litter would be graded as multigen Australian Labradoodles.  Luna is expected to cycle in December if she does things as expected, so we would see puppies born a couple months after that.  Her first litter had five puppies so we'll see what she has this time!
And here are the babies!
Black Girl – Hanbury family

This girl is somewhere between mellow and moderate for energy levels and she is a cute girl.  She has a cute little snip of white on her chest and she is a nice little puppy.  She likes people and has a soft nature (wants to please), which is really nice for training.  She has more curl to her coat than some of her siblings – likes to play.
---
Blue Collar Black Boy – going to the Young family

Isn't he handsome!  He has a cute little white snip on his chest, a wee goatee and a super easy going, gentle and sweet personality.  He'll make a really good therapy dog if somebody wanted to do that.  He has a lovely fleece coat and will make a really great pet for somebody wanting a walking buddy and all around companion.
---
Gold Boy – going to the Browne family

This is our only blonde in the litter!  He's so much like his two chill black brothers that they are all three peas in a pod (other than colour).  Sweet, gentle, easy going and steady nerved, he has the whole package and we like him a lot!
---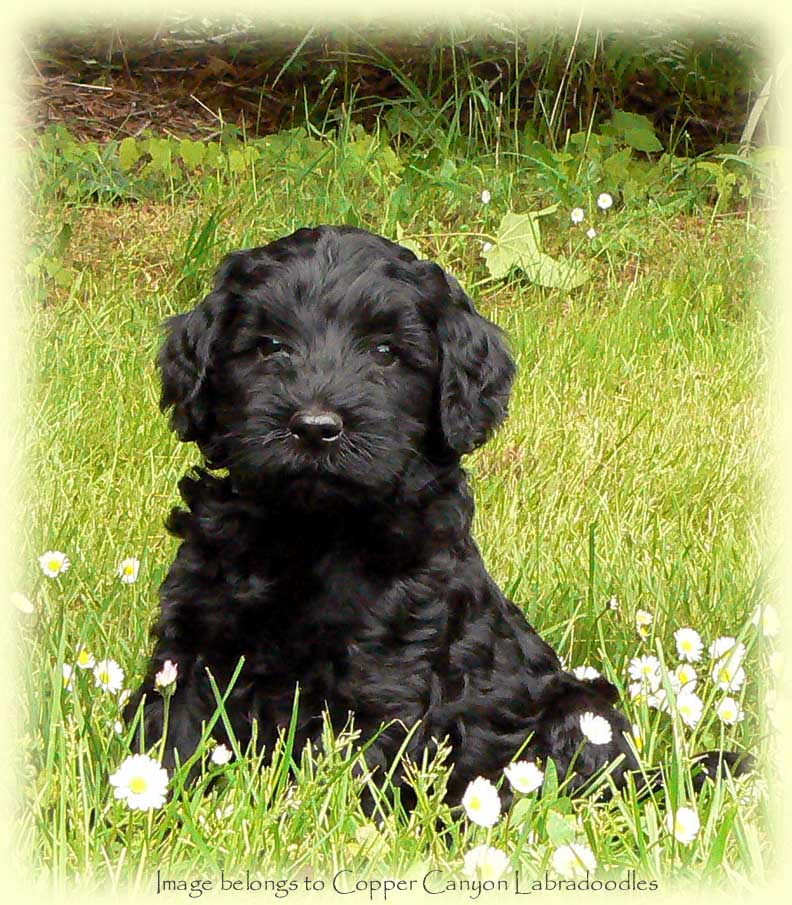 Green Collar Boy – going to the Sutherland family

This handsome fellow is a pretty mellow, easy going and very sweet boy!  He is a snuggler and he plays nicely with his brothers and sisters.  He has a little bit of white on his chest and has a beautiful fleece coat.  He'll make a great family pet for a family with kids or grand kids.
---
Chocolate Parti Girl – Davidson Saunders family

This cute little scrap is small but she doesn't know it!  She is in there with the rest of her brothers and she totally keeps up!  She's funny and cute and settles in nicely when we pick her up.  She's more towards moderate for energy levels and will suit a family wanting an outgoing, fun dog to go for walks and beach romps.
---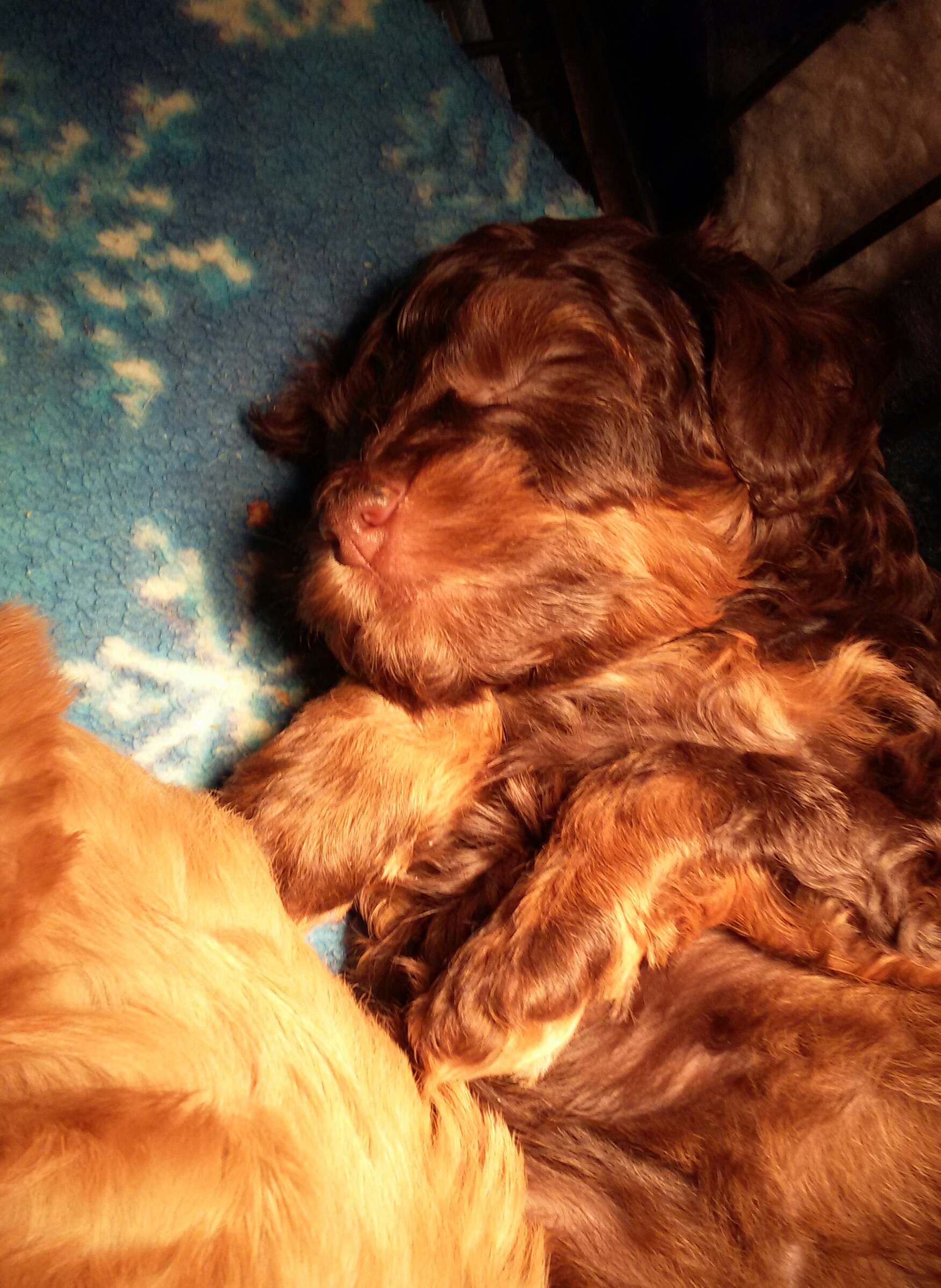 Deposits pre-booked for this litter:
The Browne family, Crofton BC

The Young family, Victoria BC
The Sutherland family, N Vancouver BC
  The Davidson/Saunders family
And if there's more:
    5.