Mini and Medium Australian Labradoodle Litter
Chocolates, golds and parti marked puppies, expected size to be between 20 and 33 pounds.
Congrats to Luna and Scout!  Luna has four sweet little babies, 2 chocolate boys, a cream girl and a chocolate girl.  All four of them are doing great and Luna is a really sweet mom with them.
Introducing Luna!  Luna is a super soft natured and very smart little miniature Australian Labradoodle!  She has an absolutely plush coat of soft fleece and is really nicely put together. Luna adores her ball and playing fetch, going for walks, couch time and looking for squirrels!  At 18 pounds, she is a smaller sized mini girl. Luna's mom was bred to Scout for a litter a few years ago and it was a superb litter, so we are expecting good things from this pairing!
Scout is a super confident, outgoing boy who is active, fun loving and ready to dive into whatever comes his way!  He's a full sized medium boy out of a bigger mom and a little 18 pound dad, so he carries the genetics to produce minis as well as mediums.  We think that his confident, outgoing nature will balance Luna's highly intuitive and more submissive personality.  Luna carries for parti markings, chocolate and gold so we expect to see chocolates, golds and parti markings in both those colours in her litter with Scout.
This litter will have both minis and smaller mediums in size, likely between 20 and 33 pounds when fully grown and will be graded as multigen Australian Labradoodles.  This litter list is just opened.
Here are the babies!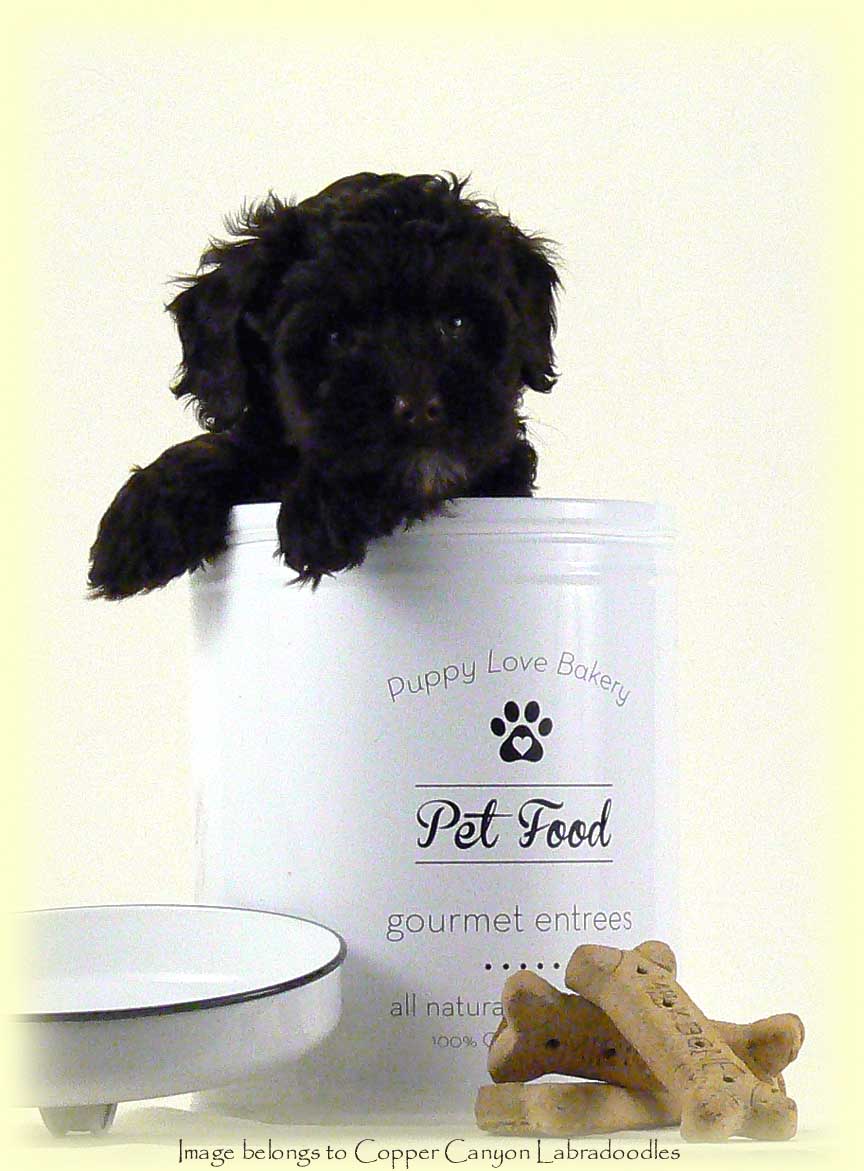 Chocolate Girl – going to the Akiyama family

This sweet natured girl is quieter and likes cuddle time and people.  She is more on the mellow side for energy and will suit a family that wants a quieter pet who will go out for walks but not need long runs!  She is likely to finish out as a full sized mini or very small medium in size.
---
No Collar Boy – going to the Appleton family

This fellow started out as the smallest puppy in the litter, but he has grown!  His chocolate sister is now the smallest and I think he'll finish out as either a full sized mini or a smaller medium.  He's a sweet natured puppy, likes people time and wants to be held.  He gives kisses and is quite social and is somewhere between mellow and moderate.  He's a nice boy!
Floral collar boy – going to the Durnin family

This fellow is somewhat bigger than some of his siblings and he is a fun and engaging boy!  He's more towards moderate for energy, likes to play and likes people.  I think he'll mature to be a small to midsize medium.  He'd suit a family with kids or grandkids and a family that wants to get out and go for walks and such.
Gold Parti Girl – going to the Loodu family

This cutie is the biggest puppy in the litter and she is a fun and playful girl!  She wants to do things and has plenty of brains (as do they all really).  Her fleece coat is very nice and she will suit a family that wants a moderately active dog to go and do things with but also to cuddle with.