Miniature Australian Labradoodle Litter – born September 11 2016

Colours expected:  milk chocolate, gold, possibly phantoms.  Expected size between 20 and 26 pounds

Congratulations Mabel!  Mabel has four sweet little chocolate fleece coat puppies, 2 girls and 2 boys!  Both mom and babies are doing great and Mabel is a super little mom!
Meet Mabel!  Mabel is a sweet milk chocolate coloured mini girl who is just as smart as they come!  She's social and friendly, likes to get out and meet people and do things, likes car rides.  She is one of the smartest dogs I've met and you get the impression she's thinking about it all on the fly…  She is 23 pounds and has a silky coat of chocolate fleece.  We are debating between Sunset or Dusk for this litter and so I will need to make my mind up soon.  It will likely be Sunset.  Her pairing with Sunset would be nice sized minis as he is 16 inches at the shoulder and weighs 26 pounds.  He's a confident and social fellow who is sure everybody will love him – and he's usually right!  This litter will be graded as multigen Australian Labradoodles.
And here are the babies!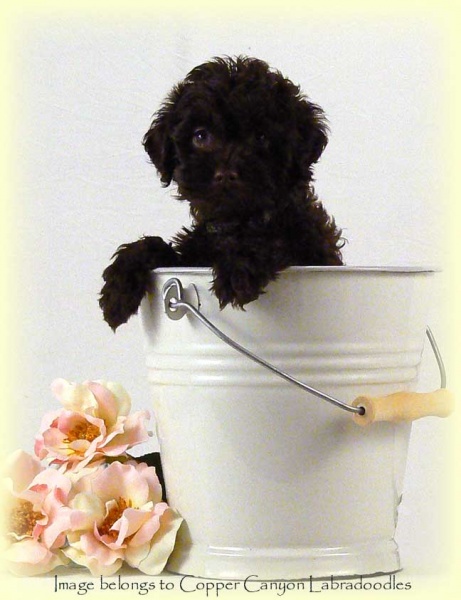 Black/White Collar Chocolate Girl – going to the Dickson family
This gentle little sweetie is a really lovely little puppy.  She's a mellow girl and will make a superb addition to a family with kids or grand kids.  She is one of the smaller puppies in the litter and will be nicely miniature sized.
---
Blue Collar Boy – going to the Sadtmir family
This cute fellow has a very small snip of white on his chest and is the biggest in the litter.  Very nice coat and very nice face.  He has a nice amount of confidence. He's between mellow and moderate, loves to give kisses, and will make a great family pet.
---
No Collar Chocolate Boy – going to J Brown.
This handsome fellow is quite the fellow!  He's funny and playful and pretty confident!  He is a nicely sized mini boy. As you can tell from his photos, he enjoyed himself!  He's a moderately active puppy who will suit a family wanting a companion that will keep up with kids, long walks or hikes and play time at the beach.
---
Red Collar Boy – Going to the Woloshyn-Noble family
This cute little fellow is one of the smaller puppies in the litter…  but he doesn't think he's small!  He's a cuddler when we pick him up, but he keeps up with his bigger siblings and is more towards moderate for energy levels.
---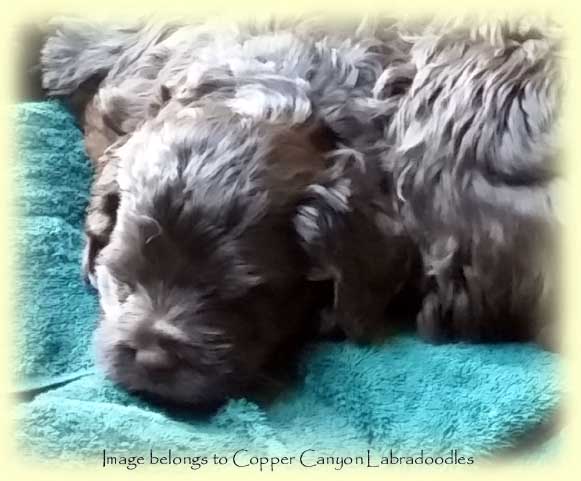 Deposits pre-booked for this litter:
 The Dickson family, Maple Ridge BC.
 The Woloshyn-Noble family, Ladysmith BC
Reserved after born:
3.  J. Brown, Victoria BC
4.  The Sadatmir – Khoupenia family, Richmond BC (also on Piper's litter as they are hoping for either a chocolate or a gold)