Mini Australian Labradoodle Litter
confirmed pregnant with ultrasound!
Blacks, chocolates, blue and chocolate merles, expected size to be around 20 pounds

Congratulations to Mabel and Harvey!  Mabel has just two sweet litter chocolate merle puppies this time, as girl and a boy.  I will get photos posted soon…  Mabel is one of the happiest, most cheerful of dogs!  She loves kids and playtime, but also knows how to have manners and greet people!  She is a smaller mini sized girl and has had some lovely puppies for us.  I had wanted to have a couple of litters of quite small minis to suit puppy families looking for a smaller dog, but she came into season so quickly that our initial plan wasn't going to happen!  So Mabel has been bred to Harvey again, as their litter together last year was really nice.  Harvey is an absolute delight to have around!  He's friendly and easy going and has perfect manners – such a gentleman!  With his rare merle colouring, he catches attention wherever he goes!  Harvey is a nice mini in size, around 20 pounds.
I expect their babies together will finish out well in the mini size range, likely around 20 pounds.  We would see blacks and chocolates, blue merles and chocolate merles from this pairing. This litter would be graded as Australian Labradoodles.  Families who are on this litter list should know that we are not 100 percent certain if the timing of breeding was spot on, so we will (as usual) be doing a pregnancy ultrasound when she is 4 weeks along to confirm pregnancy…!
And here are the babies!
Chocolate Merle Boy – pending to the Tink family
This adorable fellow has a beautiful fleece coat and a lovely nature.  He's more on the mellow side of things, but certainly social and likes people.  He will make a great pet for a family with kids.
---
Chocolate Merle Girl – going to the Holden family (they sent her back, mental illness issues, and rehomed to  the Bisset family

This sweetie is a bit more active than her brother.  She is super cute and very social, loves to be played with and likes to give kisses – lots of kisses!  She has blue eyes and really pretty merle markings.  She will make a fun pet for a family with kids or grand kids.
---
Because Mabel only has two puppies, that seemed a bit unfair, so she is looking after 2 from Dorrie and 1 from Koko so that these two have puppies to play with when they get older. The gold puppy is actually Dorrie's!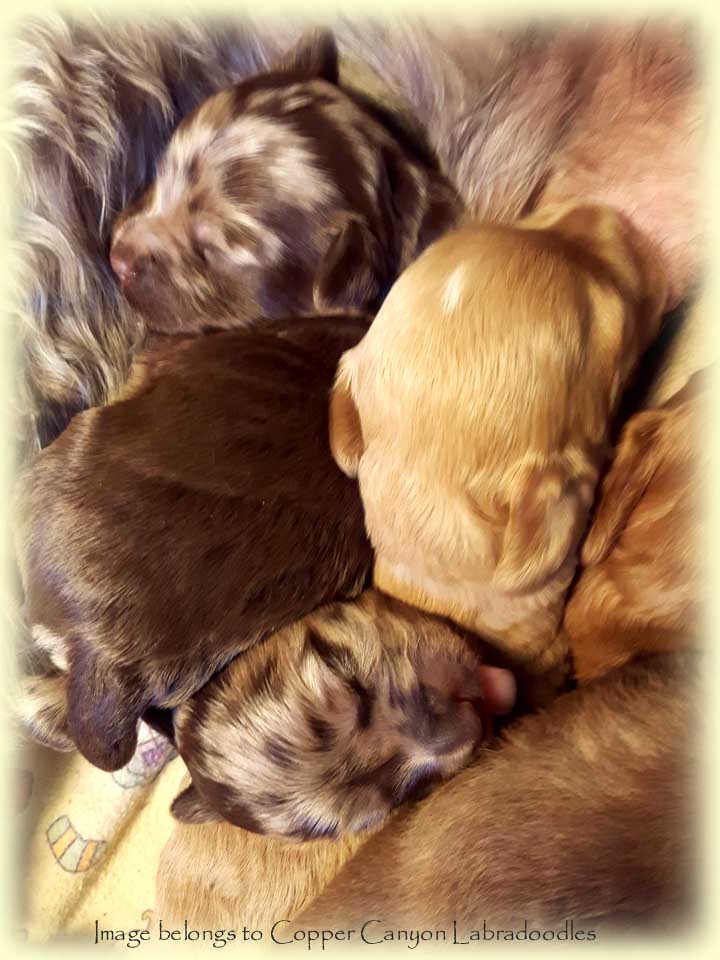 Deposits pre-booked for this litter:
  The Holden family, Ft Mac AB
 The Tink family, Summerland BC