Medium Australian Labradoodle Litter, due May 2018
Chocolates, blacks and  golds, 17 – 19 inches and 27 – 35 pounds.
Mabeline has done herself proud!  Nine sweet little puppies have been born.  She has 2 chocolates, 2 blacks, 2 apricots and 3 golds in her litter this time.  Introducing Mabeline!  We have just opened this litter list and we are excited to have a Lady daughter having puppies for us again!  Mabeline's mom Lady is a really superb example of the Australian Labradoodle breed and her daughter is just as nice as she is.  Her family calls her Mabel or Mabes.  She is a daughter of Lady out of a lovely boy named Ryder and she's just a superb example of an Australian Labradoodle.  She has a beautiful temperament and a gorgeous, glossy curly black coat.  She never makes strange  and has super stable personality.  She is the image of her her mom, just in black instead of white!  She has passed her health testing and we are looking forward to her puppies…
We had wanted to have a litter with Mabeline and Bentley last year but that didn't happen, so we are planning it for this year.  Bentley is a super handsome fellow who turns heads wherever he goes!  His guardian family regularly gets stopped by people walking (or driving) by to ask about him.  Chill and friendly, he is a great fishing buddy and walking companion but is equally happy to flake out and relax.  We will see apricots or golds, blacks and likely chocolates as well from this pairing.  I would expect to see both curly coats and fleece coats from these two, tho we will likely see mostly fleece coats as Bentley tends to produce that.
This will be Mabeline's 3rd litter and her previous two litters she had enormous litters with 11 puppies, so we expect a similar size litter again.  I tried explaining to her that 7 or 8 is a nice sized litter but she didn't seem to hear that!  However, she is a fantastic mom and does not lose condition while pregnant or nursing babies (and we feed her tons).  I expect these puppies to be a nice full sized mini to medium sized litter.  Mom is 19 inches and 35 pounds, and dad is 17 inches and 27 pounds so we expect their babies will range between them in size.  This litter will be a multigen Australian labradoodle litter.
Here are the babies!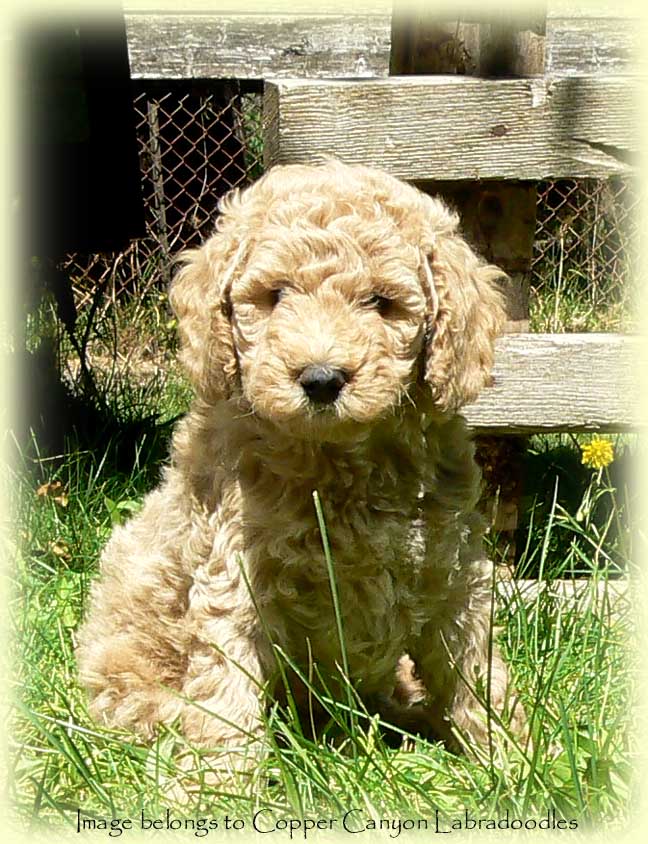 Gold Girl – going to the Copeland family

This girl is a fun one!  She's more towards moderate for her energy levels and is smart, social, confident.  She likes to give kisses, and she settles nicely in our arms when we pick her up.  She'll be a great walking buddy who will love playing with kids, going for romps at the beach and such.  She's a very nice puppy.
---
Black Tuxedo Boy – going to the Meister family

This handsome fellow is quite the nice puppy!  He's got lovely markings and a very nice, confident personality.  He likes to play, likes to give kisses and will settle nicely when we pick him up.  He's got a curlier coat and he's more towards moderate for energy levels. He'll suit a family with kids or grand kids, or a family wanting a good walking buddy.  With his white chin and flash down his chest, he's a super cute boy!
---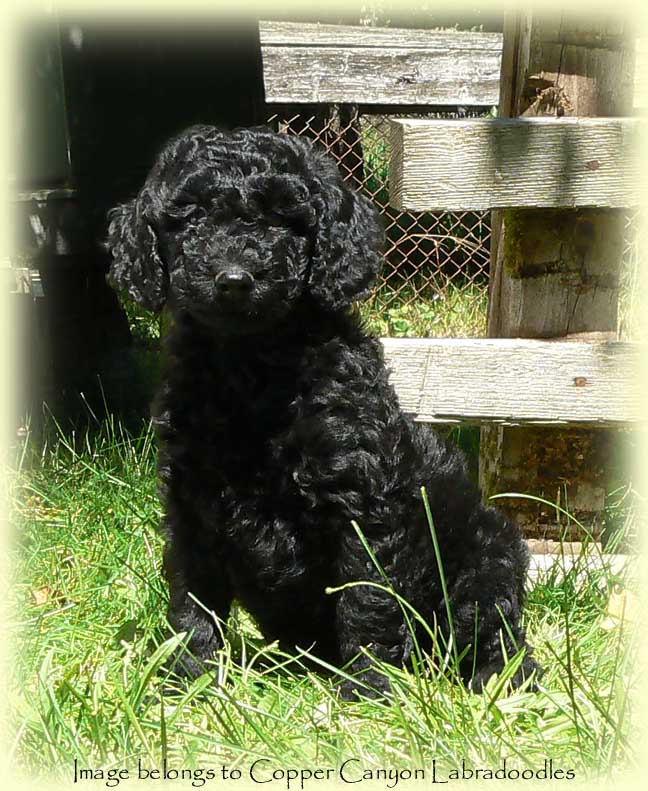 Black Girl – going to the Beggs family

This sweetie reminds me a lot of her mom!  She's a fun, outgoing and social girl who loves people and wants to please.  She's more towards moderate for energy levels, so she will enjoy a good long walk once a day and would be a great pet for a family.  She's socially oriented and could do well with therapy work.
---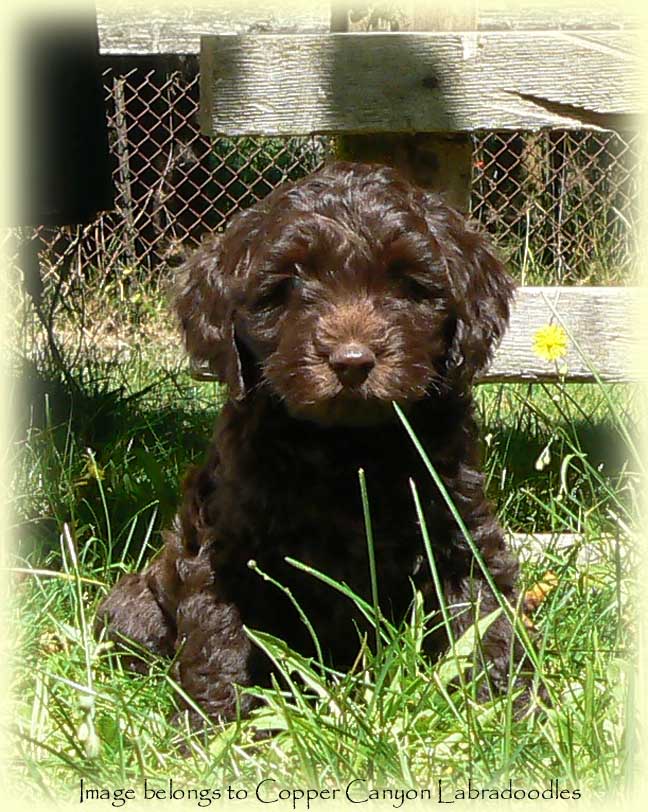 Chocolate Boy – going to the Kesler family

What a sweet fellow!  This boy is mild and gentle and mellow, definitely a low key and friendly boy.  Very chill (but not the least bit timid).  He has a beautiful coat of wavy fleece (like his dad but in chocolate).  He's a very nice puppy!
---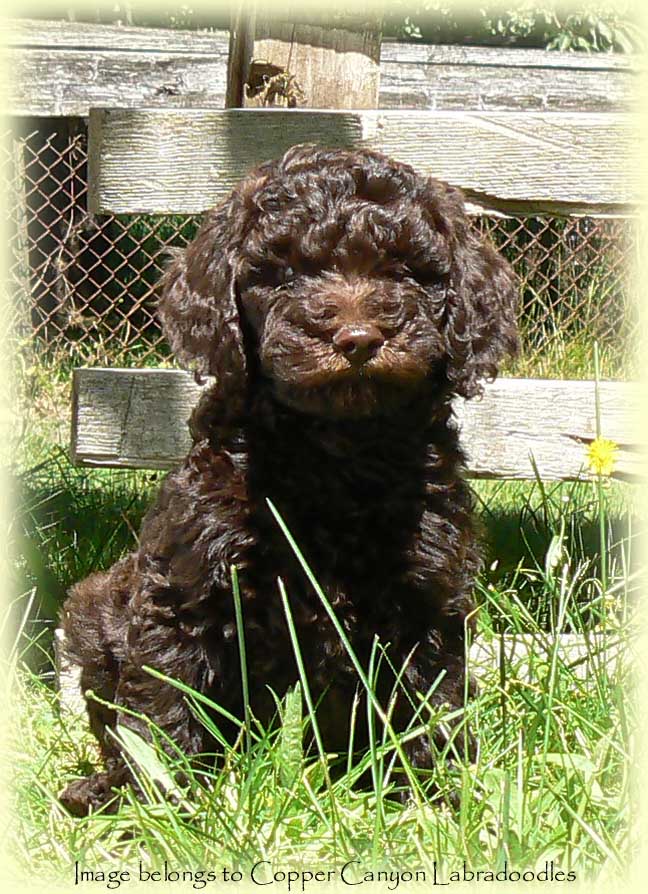 Chocolate Girl – going to the Abercrombie family

This cutie is a sweet natured and fun puppy!  She's very laid back when we put her on her back and she likes to cuddle when we pick her up.  She has a beautiful coat of glossy fleece with some curl to it and we think she'll make an excellent pet for a family with children or grand children.
---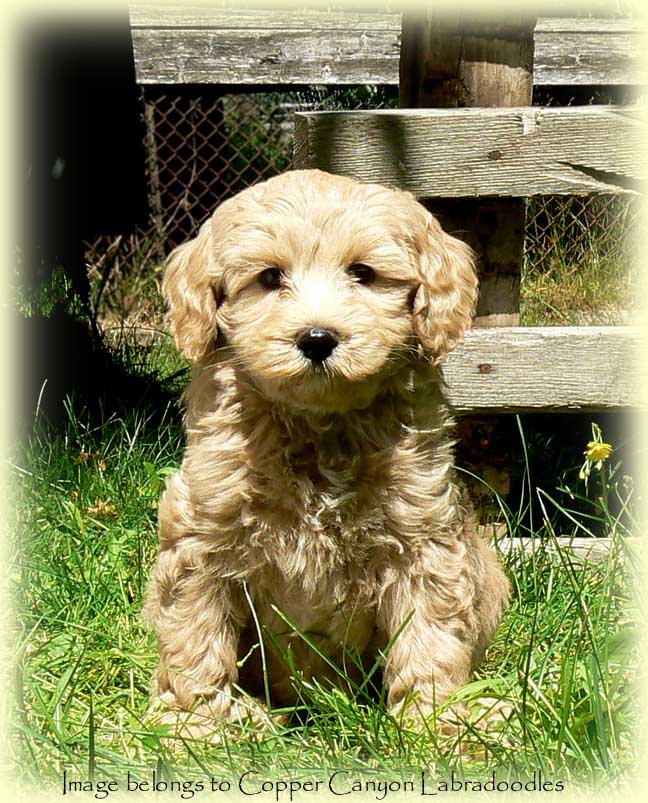 No Collar Gold Boy – going to the Alibhai family

This beautiful boy is very much like his chocolate brother, but in a soft gold colour!  He's mild and gentle but very friendly and cuddly and I like him a lot.  He's got a really cute face too!  He'll make a lovely pet for somebody wanting an easy going companion.
---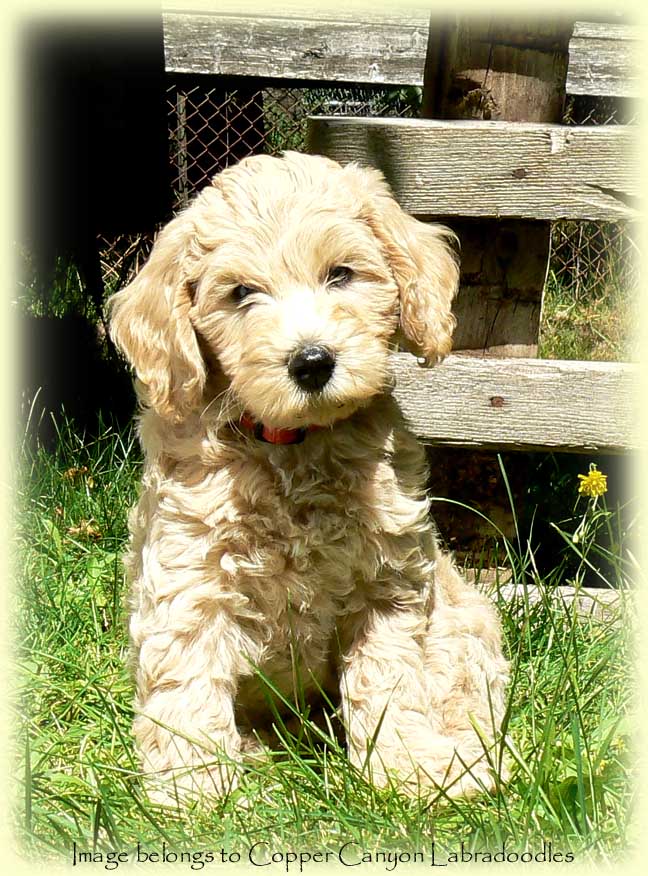 Red Collar Gold Boy – going to the Lee family

Another cuddle-bug!  He is a sweet and gentle puppy, but not timid at all.  Just laid back about things, tho he does play with is siblings too.  He has a lovely temperament and will make a beautiful pet for a family wanting a low key but super sweet pet.
---
Apricot Boy – going to the Saises family

This cute boy is another cuddler!  He's got a lovely coat and a very sweet personality, I like him a lot.  He's social but mellow and would do well with therapy work (as well as a great family pet!).  A very nice puppy.
---
Apricot Girl
Last but not least, is the girl that we'd like to keep back and will likely put in a guardian home.
---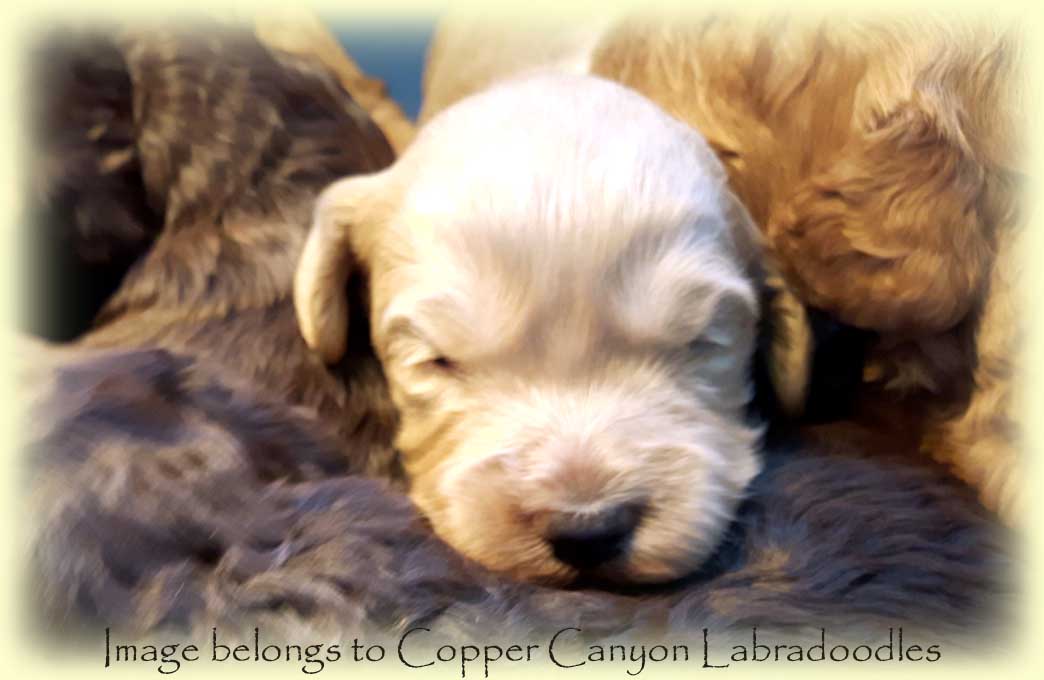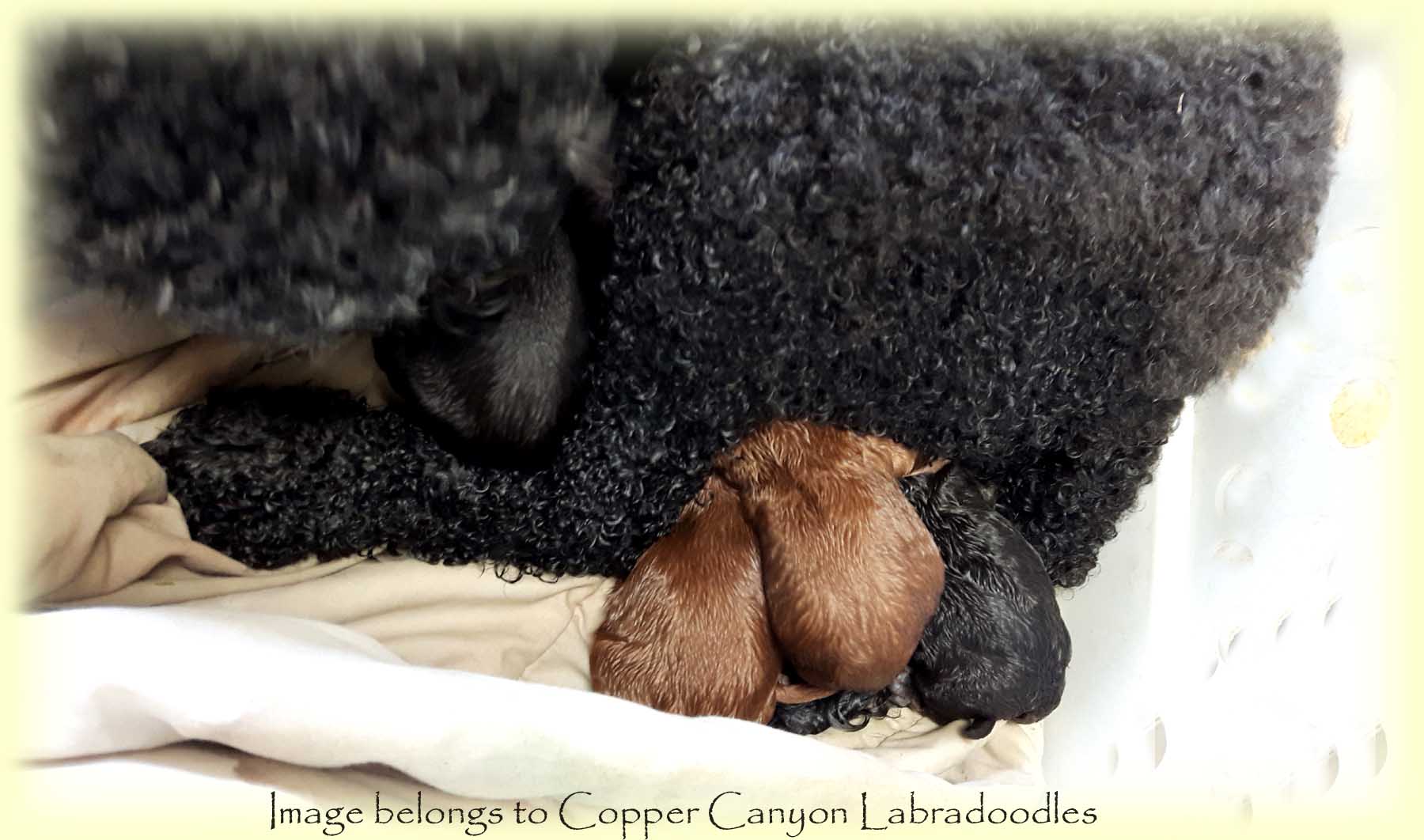 Deposits pre-booked for this litter:
 Copper Canyon
The Alibhai family, Surrey BC (moved from Big Daisy's litter when she didn't get pregnant)
The Kesler family, Pitt Meadows BC
The Saises family, Vancouver BC
The Meister family, Surrey BC (darker colours only)
The Beggs family, Vancouver BC
The Lee family, Vancouver BC
The Abercrombie family, Pt Moody BC
The Coupland family, Vancouver BC
And if there's more:
11.
Waiting for later litters:The Melvin family, N Vancouver BC   The Richardson family, Victoria BC