Medium Australian Labradoodle Litter, Born October 8th and going home December 3rd 2015
Golds or creams, chocolates and blacks, likely with white tuxedo markings, 18 to 20 inches, 33 to 40 pounds.  One puppy available for adoption.

Mabel has 11 beautiful babies!  All the puppies and mom are doing fine!  So there are 2 chocolate girls, a cream girl, 3 cream boys, 2 phantom girls and 3 black girls!  We have just opened this litter list and we are excited to have a Lady daughter having puppies for us again!  Lady is a really superb example of the Australian Labradoodle breed and her daughter is just as nice as she is.  So this is Mabel!  She is a daughter of Lady out of a lovely boy named Ryder and she's a superb Australian Labradoodle.  She has a beautiful temperament and a gorgeous, glossy curly black coat.  She never makes strange  and has super stable personality.  She is the image of her her mom, just in black instead of white!  She has passed her health testing and we are looking forward to her puppies…
Lukka is our medium fleece coated boy.  He's all wiggles and charm and wants nothing more than to make us happy!  He has amazing structure and a beautiful temperament to match.  He carries for parti and chocolate as well as phantom.  He is the perfect Australian Labradoodle boy!
I expect these puppies to be full sized medium litter.  Mom is 19 inches and 35 pounds, and dad is 18.5 inches and 35 pounds so we expect their babies to be similar in size.  This litter will be a multigen Australian labradoodle litter.
And here are the babies!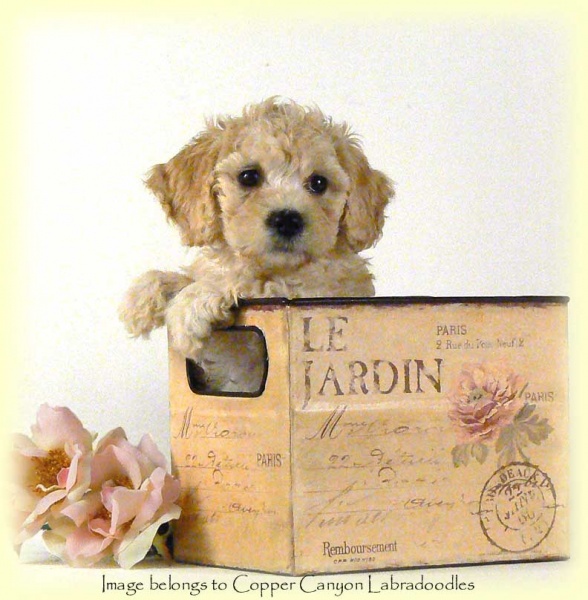 Small Cream Boy
This little sweetie is a really sweet one!  He's quite mellow and laid back but is definitely social and likes people.  He would make a good therapy prospect and will suit a family wanting a gentle but fun companion for themselves, children and grand children.  He's smaller than some in the litter and is likely to finish as more of a full sized mini or quite small medium in size.  Going to Brad and Erin
---
Smaller Chocolate Girl – going to the Wardle family
This little cute girl has a beautiful wavy fleece coat and is quite the personality!  She's charming and outgoing and she never makes strange.  She's one of the smaller puppies in the litter and will finish out as a full sized mini or small medium in size.  Even though she's small, she is not a small personality!  She loves people and is more moderate in energy levels.  She'll be a fun companion.
---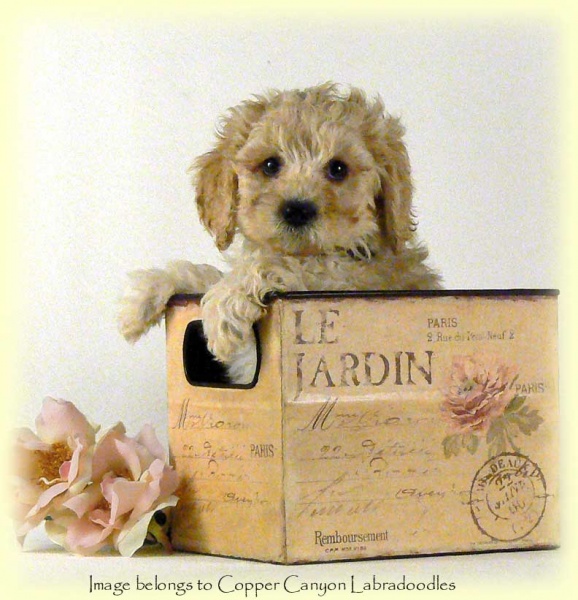 Cream Girl – going to the Hinchcliffe family
This little charmer is a super sweet little puppy!  She's a cuddler for sure and is quite content to just lay in your lap.  She's more towards mellow for activity level and would do well with a family wanting a quiet, gentle companion.
---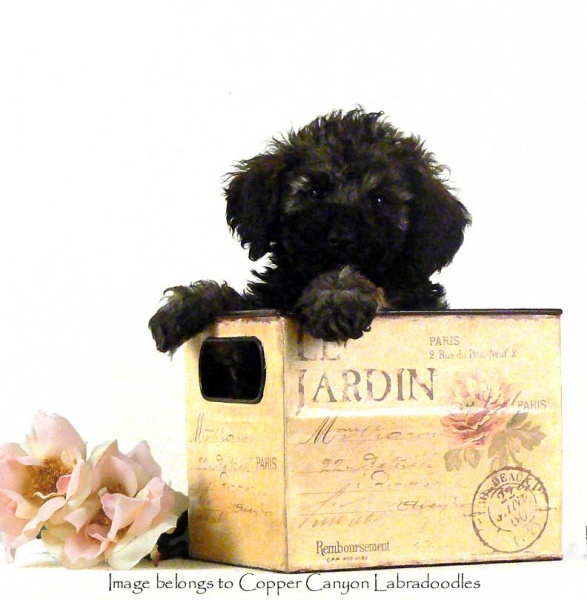 Sable Phantom Girl – Going to the Staszkiel family
This cute girl is a fun puppy!  She's quite playful but also likes to be held when we pick her up.  She's smaller than some of her siblings but she has a large personality!  She has a very nice fleece coat with some curl to it and is just super cute!  Somewhere between mellow and moderate, she'll suit a family with kids that are a bit older, or a family that wants a fun, playful dog.
---
Biggest Black Girl
This cute girl will hopefully be joining our breeding program when she's old enough!  She's going to a guardian family in Victoria and they think they may  name her Ninja.
---
Smaller Black Girl – going to the Hawkins family.
What a cute little puppy this is!  She has a lovely wavy fleece coat and a gentle nature.  She's smaller in size than some of her siblings but that doesn't stop her from playing with the other bigger puppies!
---
Bigger Curly Chocolate Girl – Going to the Greene family in Nanaimo.
This pup is a really cute one!  With her curly chocolate coat and playful nature, she will make a fun pet!  She's nicely in the medium size range and has a very nice boning.  She's an easy going, confident, nice natured puppy who will make a lovely pet for a family with children or grand children.
---
Bigger Cream Boy (black nose) – Going to the Hanson-Russell family
This big boy is quite the charmer too!  He's a good sized puppy and he is a really lovely boy with his wavy fleece coat and mellow nature.  He's quieter natured but smart and easy going.  He'll suit a family wanting a gentle, good natured companion.
---
Bigger Gold Boy (brown nose) – He'll be going to the Palmer family in Vancouver.
This fellow is one chilled and nice puppy!  He's calm when we hold him but he also likes to play.  Super steady nerved and he seems to take it all in stride!  He's one of the biggest puppies in the litter and has a lovely coat of fleece.
---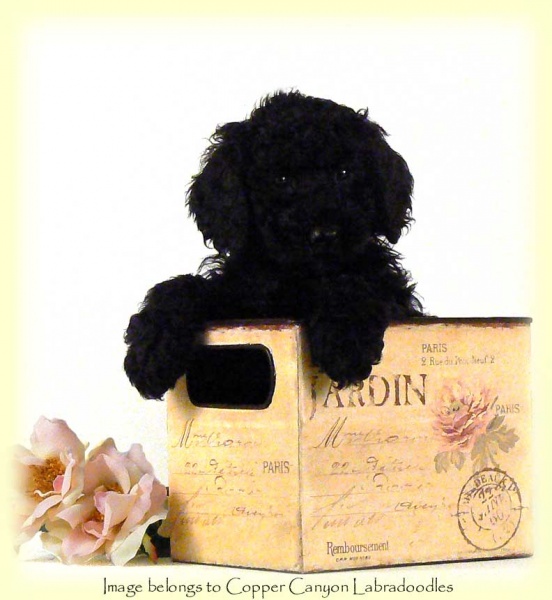 Medium Curly Black Girl – going to the Vlaar family in Vancouver.
This sweet girl is a really nice puppy!  She's playful when she's on the floor but a snuggler when we pick her up.  She's bigger than some of her sibling and smaller than others, and she plays nicely with the other puppies.
---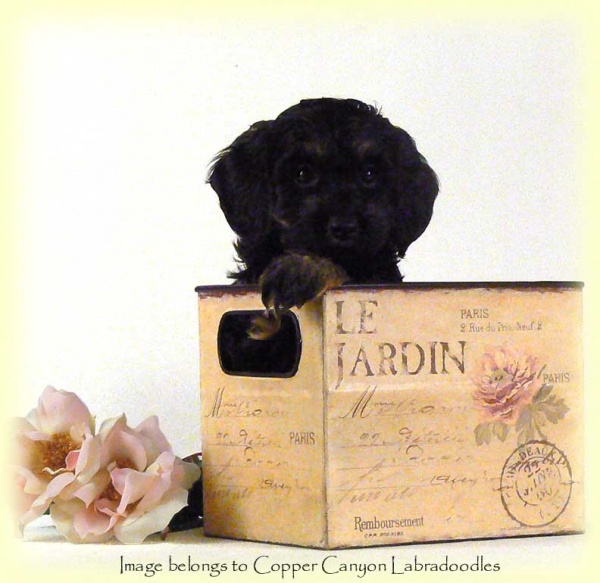 Black Phantom Girl – Going to the Lyne family in Victoria
This little cutie is a black phantom girl with a lovely wavy fleece coat.  She's a very nice puppy who likes to cuddle.  She'll make a lovely family pet and would suit a family with children or grandchildren.
---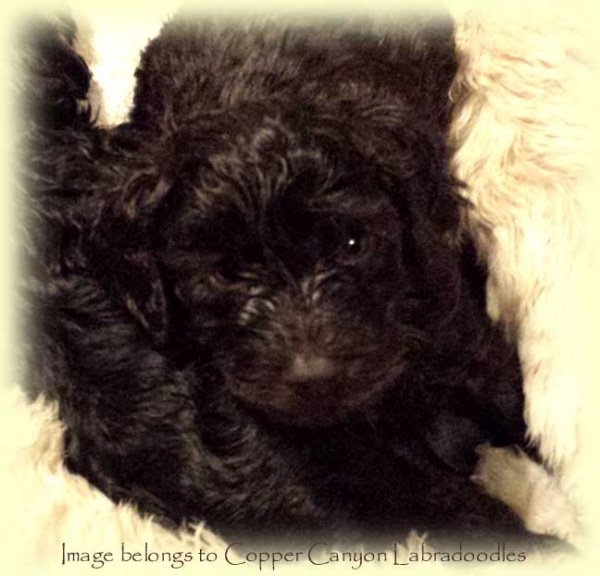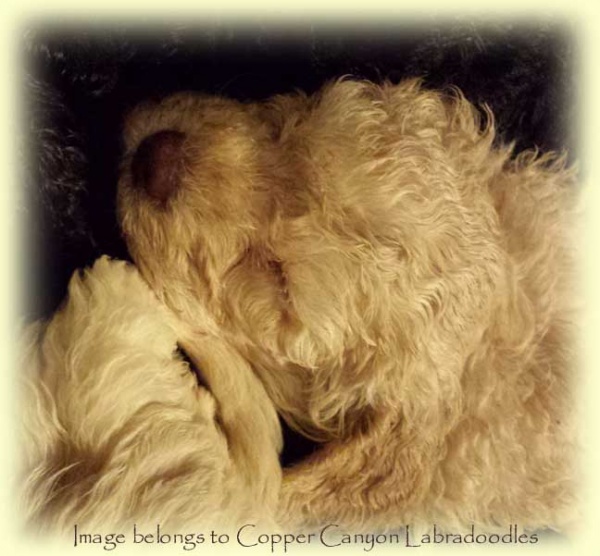 Deposits pre-booked for this litter:
Copper Canyon (available to a guardian home)
The Hawkings family, Chilliwack BC
The Lyne family, Victoria BC
The Palmer family, Vancouver BC
The Hansom-Russell family
The Greene Lepore family, Nanaimo BC
Deposits after the litter is born:
7.  The Herrera de la Fuente family, Coquitlam BC
8. The Vlaar family (also on Domino's litter so there will be one space open up on one or the other litter)
9.  The Fisher family
10.  The Saszkeil family, Sooke BC, wants chocolate parti or phantom F, if none available in this litter will move to the next litter.
11.  The Mattu family, Nanaimo BC
12.