Mini Australian Labradoodle Litter
Chocolate, black and merle puppies, expected size to be between 16 and 20 pounds.
Five beautiful new arrivals!  Molly has a cute little merle puppy, 2 chocolates and 2 blacks this time and at least one of the black puppies has phantom markings. And FOUR of the five are boys! I will health test Molly's pup we kept back from her last litter, and if she passes her testing then we would take ourselves off the litter list to make room for families…
Introducing one of our littlest mini labradoodles, Molly!  Molly is a little milk chocolate phantom girl who is sister to Dusk. She brings new bloodlines to our program as she is a mini F4 American Labradoodle carrying for red and for chocolate. She is an enthusiastic girl, a great cuddler and is as cute as a button!  Molly loves to go for long walks and romps at the park. She's a little girl, just 16 pounds.  She had six puppies in her last litter, so we would expect a similar sized litter again.
We think that Harvey will be a really good beau for her this time.  His cheerful but easy going nature and his fleece coat are a good compliment to Molly's wool coat.  Harvey is a beautiful blue merle boy carrying for chocolate, so we will see colourful puppies from these two!  He is a nice mini size, around 20 pounds fully grown.  Harvey has grown up on a farm and so he is used to sheep and chickens and having lots of room to play.  We love his cheerful but mellow nature.
I would expect puppies from these two to be nicely in the mini size, between 16 and 20 pounds when fully grown.  These puppies would be graded as Australian Labradoodles.  Both parents have passed health testing, of course.
And here are the puppies: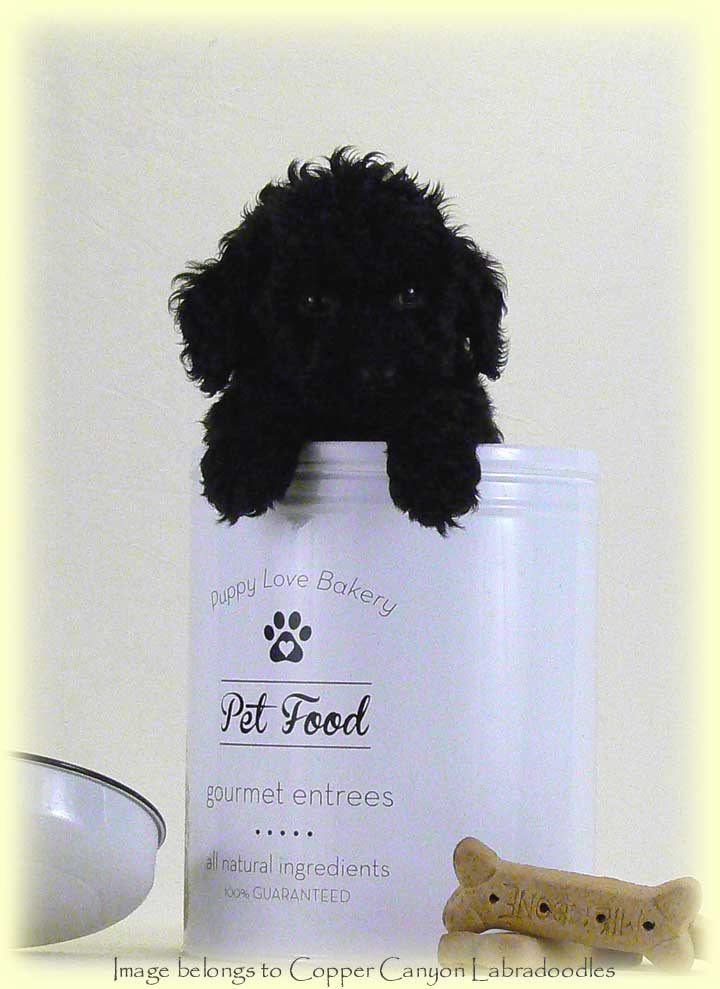 Black Girl – going to the Sheridan – Work family

This little sweetie is a really nice puppy!  She's mellow but calm and has the most beautiful face.  She has a wavy fleece coat that may lighten to a slate grey colour, as Molly carries one copy of the silvering gene.  She likes belly rubs and does give kisses, but not face washes.  She is the only girl in the litter and she'll make an amazing pet for a family wanting a gentle companion and walking buddy.  She's a super nice puppy!
---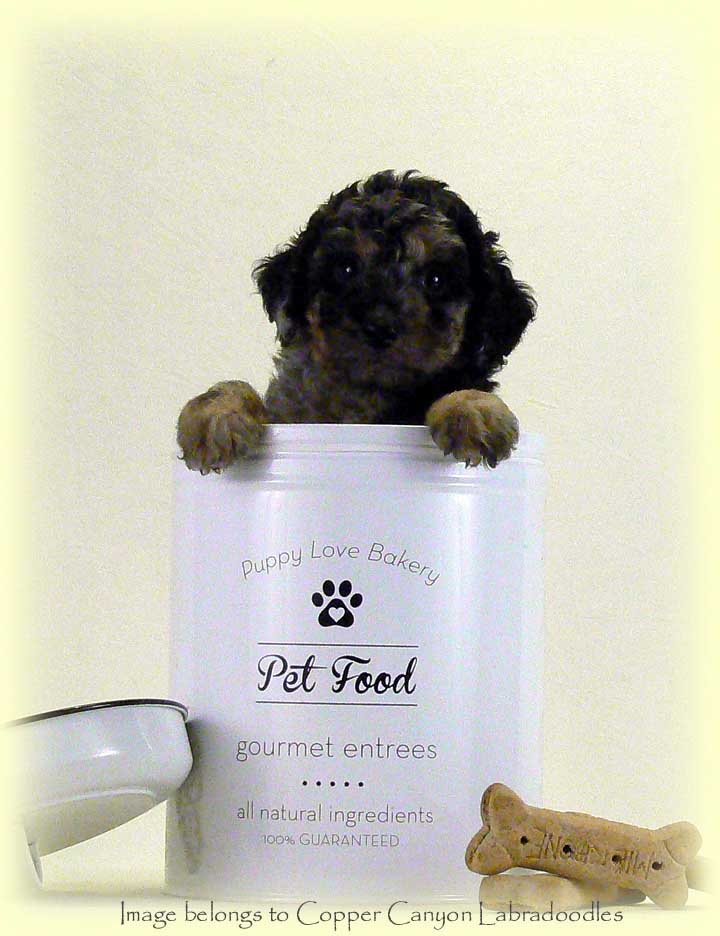 Merle Boy – going to the Mato family

This boy is a fun loving guy!  He's social and outgoing, likes to play and likes to explore (but will also happily settle in for belly rubs).  His lovely merling may stay dark or may lighten up, as his mom carries the silvering gene.  He's more towards moderate for energy levels and will finish out nicely in the mini size range.  His coat is a bit more curly than some of his sibs and I think it'll be a somewhat curly fleece when he grows up.  He will make a fun pet for a family with children or grand children.
---
No Collar Chocolate Boy – going to N Vancouver family

This cutie is a nice little puppy!  All the puppies in this litter are quite social and friendly, and he certainly is too!  He's more towards mellow in energy levels and is really cuddly puppy when we pick him up.  He has a lovely coat of wavy fleece and a really sweet nature.  As with all the dark puppies in Molly's litter, he may stay dark chocolate or he may lighten to a milk chocolate shade due to mom's silvering gene she carries.  He's a sweet boy and he'll make a really good family pet.
---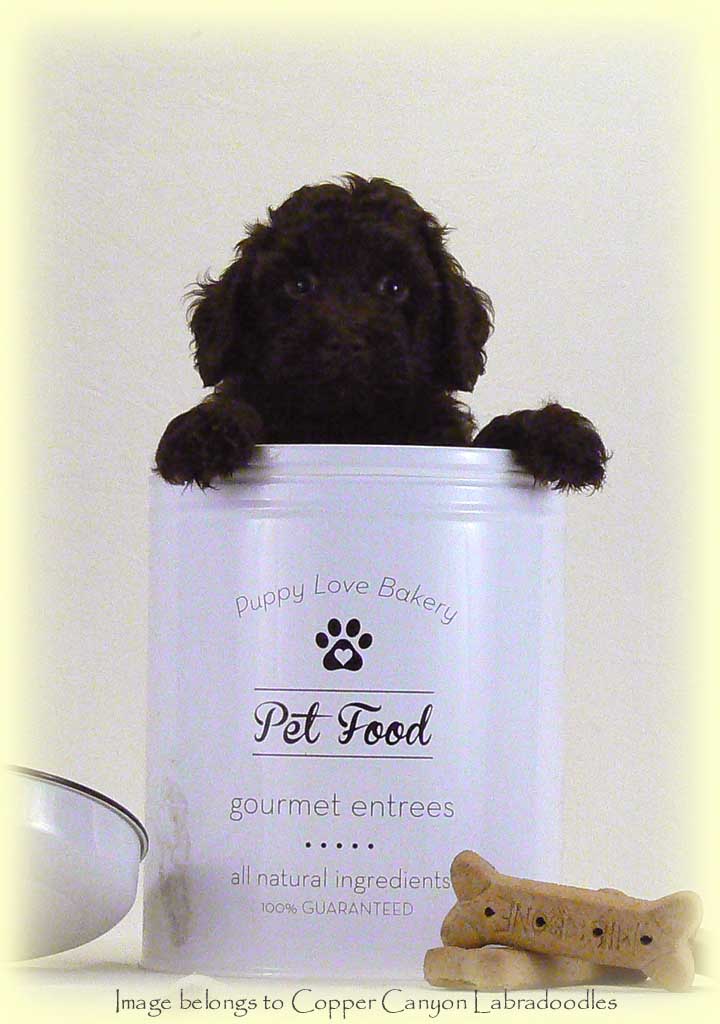 Camo Collar Chocolate Boy – pending

This handsome boy is fun!  He likes to play and likes to get playtime started with his siblings!  He's got a nice amount of confidence and an outgoing nature.  Somewhere between mellow and moderate for energy levels.  Honestly, any of these puppies would do great with kids and so I keep saying the same thing about them all!   And as with the others, his coat may stay dark chocolate or it may lighten to a milk chocolate.  This guy will love to go on hikes, long walks, beach romps and play games.
---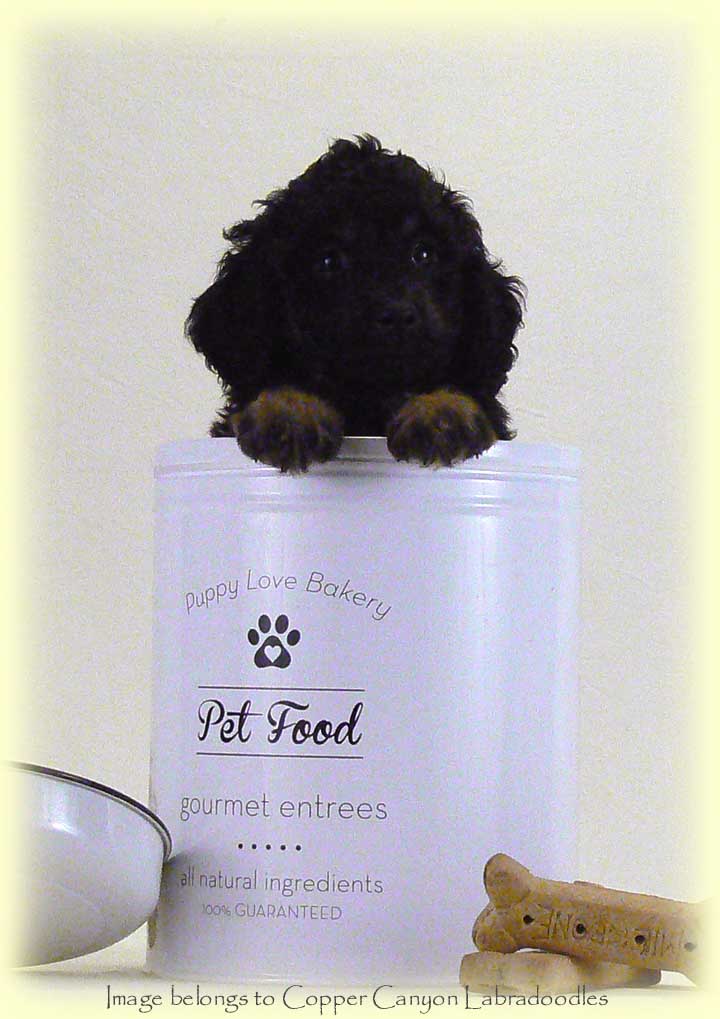 Phantom Boy – going to the Kitchen family

What a super little guy!  Playful, smart, but settles in nicely when we pick him up.  He's got some wave to his coat but it's a fleece coat like the whole litter is.  He's slightly bigger than his sibs and so may finish out more like his dad for size.  He may keep his dark black or he may lighten some.  He's somewhere between mellow and moderate for energy and will make a great family addition!
---
Deposits pre-booked for this litter:
  Possibly Copper Canyon
  The Kitchen family, Calgary AB
 The Mato family, Victoria BC
 The Sheridan family
 North Vancouver family
M Seiben family in Vancouver wants a Bentley puppy from the next litter.