Medium and possibly mini Australian Labradoodle Litter – born May 26 – 27
Golds, creams, apricots, blacks, and parti marked puppies, expected size to be between 25 and 33 pounds.
Skye has just three puppies this time, which is a small litter for her…  But mom and babies are doing well and I expect great things from these little guys!
Introducing Skye!  She is a Mabeline daughter out of our Lukka and she is absolutely a superb dog!  Friendly and outgoing but not crazy, she is great with kids and just takes the whole world in stride!  She is a nice medium sized girl weighing around 33 pounds and has a beautiful coat of shiny black fleece.  She carries for parti and possibly for chocolate, so we will see colourful puppies from her.  She has passed her health testing and is an excellent example of what an Australian Labradoodle should be.
Bentley is an all around cool dog in town!  He lives in a guardian home with a retired couple, so he is the fishing buddy, the walking companion and attracts compliments wherever he goes!  He is a very full sized mini boy on the cusp of small medium.  He weighs around 27 pounds.  His puppies are lovely and we are delighted when he has puppies for us.  Both these dogs are really sweet natured and easy to train, so we expect good things from their babies together.
I would expect puppies to range between 25 and 33 pounds when fully grown.  We would expect to see blacks, golds or creams, possibly chocolates and parti markings or tuxedo markings in any of those colours.  These puppies would be graded as multigen Australian Labradoodles.
And here are the babies! Skye is looking after 3 of Mabeline's puppies so there isn't such a difference in litter size.  So the chocolate puppy and 2 parti marked puppies are Skye's babies and the other puppies are Mabeline's.
Chocolate Girl – going to the Keszthelyi family

This charmer is a really nice puppy!  She has a beautiful coat of dark chocolate fleece and she will make an excellent pet.  She likes to give kisses and is very friendly.  She's playful and sweet, settles in really nicely when picked up, and she and will make a lovely pet for a family with kids or grand kids.  Very nice!
---
Apricot Parti Boy – going to the Pue family

What a handsome fellow!  He looks a lot like his sister with his dark apricot/red patches on his ears and his wavy fleece coat.  He's friendly and sweet and likes to cuddle too.  He'll suit a family wanting an easy going buddy to go for walks and play time.  All three puppies in this litter are very similar in temperament…  mellow but friendly, gentle natured and social, all three of them have good therapy potential.  I like these puppies a lot!
---
Apricot Parti Girl – going to the Nelson family

This cute little girl is a really sweet puppy!  She cuddles in nicely and plays nicely with her sibs.  She has really nice markings and a lovely wavy fleece coat.  Social, friendly and people oriented, she'll make a great pet.
---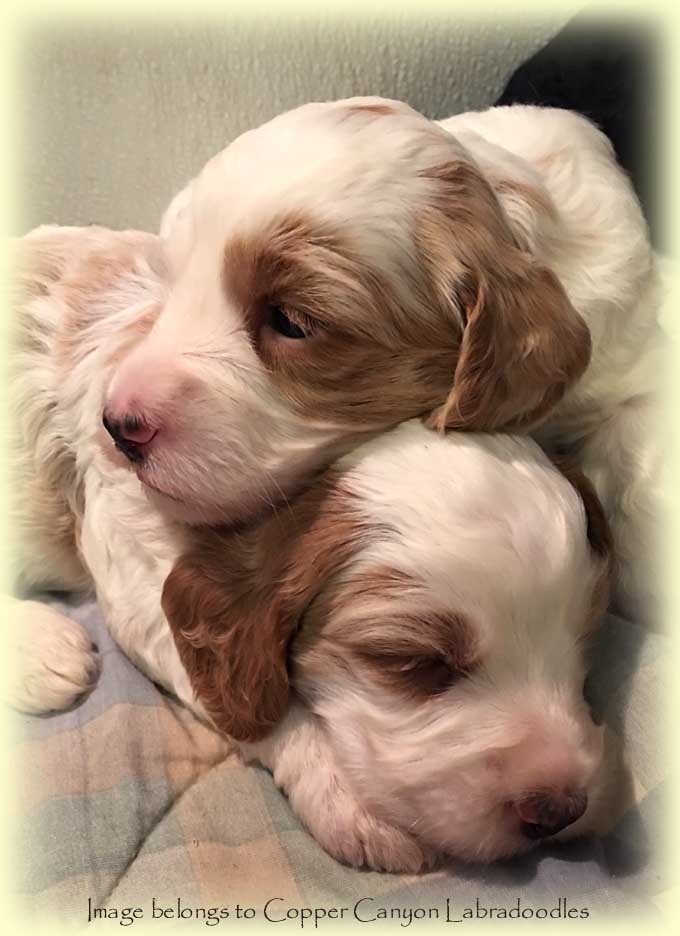 Deposits pre-booked for this litter:
  The Nelson family, Prince George BC
  The Pue family, Aldergrove BC (moved from D'ore's litter because of timing)
 The Keszthelyi family, Coquitlam BC (if there are not enough puppies in Dorrie's litter)
 The Lim family, Vancouver BC
 The Mack family, Victoria BC
  The Hamerling Weber family, Victoria BC