Medium Australian Labradoodle Litter: born May 23 2016
Golds or creams, chocolates and blacks, likely with white tuxedo markings.
What can we tell you about Domino (her family calls her Stella)?! She is a super sweet girl with a lovely fleece coat that does not mat. Easy to train, very social and friendly, not to mention gorgeous, she turns heads wherever she goes! We have decided to let Bentley be the dad of this litter. Bentley is as sweet as they come! Very friendly and social, he never makes strange in new situations and has a really lovely personality. He is a full sized miniature red boy, 27 pounds and around 17 inches at the shoulder carrying for chocolate, black and parti. We will likely see mostly wavy fleece coats in their litter together.
Domino is nicely in the medium size range and Bentley is a full sized mini boy so we ought to see puppies ranging in size between them. I expect these puppies will be around 17 to 18 inches and weighing between 27 and 35 pounds when fully grown. As she is a heavily marked parti and Bentley carries for it, we expect that most or all of their puppies will be parti marked or tuxedo marked. This litter will be graded as multigen Australian Labradoodles.
Congratulations to Domino and Bentley!  Eight new little babies are all doing well.  Surprisingly, they have no blonde or gold puppies this time.  Four black puppies, a chocolate puppy and 3 black and white parti marked puppies are what arrived.
Seven weeks old!
Blue Plaid Collar Boy – going to the Holden family in Alberta

This handsome fellow is between mellow and moderate for energy levels and is a very nice looking puppy.  His head and coat are gorgeous!  He's not the biggest and not the smallest and will finish out as a nice medium in size.  He would suit a family with kids or grand kids.
---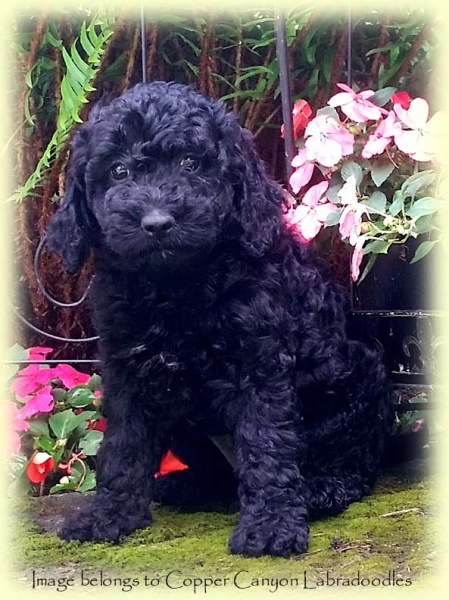 Red Reflective Collar Girl – going to the Love family

This sweet girl is a gentle natured girl who likes cuddle time and likes play time!  She's a bit smaller than some of his biggest siblings and I think she'll be bigger than Bentley by a bit and maybe smaller than her mom.  She has a beautiful coat of curly fleece that will have beautiful texture and gloss.  Like her chocolate brother, she will suit a quieter family wanting an easy going pet that will get along with cats, dogs and kids.
---
Chocolate Boy – going to the Koenig family

This puppy has a lovely fleece coat that is very like Domino's (other than colour of course!).  He's smaller than some of his siblings and may finish out in size closer to 30 pounds, I would think.  He's  a gentle natured puppy and while he likes to play and is certainly social and likes people, he will suit a family wanting a puppy that is less hectic.  He's sweet when we pick him up and he likes to cuddle.
---
No Collar Black Boy – going to the Emes family

This lovely boy is one of the bigger puppies in the litter and he has an outstanding structure and is a beautiful boy.  He's confident and social and will do well in pretty much any situation.  He's between mellow and moderate, meaning he'll love to go for walks and outings but will not be getting cabin fever if the weather is too nasty to get out for long walks.  Social and playful, he will suit a family with kids or grand kids.
---
No Collar Parti Girl – going to the Sampaio-Frood family in Vancouver

This beautiful girl is the most like her mom!  She's sweet and ever so cute!  She's a nicely put together girl, again very social (as all the puppies in this litter are) and will do well with kids or grand kids.  She is a bigger puppy and will finish out nicely in the medium size range.
---
Pink Collar Parti Girl – going to the Borer family

This little girl has beautiful parti markings and is quite a sweet one!  She's gentle natured and playful.  She's a bit smaller than her siblings and will likely finish out between 30 and 35 pounds.  She cuddles in nicely when we pick her up and she will be a dog that will learn things quickly.  This whole litter has lovely temperaments and she does too.  She will do well with kids an grand kids.
---
Red Collar Black Boy – going to the Nash family in Parksville
This fellow is handsome, outgoing and confident and will take the world in stride!  He's very nicely put together and will make a great family companion.  He'll keep up with kids and walks and hikes.  Very nice.
---
Red Collar Parti Girl – Copper Canyon

This cute girl is a playful and fun puppy and we are looking to place her in a guardian home to hopefully become part of our breeding program.
---
And here they are outside on our front lawn in the puppy play pens!
Deposits pre-booked for this litter:
Copper Canyon Labradoodles
The Nash family, Parksville BC
The Sampaio Frood family
 The Borer family, Nanoose BC
The Holden family, Stony Plain AB
 The Emes family
  The Koenig family, Vancouver BC
  The Love family, Vancouver BC