Mini/Medium Australian Labradoodle Litter – going home December 2018
Phantoms, chocolates and possibly golds, expected size around 25 – 35 pounds

Congratulations to Leela and Sunset!  Six lovely little puppies and all of them (and mom) are doing really well.  She has turned out to be a really good mama.  We have a chocolate parti, 2 blondes, a phantom and 2 chocolates.  Three girls and three boys.  What a beautiful girl!  Leela comes to us from a number of generations of therapy lines and her temperament is absolutely stellar!  She is a mid sized medium multigen American Labradoodle so she brings new bloodlines to us.  With her lovely nature and beautiful markings (not to mention a clear dna panel as well) we would expect puppies from her to be amazing!
Sunset ended up doing the honours for siring the litter this time.  His outgoing and friendly nature will be a perfect complement to Leela – not to mention that he's chocolate, carries for phantom and parti and his coat will complement her as well!  He's a full sized mini boy with lovely structure and a superb temperament, so we think these puppies together will be really nice.  This litter would be graded as  Australian Labradoodles  and should finish out nicely in the  full sized mini to mid sized medium size range.
Daisy ended up not getting pregnant, so there may be some rearrangings of names on litter lists…  we do sort our litters in order of reservation fee in, so thank you for your understanding if there are changes happening as that gets updated…
And here are the babies!
Cream Boy – going to the Shimamura family

What a fun little puppy!  He's outgoing and playful and full of kisses.  He has a beautiful fleece coat and is more towards moderately active.  He'll be a great companion for somebody wanting a walking buddy, a beach explorer, a chuck-it master…  These blonde coloured dogs with chocolate noses end up having the most soulful, human eyes and he is really cute.  He'll make an engaging and fun pet.  The pictures show a bit of that!
---
Chocolate Boy – going to the Slym-Music family

Another handsome fellow!  He has a gorgeous fleece coat and a really handsome look to him.  He's playful and outgoing and is also more towards moderate for energy levels.  He's a social, fun puppy who doesn't make strange to people or situations.  He'll make a good buddy for kids or for a person wanting a companion for walks and romps on the beach.
---
Chocolate Phantom Girl – going to the Robertson family

This sweetie is a gentle soul!  She's sweet and loves belly rubs when we lay her in our arms.  She gives kisses but not face washes and is more on the mellow side for activity levels.  Not the least bit shy, she is a really lovely girl and will make a great pet for a family wanting a dog to watch movies with, go for walks and then have couch time.
---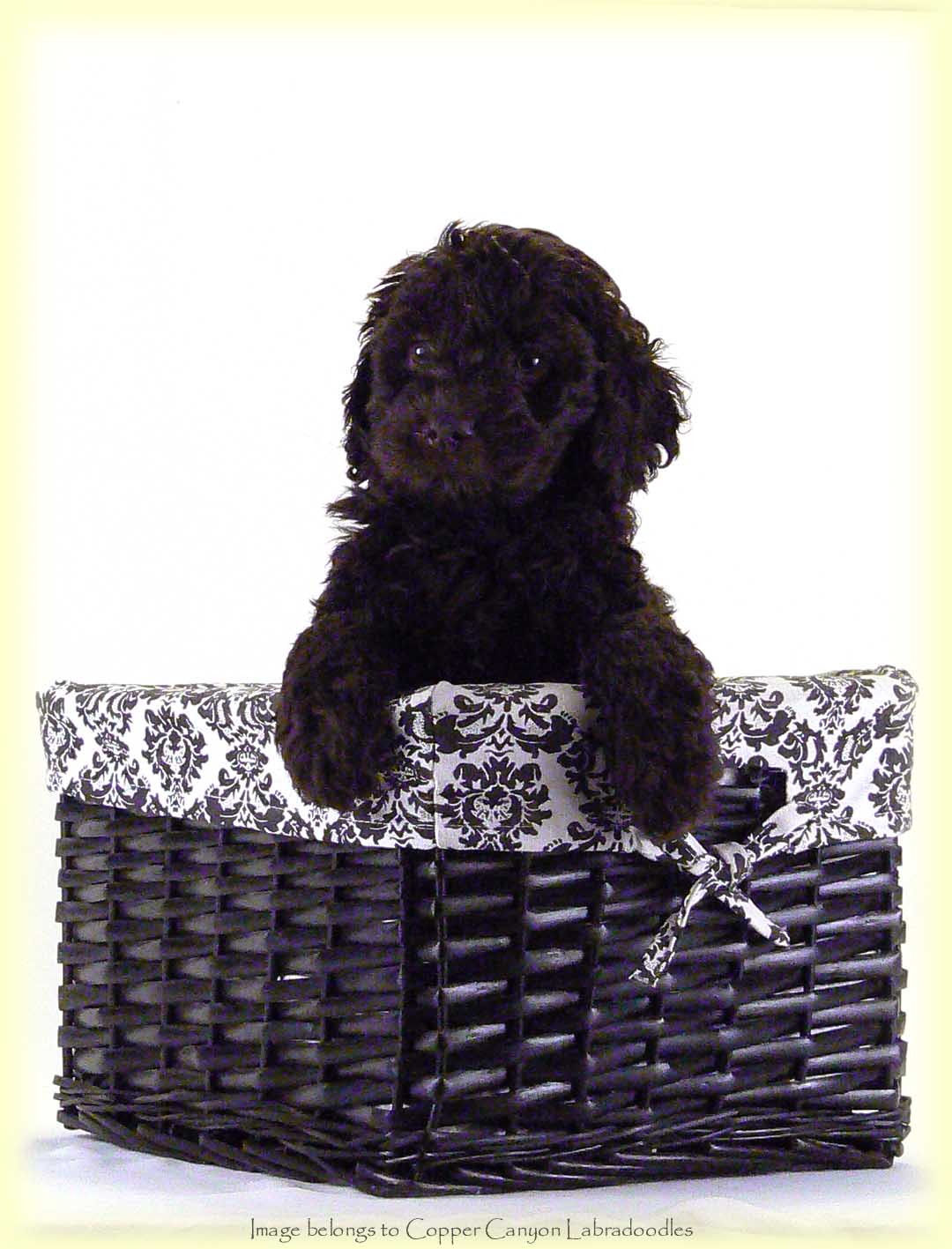 Chocolate Girl – going to the Tonneson family

What a pretty girl! She has a lovely face with a shorter nose and she is just as cute as can be.  She's more on the mellow side as well and she is social and people oriented too (they all are really) but more quiet about it.  She will make a great family pet.
---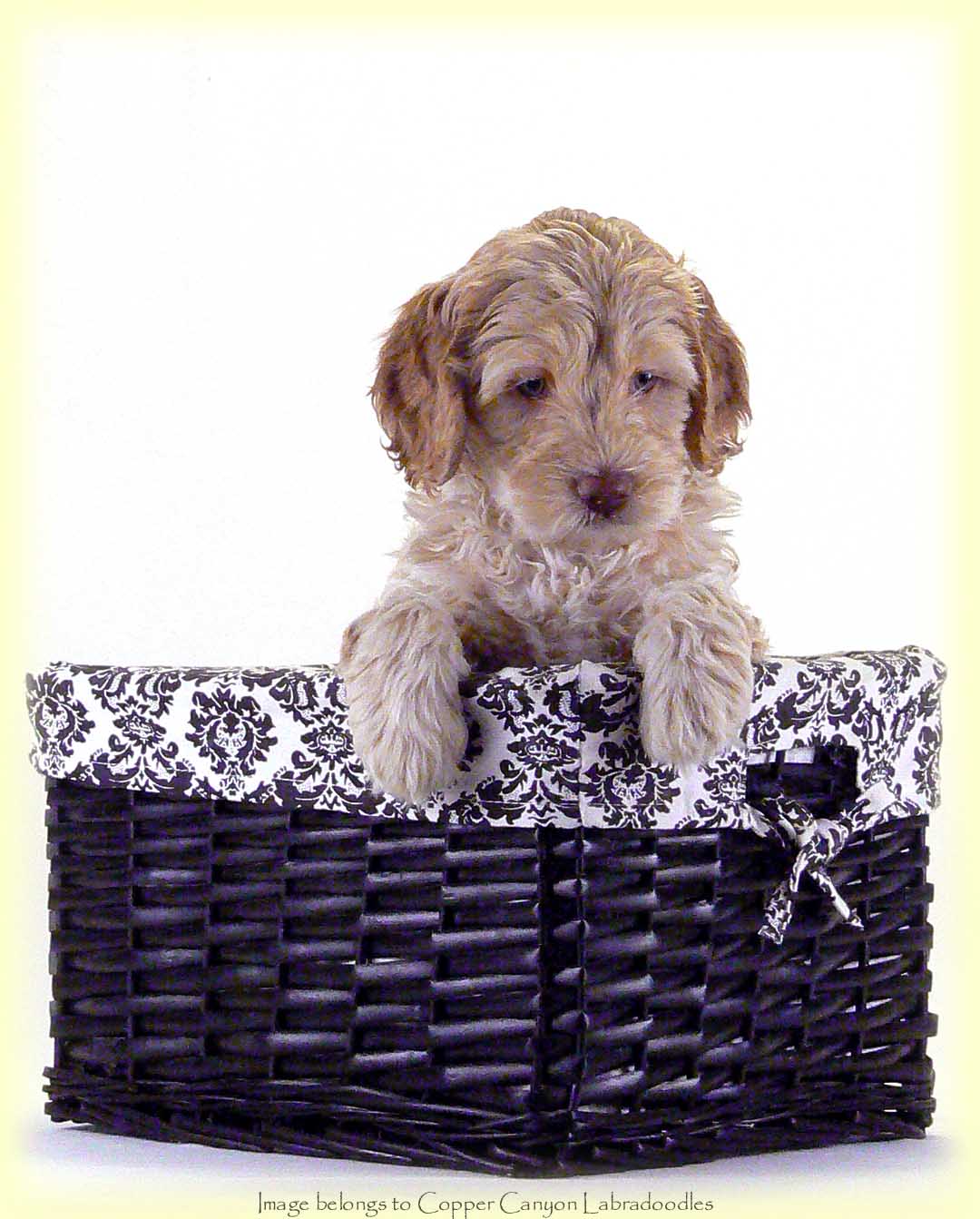 Gold Boy – going to the Lau family

Our gentle gold boy – He's a nice puppy and he's really nicely boned and nicely put together.  He's a shade or two darker than his cream brother and has a wavy fleece coat.  He'll do well for a family wanting a dog to hang out with and one who won't boss the world around.  A nice puppy.
---
Parti Girl – spoken for
---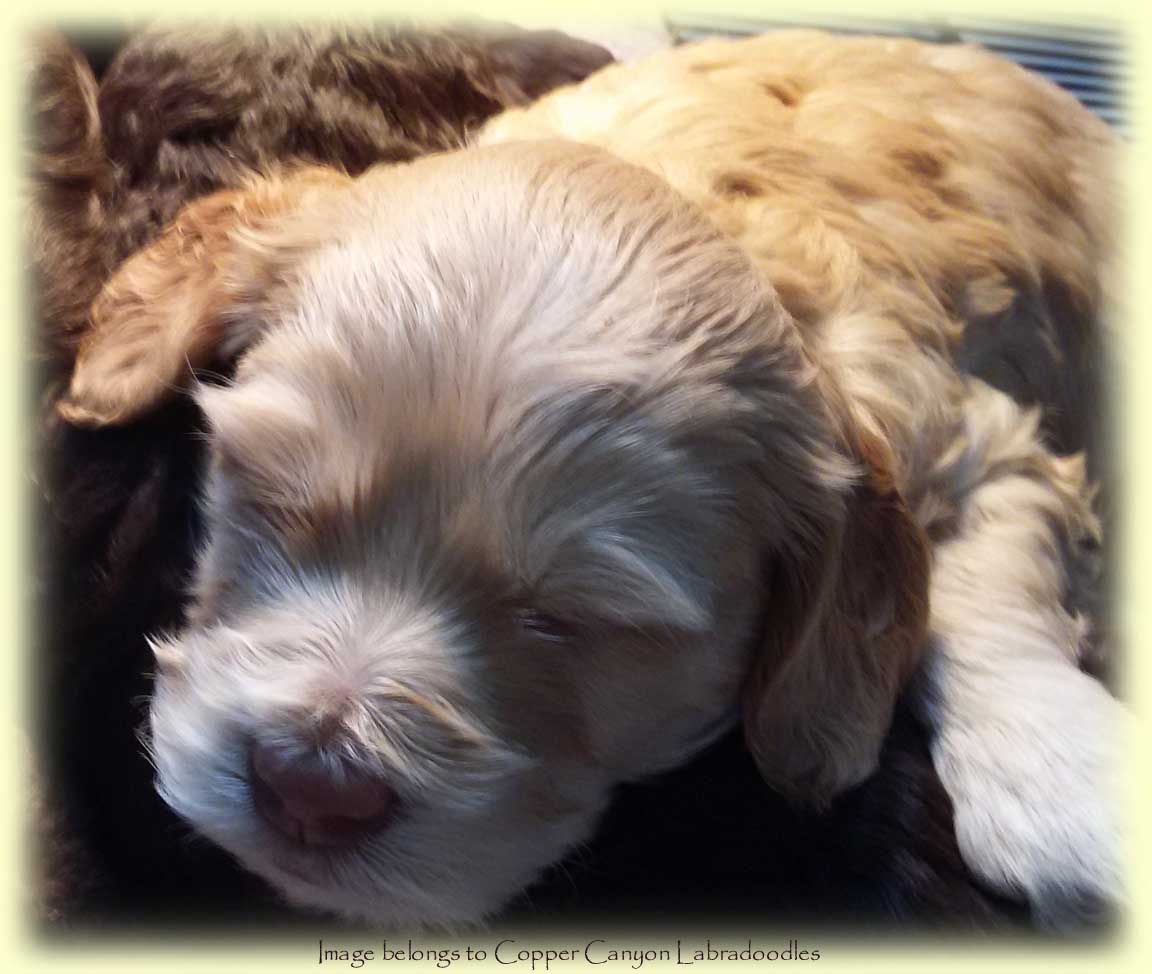 3 Weeks old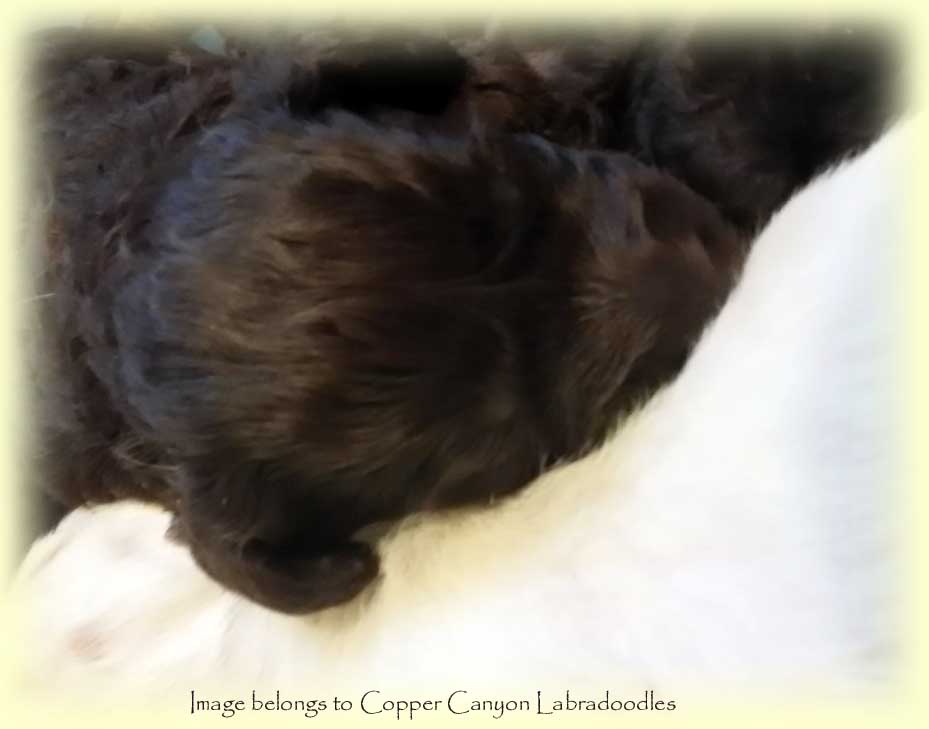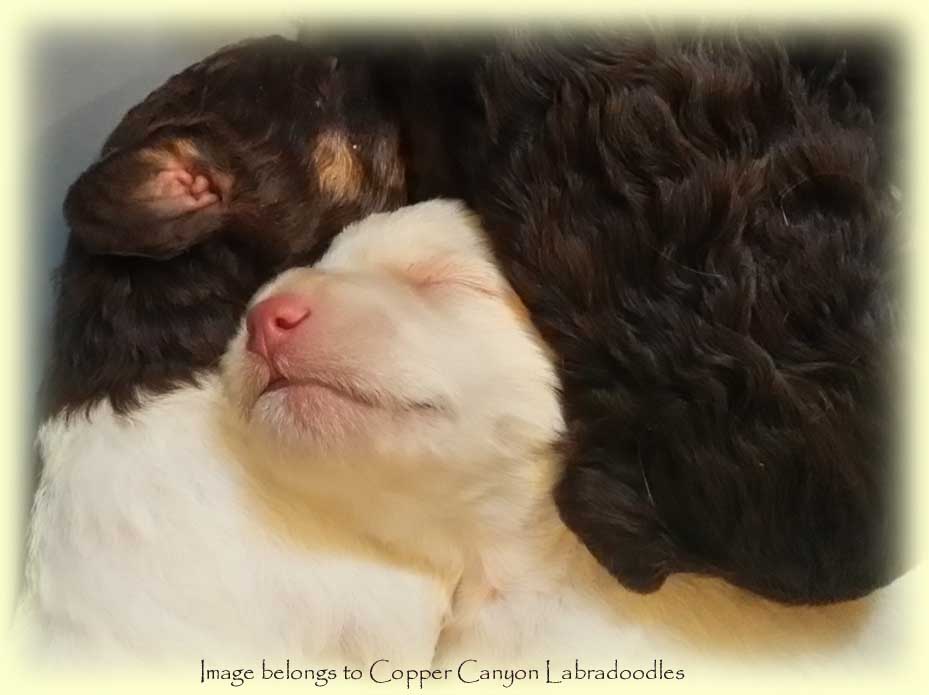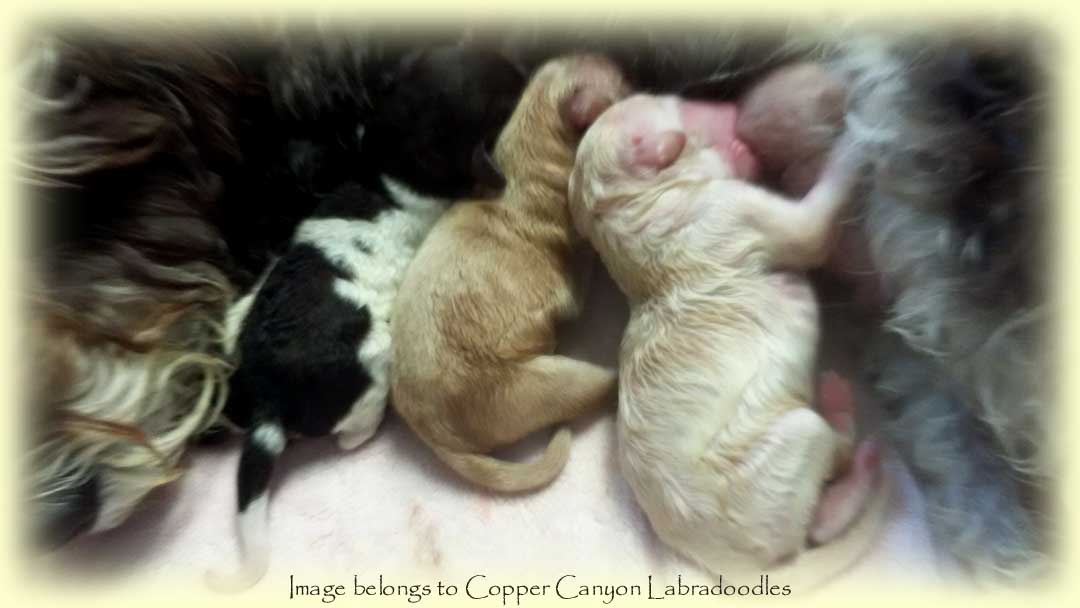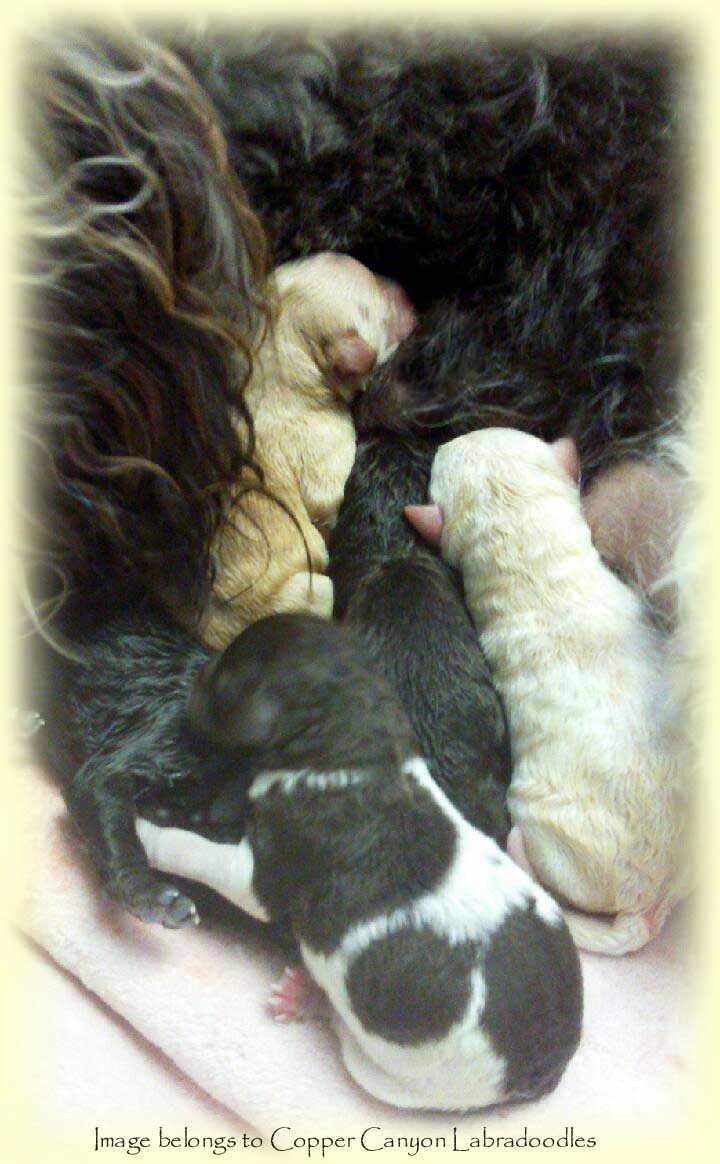 Deposits pre-booked for this litter:
 The Slym Music family (moved from Daisy's litter as she's not pregnant)
The Shimamura family, Sidney BC
The Lau family, Vancouver BC
The Tonneson family, Sooke BC
The Robertson family, Victoria BC
Reserved