Miniature Australian Labradoodles, Born April 23rd and going home June 18th 2015
Tawney is such a sweet natured girl and we always look forward to her babies! She has six lovely little puppies this time, all of them are doing well. We have a chocolate girl, 3 black girls, a cream girl and a chocolate parti boy in this litter. Tawney is a doting and sweet mother and her babies are the cleanest in town! These should be miniatures or very small mediums in size as Tawney is just over the height requirement for a mini and Sunset is a full sized mini. I expect they will mature to be between 16 and 17.5 inches to the shoulder and weigh between 22 and 27 pounds when fully grown.
Tawney is a gentle, nice natured girl with a lovely coat of fleece. She carries for chocolate and phantom as well as parti, so she has some very colourful puppies! Sunset is an outgoing, confident charmer who thinks the whole world will love him – and he's usually right! He also carries for parti and phantom and I thought he would be a good pairing with Tawney. These puppies are multigenerational Australian Labradoodles.
And here are the babies!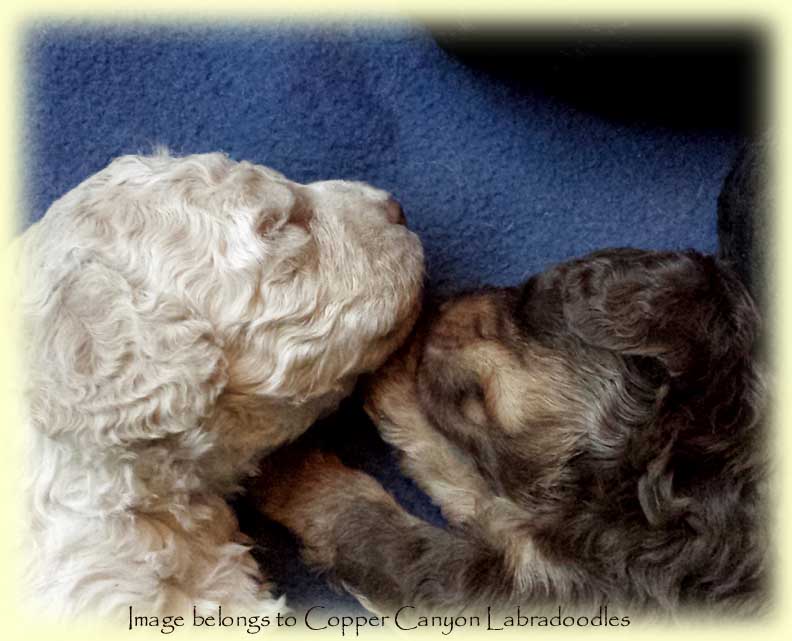 Deposits pre-booked for this litter:
Copper Canyon (available to a guardian home)
Savereaux family, Vancouver BC, want a dark colour only (also listed on Poppy's litter list)
J Armstrong, Port Alberni BC
The Rayat family
The Hepburn/Bottazzini family
And if there's more:
The Wright family, Edmonton. any colour but black or white!
The Carter family, Vancouver BC