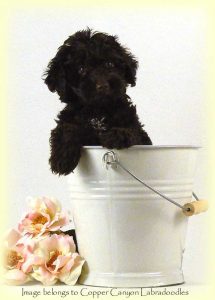 Are you thinking about giving a puppy as a holiday present? Oh, how wonderful! First things first, there's a lot to consider before giving the gift of a furry new friend as a gift.
Who Is Your Recipient?
To start, you should first consider who will be getting the puppy. Are they ready for the responsibility of having a puppy? Can they afford the food, veterinary needs and time to accommodate a dog? Is this something that has been considered for a long time or is this something you decided on a whim?
A younger child may not be prepared for such a large responsibility, while an adult may not have the appropriate type of lifestyle for a puppy. However, that's not the case in all situations. Often, parents will get a puppy to help teach a child responsibility, and as long as they are prepared to work with their son or daughter and oversee the care of the new family member, a new puppy can often be a fantastic addition to the family. Adults can also be ready to add a four-legged friend to their life, but simply been unable to make the decision before now. If you're sure your recipient is ready for that type of commitment, getting them a puppy could be a great idea!
Picking a Breed
Next, you should research what dog breed would be the best choice for your gift recipient. Is the person in question more active or more mellow? Does the person have any type of dander allergies? In either situation, our labradoodles are a great fit for almost every home. They have an adaptive personality, meaning they can enjoy an active and engaging lifestyle just as much as a relaxed and comfortable one. Plus, labradoodles tend to do well for families with allergies to hair and dander. Most families with allergies will find that they don't won't suffer from itchy eyes, sneezing or runny noses when adding one of our puppies to their home. In fact, in 11 years, we've only had three families who needed to rehome their pups due to allergies – a great track record for a wonderful breed!
Completely Prepared
As a last bit of preparation, you should also make sure you provide everything the new owner will need for the first days with their new furry bundle of joy before giving them their gift. Some people are last-minute shoppers for their gifts, but the last thing you want to do is be running around on Christmas Eve trying to find supplies. A dog will need food, toys and a crate, for example, and it's best to have that all ready for the recipient – especially if your gift is a surprise. Wrapping these supplies can also be a good placeholder gift in case you want to let the person choose their puppy. We recommend slowly building up your puppy supplies well in advance instead of rushing around at the last minute.
To Surprise or Not
Last, consider making your gift less of a surprise for Christmas morning and instead ease into it. While we don't recommend you involve children – especially if you have more than one son or daughter, who may fight over choosing the right puppy and compete for "whose dog" it is – it is important to think about choosing a puppy that works for your family or adult recipient. For example, you could plant the idea that you're considering a puppy and try to find out if there's a preference in terms of color or gender which can help you determine what pup may be best for your home. The last thing you want is to start a years-long battle between siblings over whose dog it is, when your new pup is meant to be a joyful addition to the home.
Another reason  to "spill the beans" instead of allowing your gift to be a surprise relates to adults recipients. Oftentimes a person living in an apartment or rented home will have to pay a pet deposit or fee or may not be allowed to have pets, so finding this out and taking care of any requirements in advance helps eliminate any unexpected surprises. it also helps to involve them early so they can prepare any other family members for the new addition and "puppy-proof" their living space.
We also recommend considering not gifting a new pup on Christmas Day. The excitement of opening presents and feasting on the festive morning can be too much for some to balance – adult and child alike, not to mention for the puppy, too! Instead, giving a puppy a few days before or after the holiday can work just as well, and with the tree still up for the season there will be plenty of time to take festive "under the tree" photos with the new addition to the family. You can place a puppy photo in a card or box to open on Christmas morning instead and then bring your new friend home a few days later after the excitement dies down.
If you have considered all of these points and you are sure that giving a puppy as a gift is the perfect option for you, find a beautiful new pup at Copper Canyon Labradoodles. We would be more than happy to address any concerns or questions you may have about adding a puppy into your family. We believe that our labradoodles would be the perfect for any loving environment. Learn more about our currently available pups and upcoming litters online, or give us a call at 877-850-2022.