Medium Australian Labradoodle Litter, born November 30 2017, going home Jan 25 2018
Chocolates, golds, phantoms and parti marked puppies, expected size to be between 30 and 35 pounds.

Jazzy has six beautiful little babies for her last litter with us!  Only one girl (what is it with that this year?), 3 chocolate boys, a parti boy and a gold boy.  All of them are doing well and Jazzy is a very doting and sweet mother.
Introducing Jazzy!  Jazzy is one of the sweetest, smartest Australian labradoodles that you will ever meet!  She takes the world in stride, will greet you with a favorite toy when you walk in the house, and she adores walks and playtime at the park.  She is also a good couch cuddler.  Super steady nerved and social, she is an outgoing charmer.  This will be Jazzy's last litter for us and we hope to keep back a baby that is a chip off the block, as they say…  Here is a link to her litter from last year.
We were really pleased with Sunset's litter with Jazzy from a couple years ago and so we are thinking to repeat it.  Sunset is a happy go lucky and fun loving boy who is just sure that the world will love him (and they usually do!).  He is a full sized mini and has a cafe wool coat, so we will see lots of chocolate puppies from them, and possibly gold or phantom as well as parti.
This litter will be medium in size, likely between 30 and 35 pounds when fully grown and will be graded as multigen Australian Labradoodles.
And here are their babies!
Red Collar Boy – available

This cute fellow is a dark chocolate boy with a beautiful coat and a great temperament!  He's friendly and likes to play, but settles in really nicely when we pick him up.  He's just really nice.  He'll make a superb pet for a family.  Somewhere between mellow and moderate for activity levels.
---
Blue Collar Boy – going to the Dawson family

This boy is a bit smaller than some of his bigger siblings and he is a really sweet boy.  More on the mellow side (but not timid) he is quite content to get belly rubs while laying in our arms!  He'll make a lovely family pet for somebody wanting a more low key dog.
---
Gold Boy – going to the Golightly family
This gold fellow is a super chill boy!  He's really nice and just seems to take it all in stride!  I really like his intelligence and his nature, just a super puppy.
---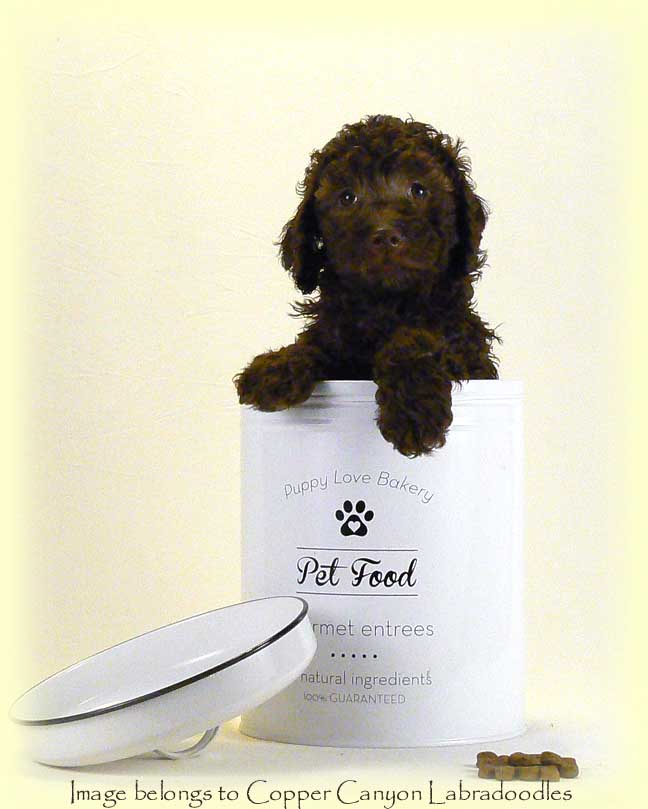 Chocolate Girl – going to A Dagnillo

This little sweetie is a really sweet girl!  She cuddles in and gives kisses, is content to hang out with us.  She's a very smart cookie and is quite willing to work for treats!  Mellow when we hold her but playful on the floor, she will make an excellent pet.
---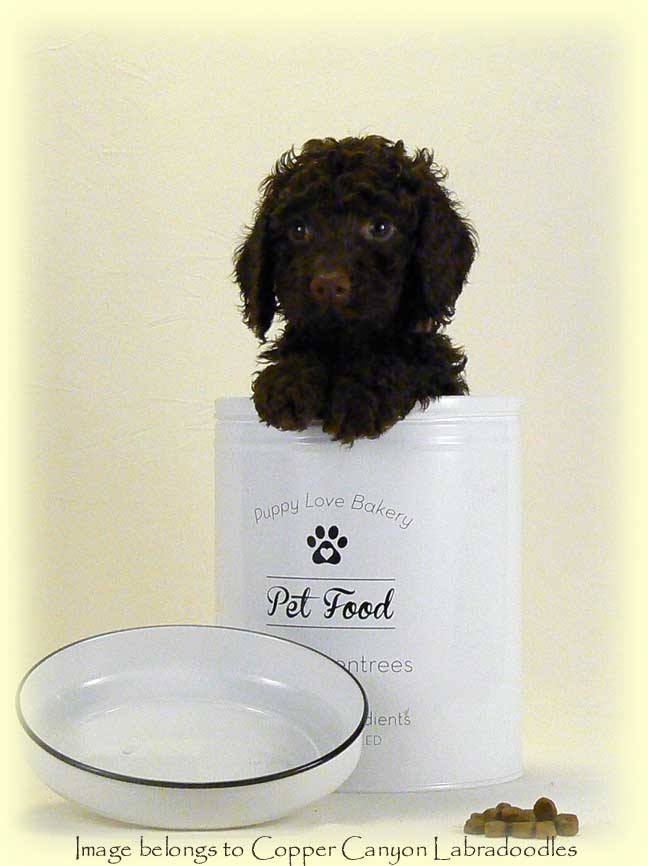 Pink Collar Boy – going to the McLoughlin family

This cute boy is a super fun puppy!  He is very social and likes people, likes to give kisses.  He's fun and outgoing and is curious and will be an engaging pet for a family who wants a walking buddy, a dog who loves to learn tricks and fetch balls.  A really nice boy.
---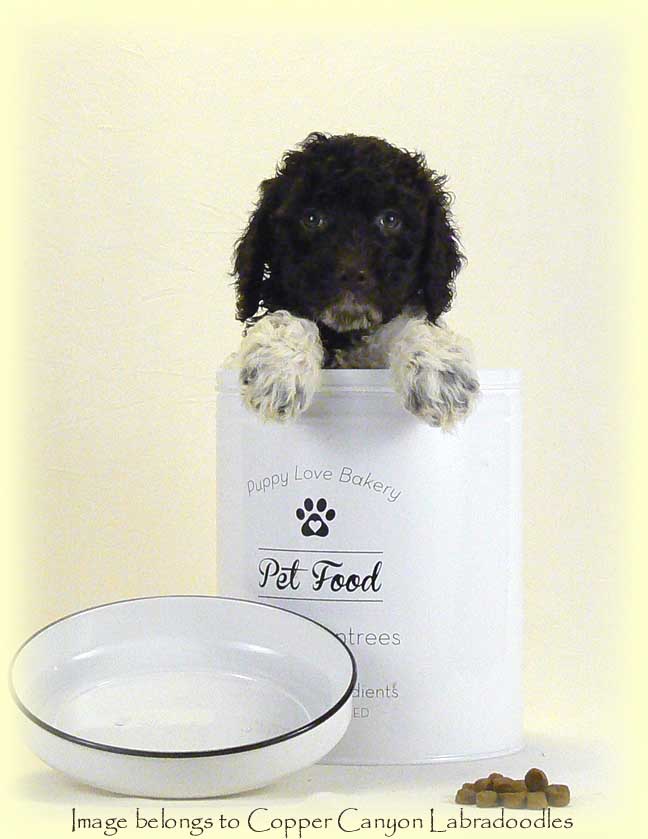 Chocolate Parti Boy
Staying with our breeding program!
---
This fellow decided to sleep in the food bowl!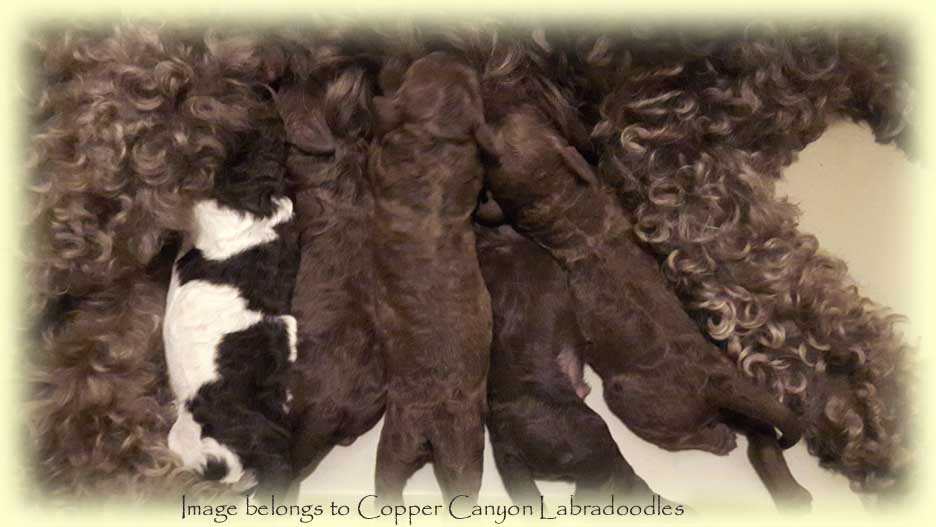 Deposits pre-booked for this litter:
 Copper Canyon (maybe)
 Golightly family (switched with the Nemeth family on Penny's litter)
 The Mcloughlin family, Richmond BC
 The Thomas family, Terrace BC
 The Dagnillo family
 The Dawson family, Victoria BC