Mini Australian Labradoodle Litter, born Aug 25th, going home Oct 20th 2017
expected colours: chocolates, chocolate phantoms and golds.  Confirmed pregnant with ultrasound.

Congratulations Shadow and Sunset!  She has six little babies, five boys and one girl.  Shadow is our last daughter out of Muggles and a beautiful chocolate phantom stud out of the US. She is a very solidly built girl with lovely boning and a very nice coat. She is a happy go lucky girl, very social and very smart! She is a full sized mini.
We've decided to let Sunset be the father again! Sunset has a superb temperament and as he is chocolate too, he pairs really nicely with Shadow. Sunset is a fun loving boy, very social and friendly, he has the perfect Australian Labradoodle temperament.  His puppies are lovely and we look forward to seeing them!  Here is a link to one of their litters together from before.
I expect these puppies will be right around the 15 to 17 inch size and weigh around 25 pounds when fully grown. We should see chocolates, phantoms and possibly golds/apricots in their litter together. This litter will be graded as multigen Australian Labradoodles.  If you are interested in one of our puppies, please be in touch via email or phone.
Puppy updates:
The puppies have discovered that the lawn is a fun place to play when the weather is nice!
So, they have been introduced to solid food today!  We mix the raw food with goats milk or puppy formula so it's kind of soupy.  And my, did they like that today!!  They are very messy about it all, so they walk in it and it's a full contact style of eating.  And then Shadow gives them all baths : )
And here are the babies!
No Collar Chocolate Boy – spoken for

This little fellow is a cute little puppy!  He is pretty laid back when we pick him up, but he likes to play and has a nice amount of confidence.  He has a coat of wavy fleece and we don't know if he'll keep his dark colour or lighten up to look like his dad.  More towards mellow for activity levels, he'll make a great family pet and companion.
---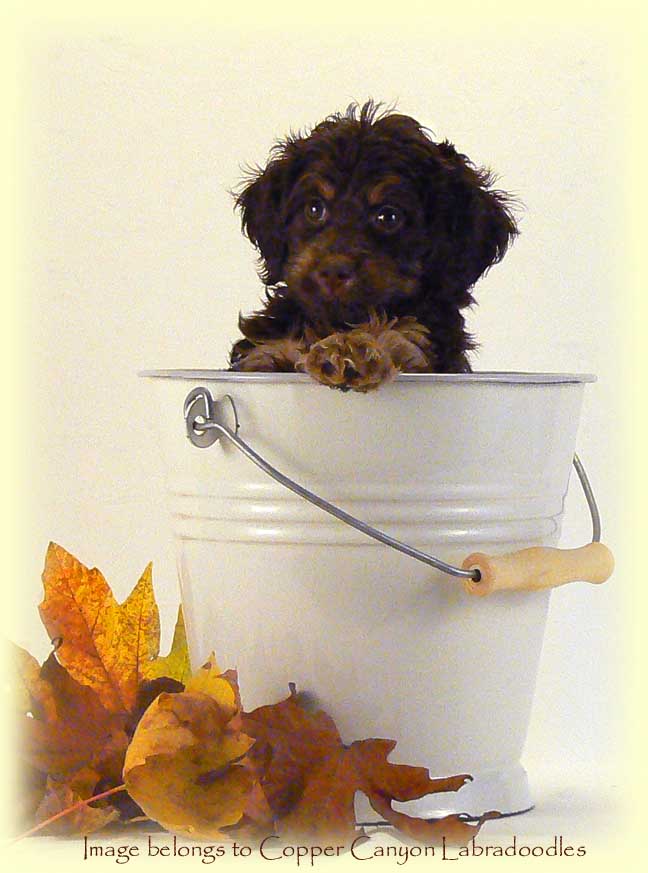 Phantom Girl – going to the Schulte family
This girl is a sweetie!  Easy going nature and quite gentle.  She is a beautiful phantom marked girl and she's lovely in every way.  I can pull a few hairs from her coat and so she may end up being a very mild shedder.  I really like her nature and she'll make an excellent family pet.
---
Gold Boy – going to the Steyl family

This fellow is the biggest puppy in the litter and he may finish out as a smaller medium, maybe around 30 pounds at most would be my best estimate.  He's a gentle cuddler who is playful but is quite mild natured.  He's not bold like one of his sable brothers, he's more of a follower.  Super gentle boy, he'll do well with kids or grand kids.
---
Green Collar Sable Phantom Boy – going to the Wade family

This cutie is a smart fellow!  He's got beautiful sable phantom markings like his mom and he's a confident, outgoing and fun boy!  He'll suit a family wanting a more active pet to go on long walks or bike rides, or play time on the beach.  Moderately active and on the go, he'll be a great pet for a more active family.
---
No Collar Sable Phantom Boy – going the  Pettenon family

This cute little scrap of fur is the smallest puppy in the litter!  He's a sweet boy, somewhere between mellow and moderate for activity levels.  He likes being cuddled and likes to give kisses.  He keeps up with is bigger brothers just fine!  He'll make a lovely family pet for a family wanting a smaller mini size.
---
Pink Collar Chocolate Boy – going to the Devera family

This chocolate fellow is a handsome little puppy!  He's somewhere between mellow and moderate, likes cuddles and gives kisses.  He has a nice amount of confidence and has a very nice nature.  He's a curly fleece boy and he'll make a lovely companion.  He would do well with kids or grand kids.
---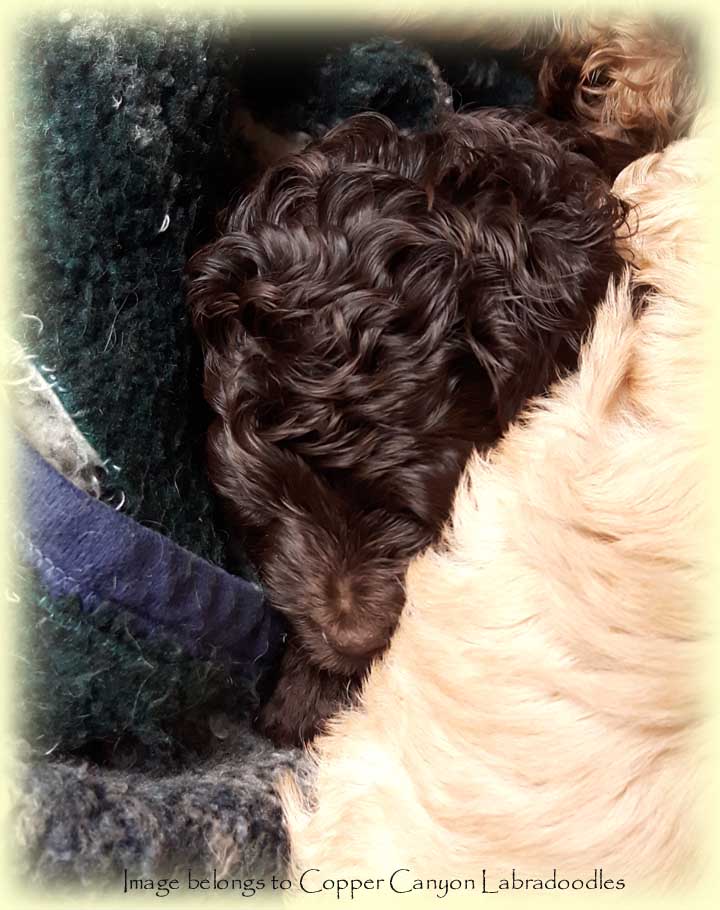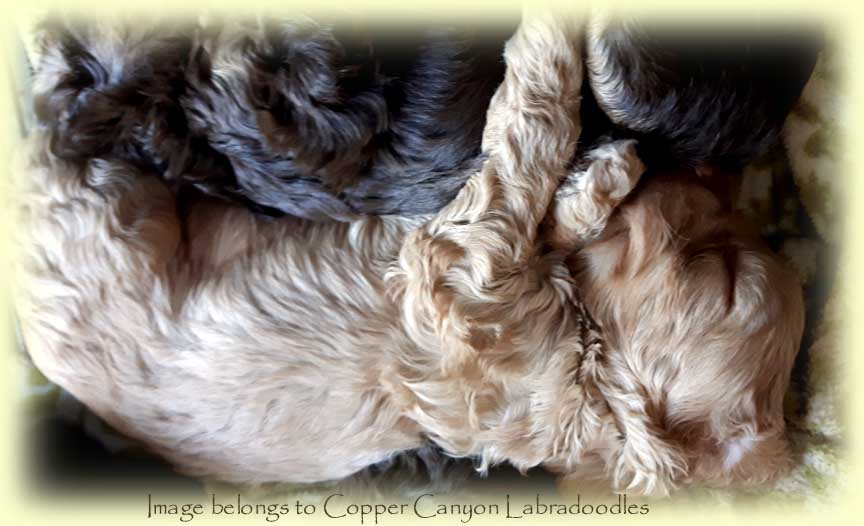 He picked this pose – honestly!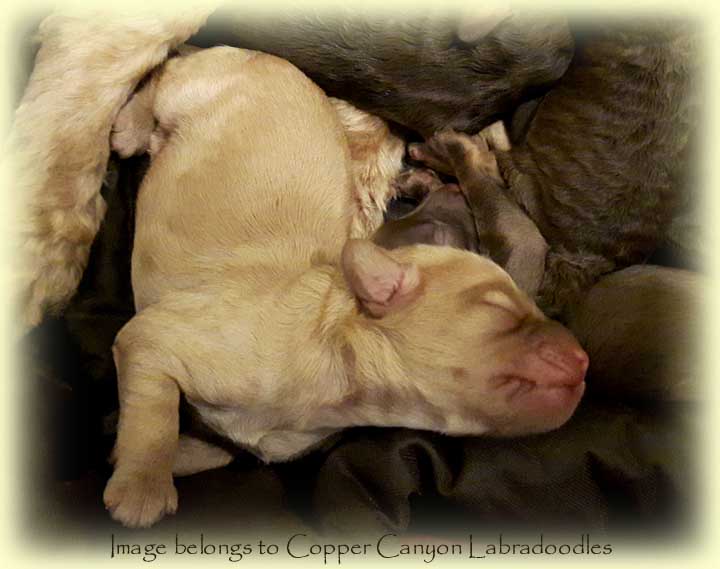 sleeping with mom!
time for a snack…
Deposits pre-booked for this litter:
  Copper Canyon
 The Schulte family, Victoria BC
 The De Vera family, Surrey BC
 The Wade family, Coquitlam BC
 The Steyl family, 150 Mile House BC
 The Pettenon family (moved from Piper's litter)
 The T Patan family, St Albert AB