Miniature Australian Labradoodle Litter – born June 19th and going home Aug 14th 2017
chocolates, blacks and possibly golds or phantoms expected in this litter, likely to mature between 13 and 15 inches and under 25 pounds.
Congratulations Lizzie and Harvey!  Lizzie has five sweet new babies and all of the puppies and mom are doing really well.  She has 3 chocolate puppies and 2 black puppies that may turn charcoal coloured the way mom is.
Lizzie is a really sweet and social girl out of Angie and Dusk's litter from a few years ago.  She is a playful and fun girl and is a smaller sized mini Australian Labradoodle girl, just 17 pounds.  Lizzie has a real joy and zest for life and always seems to have a doggy smile on her face!  She carries for chocolate and possibly for gold or phantom, so we should see some very nicely sized little minis in a rainbow of colours from this litter!  I would expect to see 4 puppies from her litter.  This litter will suit families wanting a smaller sized companion for condo regulations or just a great pet to get out and enjoy walks and couch time!  Sunset is our lovely chocolate boy and you will never meet a friendlier dog!  He has nice manners and is quite sure that the world will love him – and they usually do!  He carries for phantom, parti and gold and is such a nice boy.  He makes wonderful puppies with his confident, easy going nature.  This litter would be graded as multigen Australian Labradoodles.  Here is a link to their first litter together.
And here are the puppies: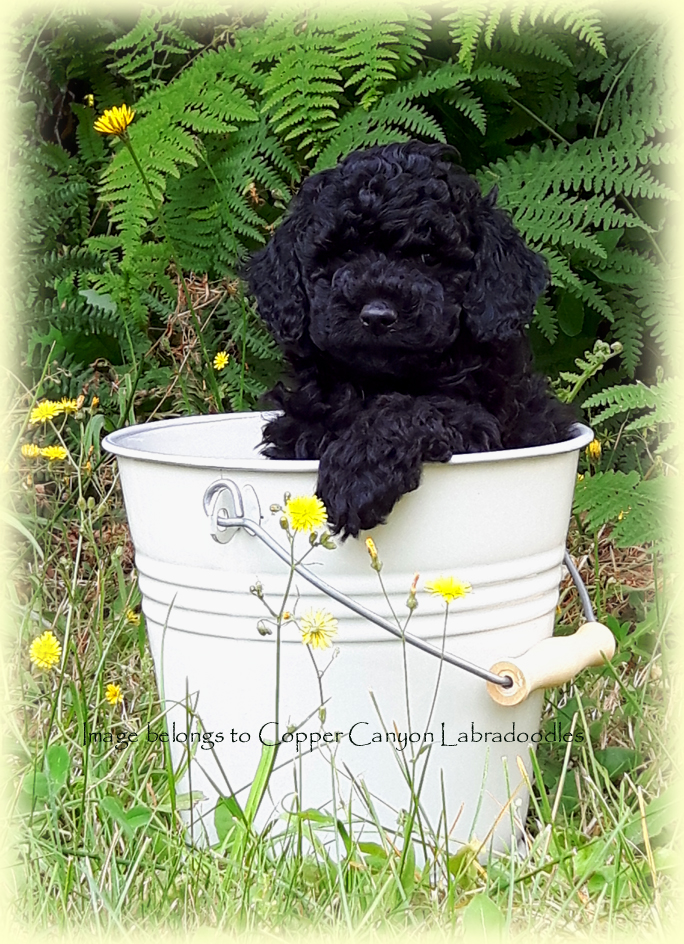 Black Boy – going to the Wong family

This handsome fellow is a playful, friendly boy with a beautiful coat of somewhat curly fleece.  He is a soft natured and very sweet boy, not timid at all but is more mellow.  Likes belly rubs and cuddle time.  He will make a great pet for a family with kids or grand kids.
---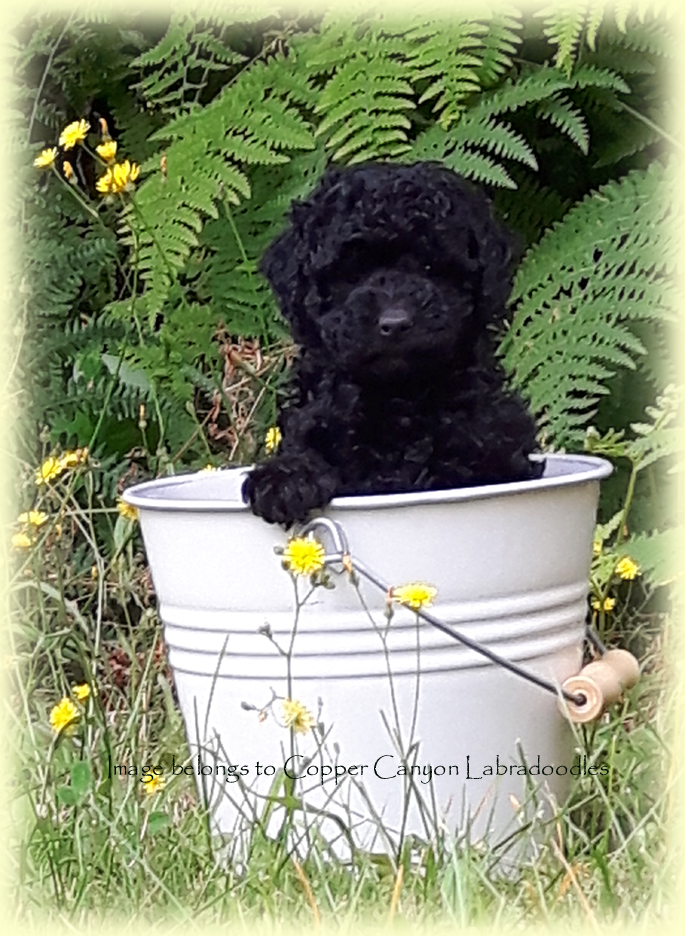 Black Girl – spoken for

This sweetie is as charming as they come!  She is being adopted by Lizzie's guardian family, which is quite neat!
---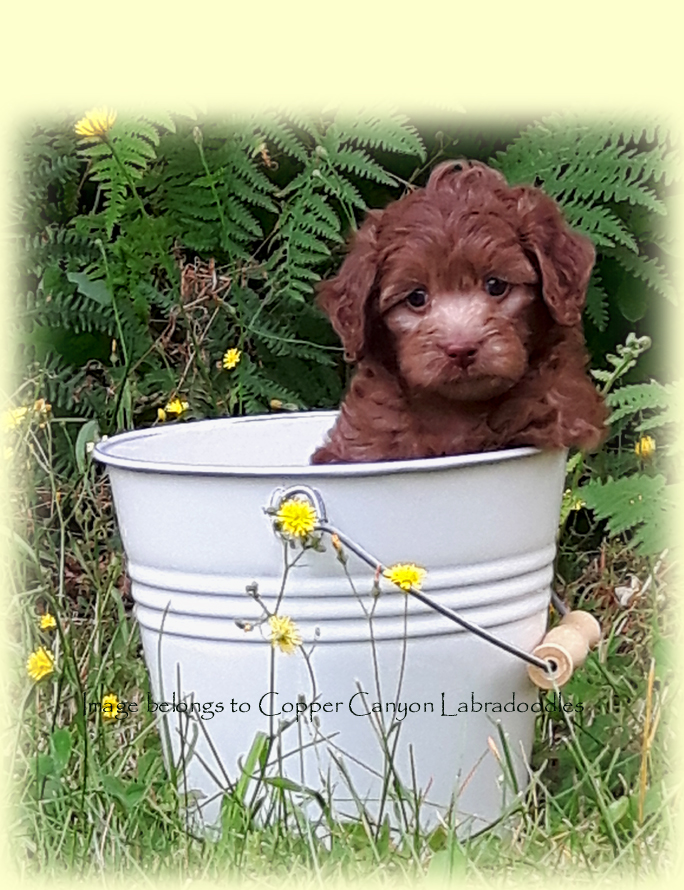 Chocolate Girl – going to the Clark family in Prince George

This littlest girl of the litter is a cute little button!  She's confident and social (well, the whole litter is, really) and loves attention and play time.  More towards moderate for energy levels, she will enjoy play time and walks and romps at the beach.  She will make a fun and engaging pet.
---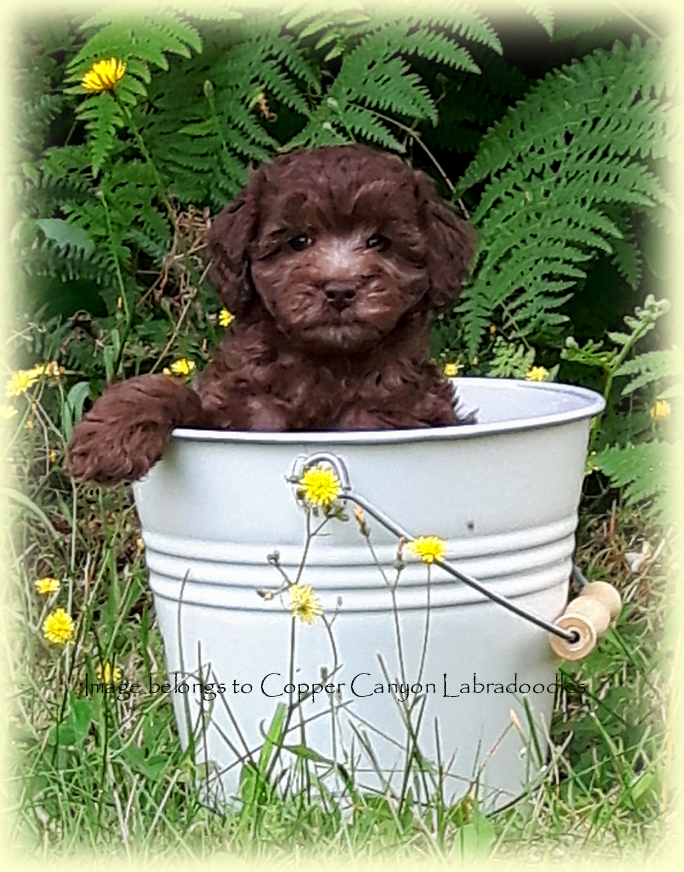 Medium Chocolate Boy – going to the Frigon family

This fellow is a really nice puppy!  He's moderately active but does like to settle in when we pick him up, and he has already learned that belly rubs are good!  He has a lovely fleece coat and is a nicely put together puppy.  He's not a wall flower by any stretch and has a good amount of confidence.  He'll be a fun and engaging pet who will be happy to go on long walks.
---
Dark Chocolate Boy – going to the Adams family in Langley

This is the darkest of the three chocolate puppies in the litter.  He has a beautiful coat of curlier fleece and is a really well put together boy.  He's playful and fun, likes to give kisses and cuddles but will want to play and have people to go do things with.  You can tell he's a smart cookie and will learn things quickly!  He'd suit a family with slightly older kids, school age and up, I think.
---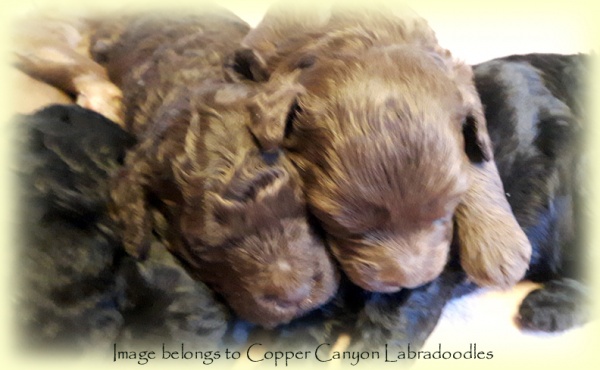 Newborn
Deposits pre-booked for this litter:
Copper Canyon will likely keep a puppy back and place it in a guardian home
  Copper Canyon guardian family puppy
  The Clark family, Prince George BC
  The Adams family, Langley BC
 The Frigoni family, Kelowna BC
  The Wong family, New York