Miniature Australian Labradoodle Litter
chocolates and blacks in this litter, likely to mature between 13 and 15 inches and around 20 pounds.
Going home January 20th 2017

Lizzie and Sunset have four beautiful little puppies born!  We have 3 chocolates and a black puppy this time and all four are doing well.  3 girls and 1 boy.  Lizzie is as cute as a button (and almost as small)!  Lizzie is a really sweet and social girl out of Angie and Dusk's litter from a couple years ago.  She is a playful and fun girl and is a smaller sized mini Australian Labradoodle girl, just 12 pounds.  Lizzie has a real joy and zest for life and always seems to have a doggy smile on her face!  She carries for chocolate and possibly for gold or phantom, so we should see some very nicely sized little minis in a rainbow of colours from this litter!  Sunset is our handsome full sized mini chocolate boy.  He's an outgoing and fun boy with a superb temperament and structure.  He has nice manners and is quite sure that the world will love him – and they usually do!  He has a wool coat and carries for some interesting colours like parti and phantom.  This is a repeat pairing from their litter last summer and we expect maybe 4 or 5 puppies from them.  He makes wonderful puppies with his confident, easy going nature.  This litter would be graded as multigen Australian Labradoodles    This litter list is just opened.  Here is a link to their litter last year.
And here are the babies!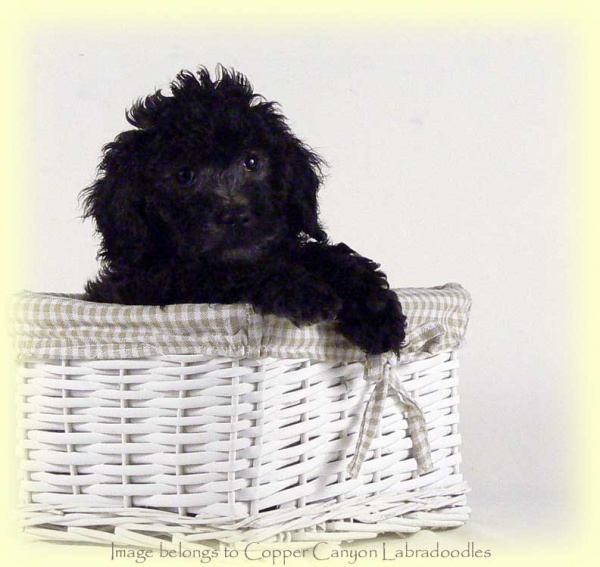 Black Girl – going to the Geddes family

This cutie is already starting to silver and I expect she will be a gorgeous shade of pewter silver when she grows up.  She's fun, playful and loves to be picked up and snuggled.  She is bigger than some of her siblings and will likely finish out nicely in the mini size but over 20 pounds.  She will make a great family pet for somebody wanting a puppy that is funny and can handle the antics of kids.
---
Smallest Dark Chocolate Girl – going to the Noonan family

This little cutie is completely adorable!  She is social and snuggly and kissy and likes to be played with.  Nothing much fazes her and she has a zest for life that reminds me a lot of her mom, Lizzie!  She will suit a family wanting a smaller pet as I expect she will be under 20 pounds when fully grown.
---
Chocolate Boy – going to the J Denford family
This handsome fellow is one of the bigger puppies in the litter.  He is a gentle and mild natured fellow who will do well with a family wanting a mellow, easy going companion.  He has a lovely coat of curly fleece and he is a sweet boy.
---
Smaller Light Chocolate Girl – going to the Claar family

This sweetie is small in size but not small in personality!  She does like to cuddle and loves people time (they all do) but she is curious and smart and is right in there playing with her bigger siblings.  She's more towards moderate for energy levels and will make a great pet for a family with kids.
---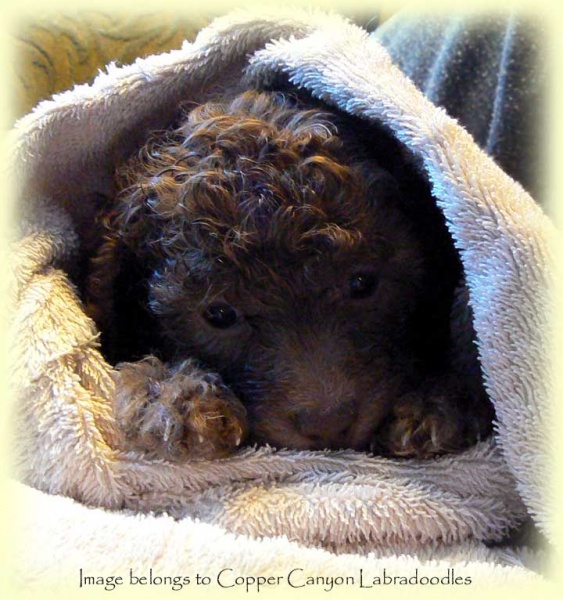 Deposits pre-booked for this litter:
J Denford, Vancouver BC
The Claar family, Seattle WA
The Geddes family, Nanaimo BC
The Noonan family, Coquitlam BC