Four darling little babies were born this morning, 3 girls and 1 boy.  We were excited to see Shiraz's first litter of puppies…  parti marked and all!  So we have one chocolate girl, a gold girl, a gold and white parti girl and an apricot boy.  Shiraz is a gentle, social girl who likes to please and Sunset is a playful and confident boy with a lovely coat of chocolate wool.  We expect their babies will be very nice.  There is one puppy available in this litter.  Please contact us and send us a puppy application if you are interested in Shiraz's puppy.
Six week old puppy portraits:
Spoken for: Our one little chocolate girl is a fun little puppy! Sweet natured and gentle, she's playful and level headed for a puppy. She also has a really nice fleece coat and is quite nicely put together.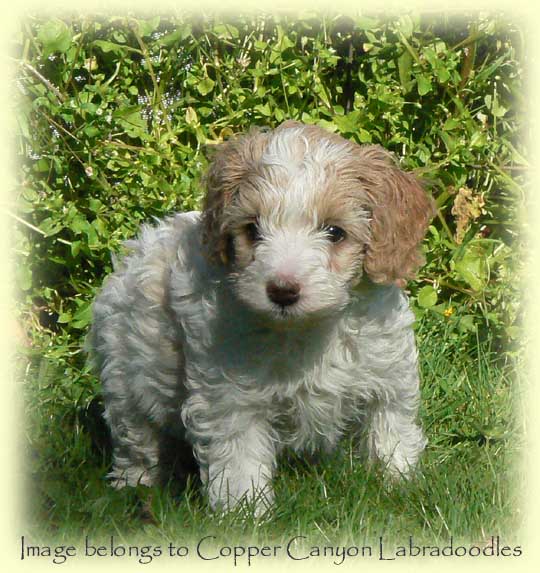 Spoken for: This little cutie is a gold and white parti girl.  She's a bit smaller than some of her littermates and will finish out nicely in the miniature size range.  She's a gentle, playful and sweet girl, a super quick learner.  And a great kisser too!
Spoken for: This handsome boy is a nice solid gold colour with a lovely fleece coat and a white snip on his head.

He's a confident and outgoing boy, quite social and nothing much phases him!  He'll suit a family wanting a dog that will keep up with the kids and enjoy play.
Spoken for: This girl is a fun, playful girl, quite willing to check out new surroundings and people.  She's a smart pup, quite the character!  I'd class her as moderately active and quite social.

She's got a superb coat of wavy fleece and will likely finish out as a soft cream/gold with darker ears.
Here are the pups as babies!